5 Tips for the Virtual Instructor to Revolutionize Virtual Training
Are you moving from ILT to virtual training? Right from knowing the platform like the back of your hand to designing material exclusively for the virtual platform, explore all you need to know to ace virtual classroom training.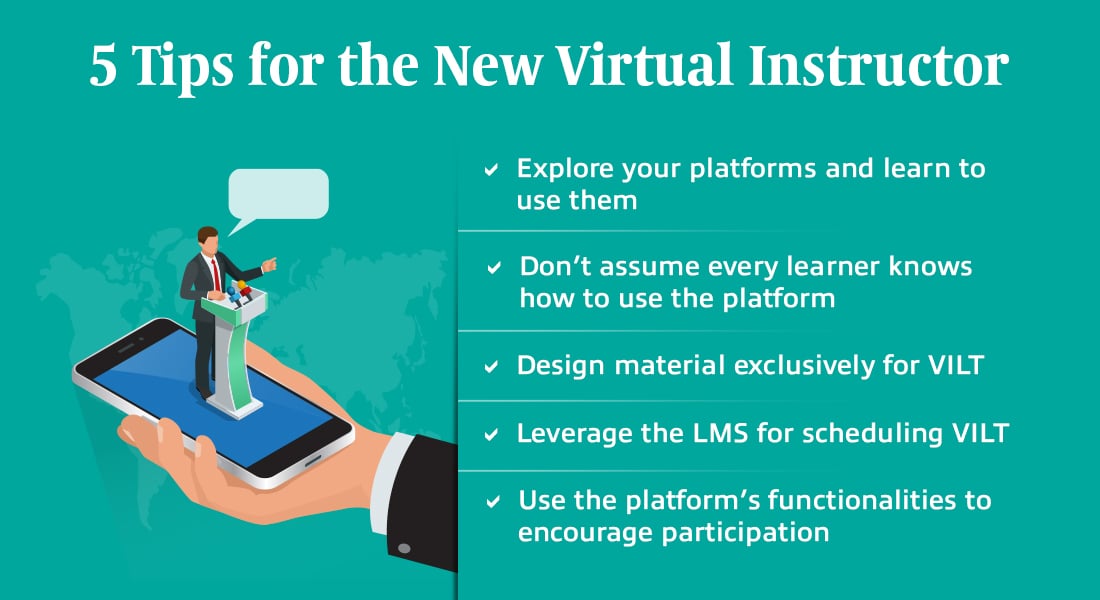 Are you an instructor looking for ways to make your virtual training or VILT (virtual instructor-led training) sessions more effective? If you are, this blog is for you!
How to Become a Top-Notch Virtual Classroom Instructor?
Know your platforms and learn to use them before conducting virtual sessions
Don't assume every learner knows how to use the platform
Design material exclusively for VILT
Leverage the LMS for scheduling VILT
Use the platform's functionalities to get feedback & encourage participation
The COVID-19 pandemic has made the need for live virtual training very urgent. According to Training Industry's report, there has been an 8,135% increase in web traffic to content related to remote learning and virtual instructor-led training (VILT).
For many instructors/organizations, this shift offers both opportunities and challenges! In this blog, we are going to look at 5 common challenges with VILT and how instructors can tackle them seamlessly.
5 Tips for Instructors to Ace Virtual Training
1. Know Your Platforms and Learn to Use Them before Conducting VILT
Possibly one of the most important decisions you'll have to make when transitioning from ILT to VILT is about technology. The trick is to pick a reliable and robust platform that closely mimics the classroom training environment.
First, let's take a look at what a platform must have to conduct VILT sessions smoothly:
Videoconferencing
Screensharing
Enhanced whiteboarding
Breakout rooms
Public and private chat for instant communication
User management (registration, assignment, etc.)
Progress metrics such as tracking login and screen activity
Good storage options to store the recordings/reference modules
Mobile compatibility
And here are some popular platforms you may want to give a try:
Adobe Connect
Cisco WebX Training Center
Microsoft Lync
Google Jamboard
All these tools are quite popular in the L&D community, although some are more efficient than the others.
Tip
You need to master the platform before, not during the training. Just like you would move around in a typical classroom setting, you need to move around in your virtual classroom with ninja-like precision! So, practice using the platform, perform dry-runs, and get some feedback on your performance from peers before going "live".
2. Don't Assume Every Learner Knows How to Use the Platform/s
Unlike classroom training, where learners sit in a physical classroom and take notes (if needed), virtual training presents a few challenges in the beginning that you will have to tackle.
For instance, not every learner is expert in virtual training. The millennial generation may be used to navigating the online world and its tools, but it's important to remember that the corporate workforce also has employees who are not millennials.
Not preparing these 'other' learners for the activity, not telling them what will happen in the VILT session will make them feel lost and put off.
The technology is there to enable connection between the instructor and the learners, not to get in their way. Empathize with your learners and make them comfortable by informing them:
How to register for the training
How to ask queries during the training
How to work in small groups; and the rules of engagement
Who to contact or report to in the event of a technical issue/emergency
What devices can be used to access the course
What data & security procedures one ought to follow
Privacy policies regarding recordings and file-sharing
Tip
Provide a visual checklist in the form of an infographic or a video and pass it around via email or have it available on the front page of your platform. A handy resource such as this can be a constant help for learners to navigate through the virtual training experience.
3. Don't 'Copy Paste' the Physical Classroom to the Digital One. Design Material for the VILT!
It's easy to fall back on the existing classroom material, but is it really suitable for the virtual training environment?
Moving from one mode of training to another is not just copying and pasting content. Invest some time in going through the material and ensure the material is VILT-appropriate.
Content & Formats
You don't want to go for long in a VILT session without interacting with learners. Employees are now working from home—across a variety of time zones—with more opportunities to surf the Internet and get distracted.
Therefore, it's imperative that the VILT lessons are well organized and divided into digestible, "snack sized" microlearning modules. With the modules organized well, you, as an instructor, can focus on ensuring learner participation.
Don't limit yourself to just a bland presentation. Mix things up with visuals, audio, text, and exercises during the VILT sessions to appeal to learners with varying learning styles.
Punctuate the sessions with quick refreshers in the form of a video, and sprinkle short exercises or fun, game-based online assessments. It is important to design exercises which make learners 'think' to bring them out of the passive listening mode.
Use the virtual platform to add online-friendly formats to get your message across much more clearly and interactively, including:
Whiteboard animations
Scenario-based videos
Video-based demos and case studies
Access
Keep in mind that most modern learners are quite tech-savvy, and have at least one mobile device with them at all times. Take advantage of this and try to ensure both the learning platforms and the content are mobile-friendly, so that learners can participate in the VILT sessions from their smartphones or tablets.
Tip
Many of your learners may not have access (or have inconsistent access) to high-speed Internet. To help make training accessible in such situations, organize training in chunks. You can divide a 90-minute VILT session into 4-5 20-minute sessions. This not only keeps your learners engaged throughout the session but also enables them to soak in the information given.
4. Leverage the LMS for Scheduling the VILT
Your workers can't complete VILT sessions unless you set a definite schedule which includes, among other things:
Assigning courses to learners as per their job role/geographical region/preferred language
Setting dates for course registration and completion
Managing registrations (individual and bulk)
Specifying the date and time on which the VILT sessions class will be held (or, if it's a multi-session and/or multi-instance session, specifying the date and time of each session and instance)
Distributing certificates of completion to individual learners for auditing purposes
An easy, cost-effective way to streamline your virtual training is by using an LMS. An LMS (learning management system) will help you:
Plan your VILT 'calendar' and share it with your learners, thereby freeing you from the job of assigning VILT programs individually.
Automate tailored notifications to learners on the start and completion dates of various VILT sessions.
Monitor or track their performance, in online assessments, for example. The scores/metrics from the LMS can help you identify learners needing further assistance and provide additional sessions or refresher material to them.
Send course completion certificates automatically to those who have finished all the sessions.
5. Use the Platform's Virtual Functionalities to Get Feedback & Encourage Active Participation
Silence may sound more deafening in a virtual session than in a physical classroom. The key, therefore, is to keep learners involved in the virtual classroom.
Use built-in virtual whiteboard/s where the learners and you could create results together—just like you would in a classroom with flipcharts and whiteboards. Ask learners to draw on the screen, annotate.
Ask learners to switch on their cameras and interact with fellow learners in the virtual classroom. Use the built-in polls to get feedback from the learners on the training.
If the tool supports it, use breakout rooms/sessions where learners can collaborate on projects to exchange ideas, discuss the training, practice their skills, and share experiences and best practices with one another. To make breakout sessions more effective, share a question or topic and tell learners how long they will have in their shared group discussions.
Add some game-based activities—complete with a scoring and badges system, leader boards on the LMS—to foster healthy competition among learners.
For smaller groups, let learners unmute and ask questions. For bigger groups, use the platform's chat feature to encourage participants to ask queries. Have an operator answer these queries as and when they arrive instead of making them wait till the end of the session.
Apart from letting learners virtually 'raise hands', host private chat rooms/forums where 'quiet' learners (who normally would find it difficult to speak in front of their peers or in a group) can privately send messages to the instructor.
Parting Thoughts
The ultimate key to the success of any VILT session is you, the trainer. If you implement these 5 tips in your VILT session, there's no doubt you can achieve what you set out to do in your virtual session – engage the learners to improve performance and productivity.
Interested in learning more about innovative ways of keeping learners hooked to your Virtual Classroom? Check out our free resource on tips and tricks for your VILT.