4 Virtual Training Solutions to Supplement Corporate Online Training
The COVID-19 lockdown taught us a valuable lesson of having a plan B and not rely on one training mode entirely. So, what other virtual training solutions apart from eLearning? Here is a blog on 4 virtual training solutions to use along with eLearning.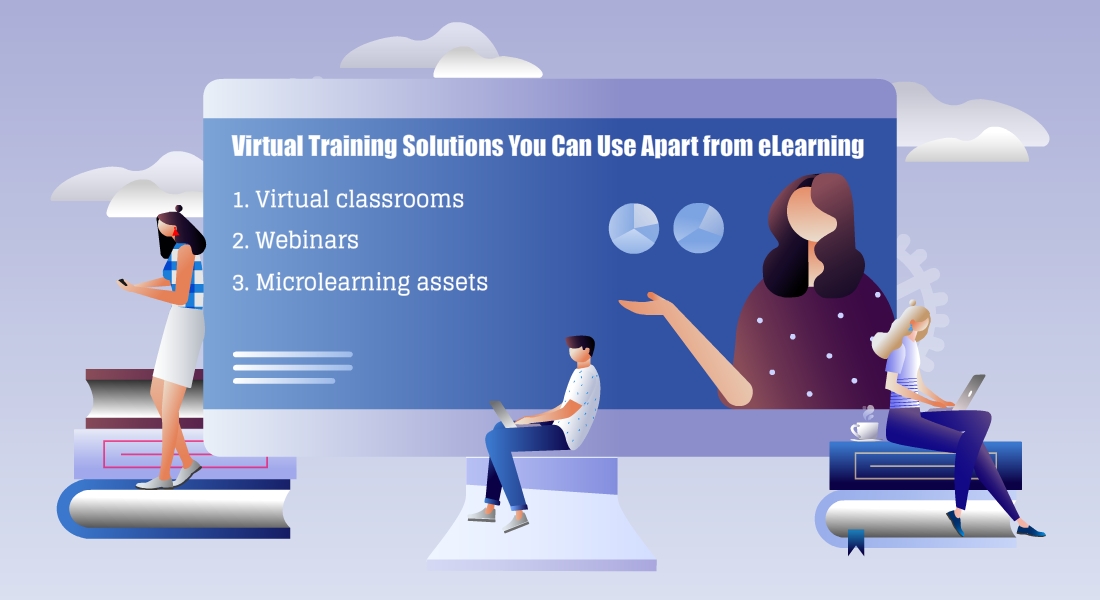 2020 has been one of the most challenging years by far in recent memory. The corporate world as we knew it came to a sudden standstill because of the COVID-19 pandemic. Now, 8 months into this year, we have still not recovered from the blow. This year has been especially challenging for corporate L&D because in-person classroom training is no longer a viable option for employee training. Most organizations are looking for virtual training solutions to once again get their employee training programs back on track.
Virtual Training Solutions to Support eLearning
Virtual classrooms/VILT
Webinars
Microlearning assets
Blended learning
If there is one lesson to be learned from this whole ordeal, it is that we should always have a back-up plan, a Plan B if you will. If organizations didn't rely so much on classroom training, a lot of the present training disruption could have been avoided. While eLearning continues to be a popular training approach in the current situation, there are many other virtual training solutions that you can use to enhance the efficiency of your online training strategy. And that what we're going to look at in this blog.
4 Virtual Training Solutions Apart from eLearning
1. Virtual Classrooms/VILT
Virtual classrooms have served as a bridge for organizations migrating from offline classroom training to eLearning for years. But in the past few months, virtual instructor-led training (VILT) has become one of the most popular training solutions for corporate L&D apart from eLearning. According to Training Industry, there was an 8135% increase in the search rates for VILT within a few months of the lockdown.
Why this immense popularity? Well, VILT gives you the advantage of instructor-led training in a virtual environment where learners can attend training sessions while working from home. It has certainly enabled remote learning and made training and working much easier in these stressful times.
The important thing to remember about VILT is that even though it is instructor-led, it can be quite challenging with the instructor and learners being in different locations. But not to worry! There are creative and smart instructional methods you can use to ensure the session remains engaging for learners.
VILT platforms come with a myriad of interactive features like chat, video conferencing, screen-sharing, and file sharing to enable easy training delivery. Also, features like breakout rooms and whiteboards enable collaborative learning and teamwork, promoting training through social interactions with other learners.
And you need not worry about all your classroom trainers suddenly shifting to a virtual platform. There are several off-the-shelf courses available on 'training the trainers' to tutor instructors on the basics of navigating VILT platforms and conducting virtual classrooms. If you are not sure about investing training dollars on such courses, you can always avail the free tutorial guides that most VILT platforms have to enable users to navigate easily. You can also provide a facilitator alongside your instructor during the VILT session to help manage the technical aspect.
2. Webinars
Webinars and virtual classrooms (VILT) are often considered the same because they both are synchronous virtual training solutions. But they are not. To put it simply, VILT is a lot more like classroom training, only in a virtual medium. Webinars, on the other hand, are more like conferences or panel discussions on a given subject. While you can use VILT or eLearning for your regular formal training, webinars can be used as a supplement when you want to deliver training through Subject Matter Experts (SMEs) or thought leaders.
Webinars need a lot of preparation and must be scheduled early, often weeks in advance. Your organizer and panelists should be ready with their presentations and you also need to send invites to learners in advance. Now that social distancing has made in-person conferences and large public gatherings impossible, you can use webinars for such training conferences and events. This way, all your learners can participate in the event and even your global workforce can be a part of it.
3. Microlearning Assets
Microlearning or 'bite-sized learning' is all about delivering short and precise bursts of information to learners. It is often used for on-demand training and as performance support, but it can also be used to supplement your existing virtual training solutions, whether eLearning, or VILT. As microlearning modules are very short, they don't take up much time or cost compared to developing full-length courses. This makes it an apt virtual training solution to complement your existing eLearning curriculum.
Each microlearning module focuses on only one learning objective and hence, serves as a perfect standalone solution. You can develop such courses rapidly for your learners and later curate them into a separate curriculum or incorporate them within a blended learning or eLearning strategy.
Microlearning is also very flexible because it can be offered in different formats such as videos, audio podcasts, quizzes, game-based, infographics, and more.
4. Blended Learning
Blended learning is not a new thing for those of us working in corporate L&D. But more often than not, blended learning is only considered to be a blend of online and offline training. While that is one way of using a blended learning strategy, it is not the only way.
Traditionally, a blended learning model includes in-person classroom training plus eLearning. Classroom training provides the much-needed face-to-face interaction between the instructor and learners, and online training has been used before and after the in-person training. But since classroom training is not an option now, you can blend virtual training methods with eLearning to come up with a new blended learning model that fits your training needs.
You can use VILT instead of in-person classroom training and blend it with your existing eLearning (if any), or use it for formal training and supplement it with microlearning courses for performance support. You can also use videos to supplement your VILT sessions, both during and after. All these blended learning solutions will help you keep to your training schedule till the time it is safe to resume classroom training. Until then it can continue to compliment your eLearning-only strategy.
A Case for Video-based Training
Videos have always served as an integral part of virtual training. They are often used within an eLearning courses. But recently, using the video-only format for training is gaining much popularity. It is possible that this popularity of videos as training format is influenced by social media. After all, we do consume a lot of information through videos on daily basis, be it from YouTube DIY videos, Facebook Live streams, vlogs, TED talks, or video podcasts.
It is quite possible for you to use videos for training your workforce as well. These videos can be microlearning modules, user-generated, recordings of VILT sessions, immersive 360 videos, and more. To accommodate a wide range of videos for training, dedicated video platforms like Panopto are becoming popular.
Summing it Up!
I hope these virtual training solutions have given you the quick remedy to complement your online training strategy and overcome present training disruptions. Using these virtual solutions will not only open avenues for more choices in terms of training methods, but also give you ample time to come up with a comprehensive and effective virtual training structure – be it eLearning, VILT or blended learning.
If you want to learn more about eLearning design and development, download our eBook.