4 Rs of Rapid eLearning for Seamless and Hassle-free Corporate Training
Are you looking for quick online solutions to ensure continual and undisrupted training in your organization? Well, rapid eLearning can be the perfect solution. Rapid eLearning can help employees perform better and maximize training ROI. Read on to explore the 4Rs of rapid eLearning for seamless corporate training.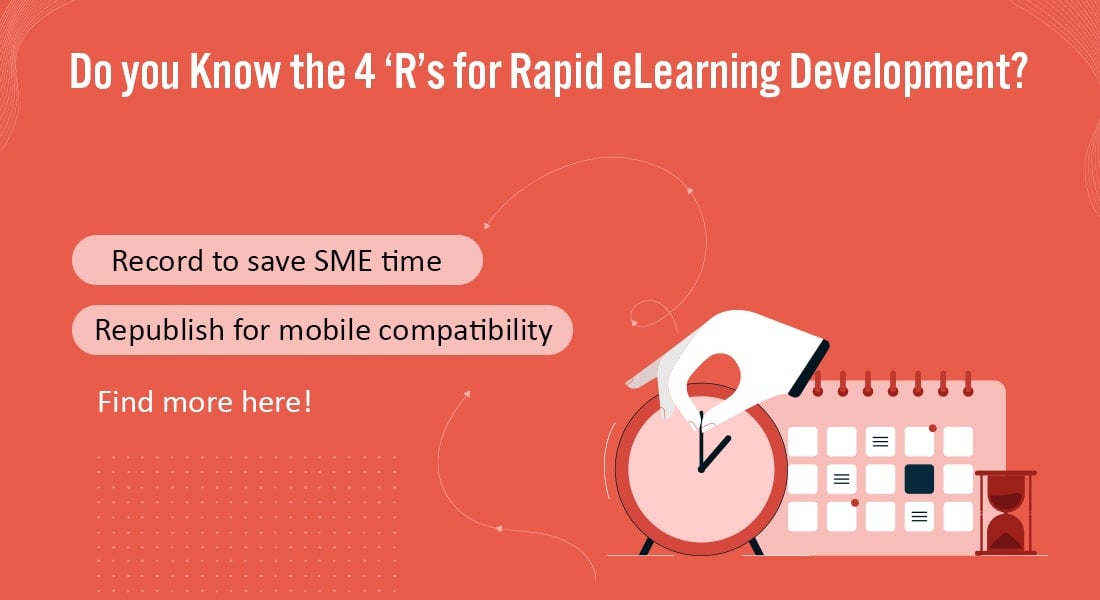 Today's dynamic business scenario demands organizational agility in all spheres and corporate L&D (Learning and Development) is no exception. The ongoing pandemic has pushed conventional classroom training to the backseat and organizations are looking for quick online solutions to ensure continual learning. If you are a training manager in such an organization, set your worries aside as we have the perfect solution for you – rapid eLearning. Rapid eLearning has proven itself to offer seamless and hassle-free training solutions.
What is Rapid eLearning?
Rapid eLearning is a method of developing eLearning courses quickly, with the help of authoring tools. It is a highly effective way to achieve scale and speed in your corporate training while also offering scope for creativity – enhancing the quality and effectiveness of training.
The '4Rs' of Rapid eLearning
Explore how you can:
REDESIGN classroom training content to online formats
RECORD to save SME time and rollout training faster
REBUILD existing training content into microlearning assets
REPUBLISH legacy courses for multi-device, multi-browser compatibility
Key Features of Rapid eLearning
Rapid eLearning:
Is based on robust instructional design and adult learning principles
Helps rollout courses that are multi-device and multi-browser compatible
Uses modern authoring tools and templates to offer standardization
Enables quick and easy translations of online courses to address your globally dispersed workforce
Boosts training effectiveness with engaging content
Revs up employee performance and helps achieve organizational goals
What are the 4R s of Rapid eLearning?
Rapid eLearning offers the know-how to design, develop, and rollout eLearning courses within weeks (unlike conventional eLearning projects that can take months) without compromising on quality or creativity. And to answer your question as to how that's even possible, let me introduce you to the 4Rs of rapid eLearning.
Redesign
Record
Rebuild
Republish
The 4Rs offer you the opportunity to modify your conventional training content to a more engaging one for a richer learning experience. Let us now delve into them.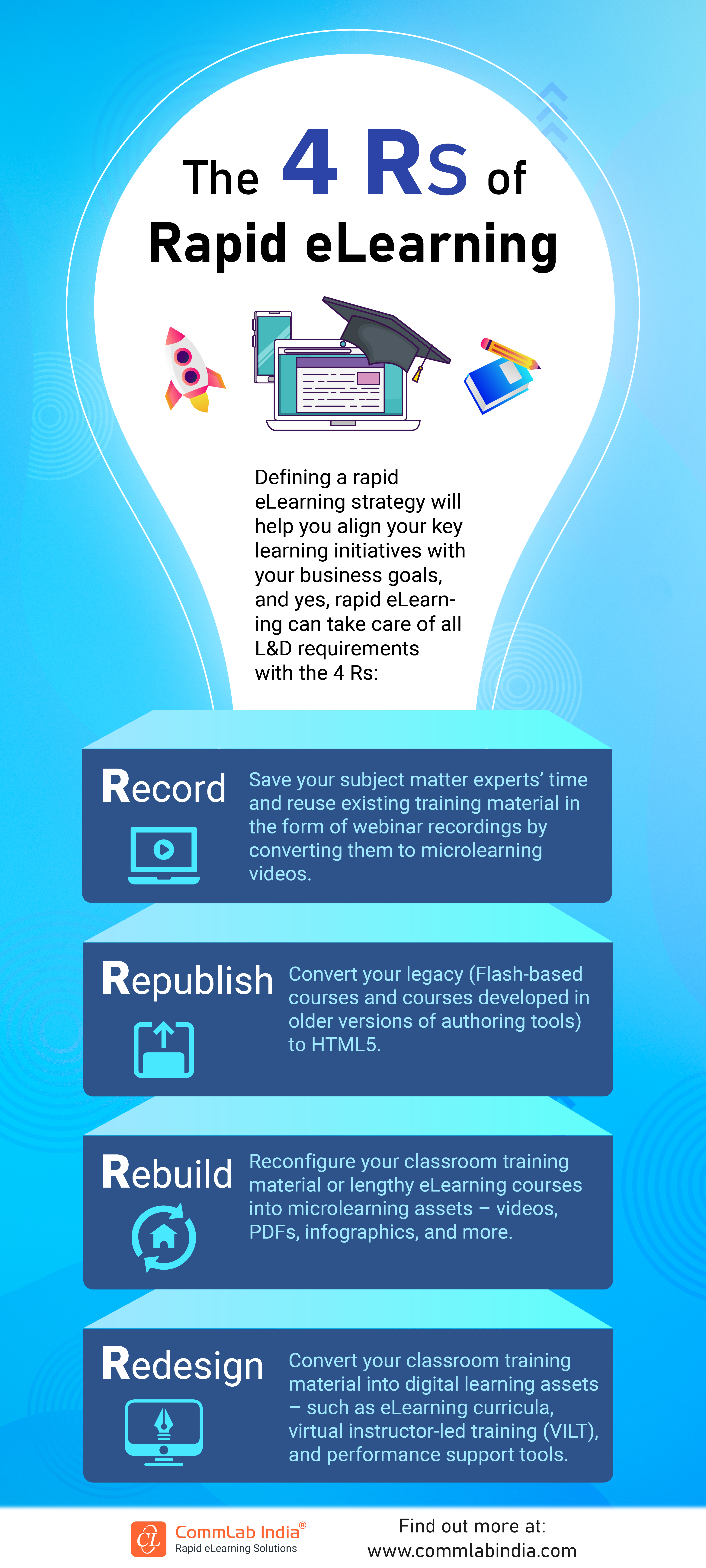 1. REDESIGN
As the name itself suggests, this strategy allows you to redesign or reconstruct your ILT (Instructor-led training) material into online learning formats like:
VILT (virtual instructor-led training)
E-learning courses
Performance support job- aids
You can choose the format depending on your target audience, time available, and the content available.
VILT (virtual instructor-led training): VILT is a virtual replica of the physical classroom that offers the essence of face-to-face classroom training with the convenience of online training for today's generation of learners. VILT is delivered in a virtual environment with the instructor and learners participating in the session at the same time, but from different locations. It should not be confused with webinars, online presentations, or a classroom session using a conferencing facility. VILT sessions can replicate the engagement of a real classroom through various activities like
polls, chats, and breakout rooms.
E-learning Courses: Your classroom material can also be redesigned into e-learning courses – either standalone or a curriculum of courses.
Standalone courses are 20-30 minutes long and usually focus on one topic comprehensively. They can be designed with various instructional approaches.
On the other hand, curriculums are a set of interrelated or standalone modules that can be assembled into a curriculum. They are usually offered in sequence. Their design and strategy are standardized across the curriculum.
Performance Support Job-Aids: Performance support job-aids play a key role in facilitating continual learning and boosting employee performance. Effective job-aids can be created from repurposed ILT material and can include:
Infographics
Comparison charts
How-to videos
Online FAQs
e-books
Pro tip
For performance support tools to be effective, make them micro (in the form of bite-sized learning pieces), ensure they are accessible on various devices and host them on your LMS for better reach.
Key Benefits of the Redesign Strategy
For Learners

For the Organization

Facilitates human interaction and collaboration through VILT
Offers a channel of direct communication with the instructor and peers
Offers anytime, anywhere access to learning
Saves time that would otherwise be spent looking for resources or waiting for supervisors

Saves costs associated with face-to-face classroom training
Ensures employees are never without help even at customer sites
Reduces time employees spend away from work
2. RECORD
A big challenge in delivering eLearning courses within timelines is getting the SME (Subject Matter Expert) to review the project at set milestones. Being very busy high-profile professionals, SMEs are not always available to review content or clarify the queries of the Instructional Design (ID) team. However, their input is crucial when it comes to the accuracy of content.
The Record strategy comes to your rescue here as it minimizes the time the SME needs to spend on the eLearning project, while still making sure the ID team has good understanding of the content.
"How is that even possible?", you may ask.
Unlike traditional e-learning development where the SME needs to be involved at a minimum of 9 touchpoints, rapid e-learning offers a 5-step process with maximum 3 SME touchpoints.
Step 1 (SME Touchpoint #1): SME creates a rough PowerPoint deck (or reuses the PPT he uses in the classroom). And records the explanation for the PPT slides on the cell phone or an audio recording app/software.
Step 2: The ID team enhances the PPT deck, adding graphic elements and interactivities; and creates the narration script (from the SME's audio recording)
Step 3 (SME Touchpoint #2): SME reviews the designed PPT and script.
Step 4: The ID team develops a rapid voice-over PPT video with professional narration.
Step 5 (SME Touchpoint #3): SME reviews the course and signs off.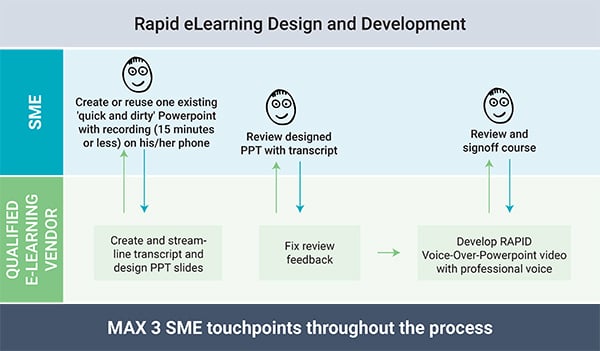 Key Benefits of the Record Strategy
It saves on precious SME time, making the SME more willing to do the required reviews.
It provides the essence of the SME's presentation, ensuring courses are technically accurate.
It includes anecdotes and war stories from the SMEs, leading to higher learner engagement.
3. REBUILD
You can deploy the Rebuild strategy to reconstruct previously developed lengthy eLearning courses to small, focused learning nuggets that ensure better learning and higher learner engagement.
The Rebuild strategy offers you the opportunity to revisit legacy courses and reconfigure them as microlearning assets. Microlearning is a highly targeted approach as each module focuses on a single learning objective, very effective in enhancing learning and retention. It's a wonderful way to reinforce learning and beat the forgetting curve.
Popular microlearning assets include animations, eBooks, games, quizzes, videos, infographics, digital flashcards, and concept and process maps.
Key Benefits of the Rebuild Strategy
For Learners

For the Organization

Is targeted, concise, time-efficient, provides immediate value
Enables learning in the flow of work
Fosters retention and ensures application
Easily accessible

Can be easily updated, reused, and repurposed
Reduces development time and costs
Provides more options for configuration and formats
Speeds up time to proficiency
4. REPUBLISH
If you've been using eLearning for some time, you would be having a lot of legacy courses in your library that are not compatible with mobile devices (as they were developed in obsolete software such as Flash or older versions of authoring tools). Our Republish strategy gives you the opportunity to revisit those courses and give them a fresh look and increase their utility.
Key Benefits of the Republish Strategy
The Republish Strategy allows you to:
Upgrade legacy courses to a newer version of the authoring tool (with new interactivities, assessments)
Update content or branding
Revamp the look and feel of text-heavy, visually unappealing courses
Make courses compatible with mobile devices
Parting Thoughts
The 4Rs of rapid eLearning can be used with great effect to enhance the effectiveness of your employee training. They can be leveraged to design a robust learning solution that will ensure enriched learning and enhance employee performance, thereby meeting organizational objectives. Want to have a handy reference resource on the 4 Rs of rapid eLearning? Download the free e-Book now!
Editor's note: This post was originally published in February 2017 and has been updated for comprehensiveness.