How Rapid eLearning Solutions Can Help you Win Over Time and Money Constraints
Organizations want their training to be rolled out quickly without compromising on the quality and to ensure that, rapid eLearning is their primary solutions. This blog explains the 3 major rapid eLearning services and highlights their importance.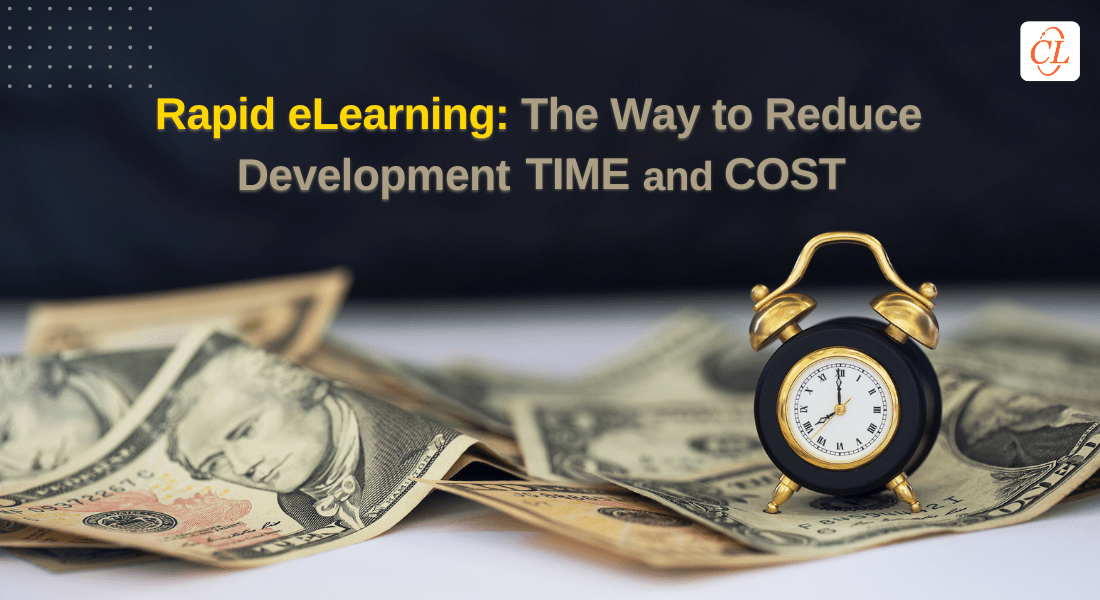 Corporate organizations around the globe are trying their best to stay ahead of their competition and to do that successfully, upskilling their employees might be their best bet. But the time and budget available to design and deliver top-quality training for all the departments are quite limited. Compromising on the quality of training in any way is not an option as well, so what's the catch? Rapid eLearning! It can help organizations design creative and engaging eLearning courses quickly under a tight budget while maintaining the top-notch quality of training. This blog provides detailed insights about various rapid eLearning solutions and services that can ease corporate training woes for organizations.
Trying to Roll Out High-Quality Training Quickly? Opt for Rapid eLearning Solutions!
You can use them primarily for:
Classroom to digital learning conversions
Legacy course conversions
eLearning Translations
Why Prefer Rapid eLearning Over The Traditional Ways?
Rapid eLearning focuses more on "need to know" information relayed quickly without including any sort of unnecessary frills, which ensures the courses are learner-centric and cater to the training needs. Some people have this misconception where they believe rapid eLearning is just about creating short "click next" slides quickly followed by MCQ assessments while some also believe that interactivity and creativity are compromised while designing rapid eLearning courses. But, these are all myths, because rapid eLearning focuses on strong instructional designs to design learner-centric eLearning courses that are based on modern learning strategies.
Rapid eLearning courses are usually shorter but this helps the learning to be spaced & recurring which leads to better knowledge retention and course completion rates. It helps you save a lot of time, money, and other resources while enhancing the effectiveness and engagement of eLearning courses. Another advantage of rapid eLearning is that it is developed with a responsive design in mind so that the courses can be accessed anytime anywhere on all sorts of devices like laptops, mobiles, and tablets. Apart from design and development, rapid eLearning follows an agile management process to ensure seamless reviews, maintenance, and updates to the course whenever needed.
Where Can You Use Rapid eLearning?
1. Classroom to Digital Learning Conversions
Corporate training isn't something that is very new for organizations because it's been going on for decades, but only the ways and methods keep changing. Earlier, classroom training and on-site training were the only major alternatives while digital learning was more of a luxury, but now there are various training formats and methods, all thanks to technological innovations and forever altering preferences of learners.
Modern learners prefer their learning to be precise, flexible, interactive, engaging, and continuous. All this isn't possible with classroom training, especially when organizations have started going global. Thus, to get the benefits of classroom sessions and cater to a global modern workforce, it is essential to convert classroom training into digital learning methods, and this is where rapid eLearning acts as a game-changer.
Rapid eLearning leverages the power of rapid authoring tools to convert classroom training materials into relevant assets that can be used in various digital learning methods such as eLearning, virtual instructor-led training, mobile learning, etc. As a first step, you need to collect whatever classroom training content you have and segregate it as per their use cases. For example, a video recording can be clipped and used as a podcast, or the various video clips can be utilized as just-in-time information retention assets. Various PDFs and PPTs can be used as content slides and external knowledge supplements, and their multimedia content can also be updated and reused in the main course wherever relevant.
Now that all the content is collected and segregated, rapid eLearning follows robust instructional design strategies and utilizes the advanced features of rapid authoring tools to design interactive and engaging digital learning courses quickly. It ensures retaining the essence of classroom training sessions along with incorporating the modern touch of digital learning effectively and efficiently through various ID strategies, adult learning principles, and modern learning strategies.
Rapid eLearning Authoring tools come with a lot of options, features, and services such as responsive authoring, ready-to-use templates, online review tools, huge multimedia content repositories, translation tools, etc. to make the development fast and cost-efficient. Rapid eLearning also follows an agile management process to streamline the review and feedback process, save a lot of time for SMEs, and roll out the courses within the deadlines.
2. Legacy Course Conversions
Remember the luxury of digital learning we talked about a while ago, it was about the existence of legacy courses. There were various platforms where legacy courses were built, some major platforms being FLASH, Dreamweaver, and the early versions of authoring tools we have available today. But, as the technology kept evolving, the legacy courses, which were the only digital learning courses, kept losing their importance, and finally, in 2020, Adobe officially shut down FLASH. Hence, the need for legacy course conversion came into the limelight, and they had to be converted into HTML5 format because of their various benefits.
HTML5 being mobile-friendly is one of the most important reasons organizations wanted their legacy courses to be converted into it. We all know that in the past 10 years, the evolution of mobiles is one of the greatest technological advancements we have witnessed. None of the legacy courses were compatible with smartphones, new versions of web browsers, and other modern mobile devices. Modern learners prefer their training to be remotely accessible on multiple devices without quality degradation. HTML5 hit the jackpot when it preferred responsive design for multiple screen sizes and orientations.
To convert Legacy courses into HTML5 format, rapid eLearning leverages its powerful 4R strategy and the advanced features of modern eLearning authoring tools. You might have various issues or demands, and the 4R strategy can solve them hassle-free.
Record – If you have access to the legacy courses but their source files aren't available to you, the 'Record' strategy is used to get your problem solved. Under this strategy, the courses are recorded in MP4 format on an external player, and then the remaining updates are done to the course.
Republish – This is used when your courses were developed in early versions of authoring tools and you have access to their source files. Your courses are simply republished in HTML5 format and all the relevant changes such as improving the interactivities, updating the content, and enhancing the visual attractiveness are done.
Rebuild – There is a very high possibility that your entire legacy course is not that valuable but a lot of multimedia assets can still be used, and in this situation, the 'Rebuild' strategy is utilized. Here, all the assets you feel are still relevant, can be incorporated with updated content to create modern-looking microlearning nuggets accessible easily on your mobiles.
Redesign – When your entire content goes obsolete, you opt for a 'Redesign' strategy and give a completely new look and feel to your legacy courses. The structure, visual design, interactivities, assessments, and all the other important aspects are redesigned with the help of modern eLearning authoring tools and your legacy courses are used as a reference.
3. eLearning Translations
When you scale up your business to a global level, the need for eLearning translations drastically increases. The most important reason is that your employees around the globe aren't equally comfortable with the English language. Apart from the language, regional phrases, tones, accents, and other visuals also need to be presented accordingly. Additionally, eLearning translations can help to improve the effectiveness of the training, as individuals are more likely to engage with content that is presented in their native language. Furthermore, providing eLearning in multiple languages can demonstrate a company's commitment to diversity and inclusivity.
Some countries have regulations that require training materials to be provided in their national language. For example, in the EU, companies must provide certain training materials in the language of the country in which they operate. eLearning translations can help organizations meet these regulatory requirements. It can also help to foster a more inclusive and welcoming workplace culture, which can improve employee morale and engagement.
Translating eLearning content can be a cost-effective way to expand the reach of corporate training. Instead of creating new content, organizations can simply translate existing materials into different languages with various AI translation tools to save a considerable amount of time and effort. Rapid authoring tools along with a lot of external tools ensure the output is highly accurate to the source and the translated copies are incorporated seamlessly with the master course. Apart from this, rapid eLearning follows the concept of prototyping to minimize the possibilities of errors and the correct use of tools can ensure the courses are translated at scale.
Wrapping Up!
In conclusion, rapid eLearning can provide a number of benefits for organizations. It allows for the development of eLearning courses quickly and at a lower cost, customization & conversion of classroom training materials into digital learning assets to meet the specific needs of modern learners, feeding new life to outdated legacy courses, and facilitating eLearning translations. If you wish to opt for rapid eLearning, this is the perfect time to get started. To clear all your remaining doubts, you can access this free eBook and ensure seamless rapid eLearning development.