4 Rapid eLearning Challenges and Their Solutions
Rapid eLearning is an efficient method for the quick rollout of courses. However, it does come with a few challenges. In this blog, we will discuss 4 challenges related to rapid eLearning with their solutions.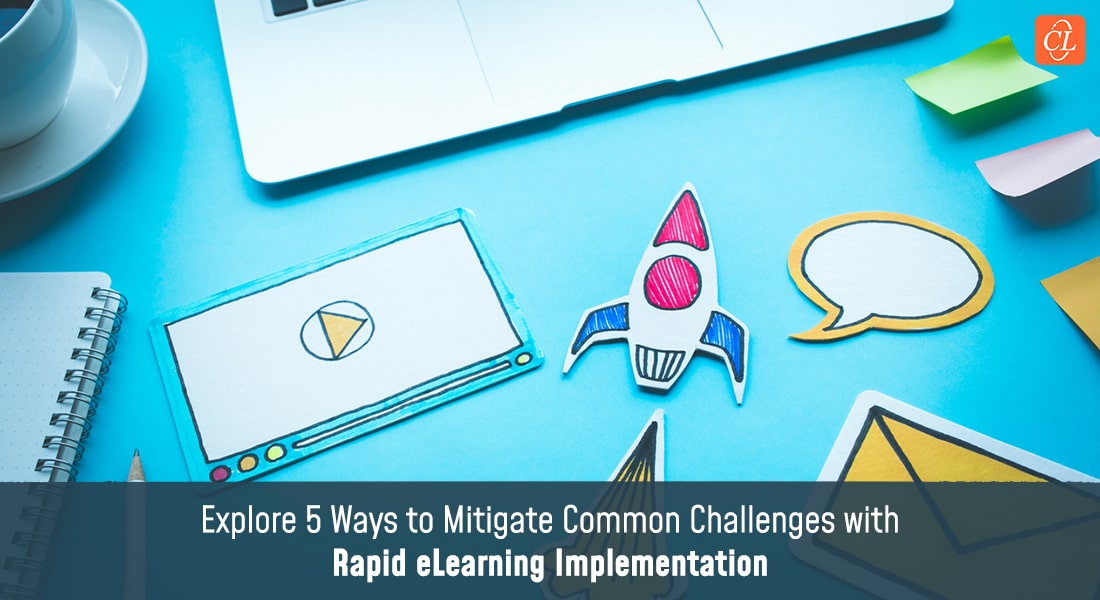 Everybody loves an elaborate 3-course meal, but sometimes a good quick sandwich feels great too – it is easy and quick to prepare and yet nutritious and healthy. Rapid eLearning works the same way as a training strategy. Rapid eLearning offers a learner-centric approach with speed and scale. It follows the instructional design without bells and whistles helping in the quick development and roll-out of courses that are multi-device compatible.
At the speed the corporate training world is changing, it poses a challenge for learning and development experts to develop and roll out the courses quickly, within the given budget, and maintain the quality of the course. Is there a solution to this? Yes, Rapid eLearning helps create and update training content on a "just in time" basis. It is a solution to the training challenges that are faced by learning and development teams. Whether you already have eLearning in place or are planning to get started, you can't leave rapid eLearning behind anymore.
Are You Facing Challenges Related to Rapid eLearning?
Do You Have Questions Like:
How to Deal with Too Much and Too Complex Content?
How to Make Maximum Utilization of SMEs Time?
How to Select the Right Authoring Tool?
How to Get Any Time and Anywhere Access to Learning?
If yes, then read on to find solutions…
Here is Why You Should Seal the Deal with Rapid eLearning
It helps create eLearning courses quickly (within weeks instead of months).
It helps offer time-critical training to the learners.
It helps offer life to legacy courses.
It is cost-effective and time-efficient.
It helps update courses fast and helps learners stay current.
While adopting rapid eLearning an organization may face a few hurdles, however, there is no problem that doesn't have a solution. Here are a few challenges you might face with rapid eLearning and its solutions.
Rapid eLearning Challenges and How to Mitigate Them
Challenge 1: Dealing with Too Much and Too Complex Content
This challenge is usually faced by many organizations. As rapid eLearning uses the existing content and templates for standardization, sometimes the content can be too much or too complex. While dealing with such content it is a task to take out only need-to-know information. Such topics could be important and cannot be left out.
Solution 1: While dealing with complex or too much content, you can take help from experts. You can ask your expert instructional designers or Subject Matter Experts (SMEs) to break content into smaller learning modules. Instead of dealing with too much content, you can make use of short and effective rapid microlearning modules.
Challenge 2: Getting SMEs Time For Rapid eLearning
Subject matter experts (SMEs) are an integral part of learning and development. However, training is not their primary role. Usually, SMEs are quite busy getting their time could be a challenge. Getting an SME involved is important to check the accuracy of the content to avoid delays in course development.
Solution 2: This challenge can be tackled by managing an SME's time well. With rapid eLearning, you can involve the SME at the beginning to check the accuracy of the content. Make sure to set clear timelines with SMEs according to their availability as their time is important. And at last, including the SMEs while finalizing the course. This way SMEs will also feel involved in the project but without investing a lot of their time. To make the process seamless, instructional designers can also prepare a questionnaire to get all their doubts cleared in a go, instead of involving SMEs separately for every single doubt, this saves SMEs time too.
Struggling to involve SMEs in course development? Rapid eLearning to rescue!
Challenge 3: Selecting the Right Authoring Tool
Now, choosing the right authoring tool for course development could be challenging for some due to several options available. For effective rapid eLearning development, you need the right rapid authoring tool. Depending on your training and development needs you need to choose the right authoring tool.
Solution 3: You need to assess your training needs before choosing the right authoring tool. There are many options available. Based on your development needs authoring tools can be divided into these categories:
Standalone Authoring Tools – They are ideal for experienced or expert eLearning developers as they help create different types of personalized eLearning solutions. Your eLearning development team could be in-house or outsourced, standalone authoring tools can be used anyway.
Examples: Lectora Inspire, and Articulate 360.
PowerPoint-Based Authoring Tools – They are comparatively easy to use as they have an interface like PowerPoint. It is suitable for organizations developing courses in-house.
Examples: Adobe Presenter and iSpring Suite.
Cloud-based authoring tools – These tools are easy to access. They do not require the installation of specific software; the developer can log in to the application and start working. They are ideal when many eLearning developers are working on the same project from different locations. Examples: Articulate Rise, DominKnow, and Lectora Online.
Challenge 4: Lack of Anytime, Anywhere Access to Learning Resources
The remote workforce requires access to learning resources outside the workplace too. Also, many sales and service representatives are on the move and do not have a lot of time for training. But training is essential for all employees. This situation can sometimes pose a challenge for some organizations.
Solution 4: Rapid eLearning in itself is a solution when you are planning to roll out courses for employees who are short on time. Rapid eLearning can address individual training needs and help you roll out courses quickly and into small segments too. Rapid authoring tools offer a responsive design feature now, which means that the courses are responsive and automatically align to screen size and resolution. Now learners get an optimal viewing experience on any device.
Parting Thoughts
Now that I have stated the challenges and their solution for you, I hope you are ready to take a step towards rapid eLearning. Rapid eLearning may not be an antidote for all development and training needs. But it could be a solution for many. It will help you achieve efficiency, speed, and quality. All you need to do is make sure to keep in mind the four essentials of rapid eLearning – existing content, authoring tools, instructional design, and SME time.
Want to explore more about how rapid eLearning can address all your training needs? Grab this eBook and explore more about the 4 Rs of rapid eLearning and what each has to offer, also how it addresses your learning needs without compromising on quality.