How to Choose the Right Rapid eLearning Authoring Tool?
Easy-to-use, rapid eLearning authoring tools allow non-experts to develop highly engaging online courses. However, you might ask which tool is right for you. Read this blog to discover how you choose an eLearning authoring tool that's right for you.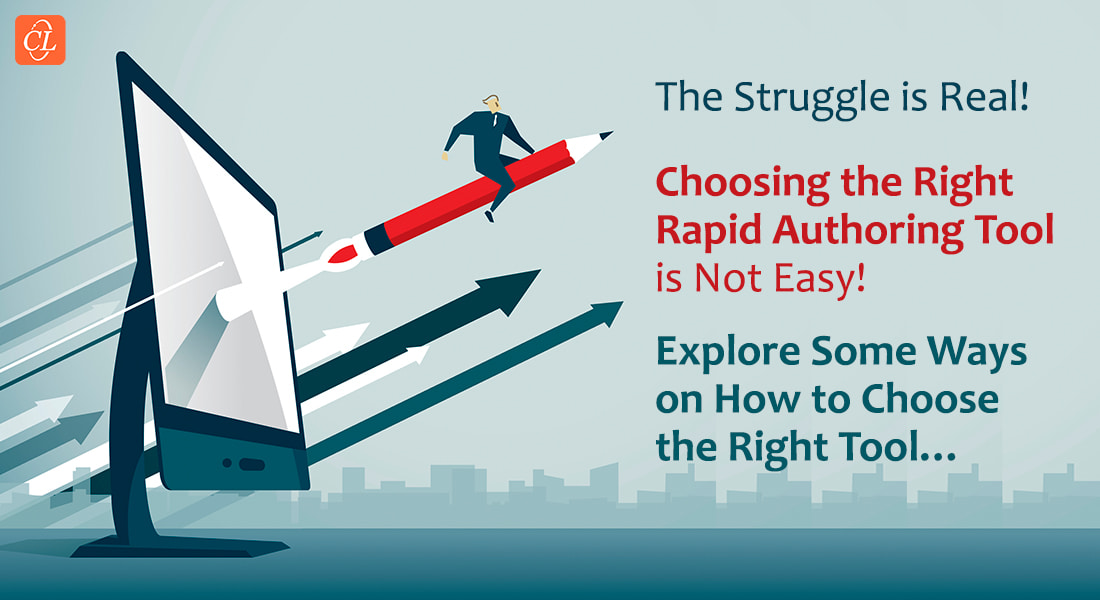 Are you a novice at developing eLearning courses? Do you want to design an eLearning course quickly and without spending extra on it? Rapid eLearning authoring tools might be your savior! Authoring tools can save a lot of your time and they are highly cost-effective.
Are you wondering what rapid eLearning entails?
Rapid eLearning helps you create customized online learning courses with a rapid development process that produces learner-centric eLearning in just weeks. It's based on the principles of instructional design, and it uses training content to leverage authoring tools and templates and save you time.
How do You Choose the Right Authoring Tool?
Follow the steps below to choose the eLearning authoring tool that's right for you:
Determine the budget and goals
Evaluate your eLearning staff
Determine must-have features
Define your requirements
Ensure software integration
Review and test
What Are Rapid eLearning Authoring Tools?
When you build eLearning projects from the ground up, you require a lot of coding work. However, if you use authoring tools, then you can avoid the hassle of coding entirely and save on costs. Rapid eLearning authoring tools are software that are used to create online learning. These tools come with easy-to-use features that can help the uninitiated SMEs (subject matter experts) and IDs (instructional designers). There are three types of rapid authoring tools. Each tool has benefits and drawbacks. Let's look at them one by one.
Pros and Cons of Rapid eLearning Authoring Tools
There are three kinds of rapid eLearning authoring tools. They are PowerPoint add-ins, desktop-installed authoring tools, and cloud-based authoring tools.
PowerPoint Add-ins
When you open Microsoft PowerPoint, you often see options on the top ribbon such as home, insert, and design. PowerPoint add-ins are the plug-in features that appear on a separate ribbon when you download the authoring tool. Some well-known PowerPoint add-ins are Articulate Studio and Adobe Presenter. Read on to understand the advantages and disadvantages of PowerPoint add-ins:
Pros
The best part about PowerPoint add-ins is they are easy to use. You only need to know how to operate Microsoft PowerPoint.
They are cheaper than other authoring tools in the market.
Cons
They're only suitable for PowerPoint presentations.
You cannot customize the features based on your needs.
They can be used to design uncomplicated eLearning courses, but they don't support interactive designs.
Tools with PowerPoint plug-ins don't support smart devices like phones and tablets.
You can access even more versatile services on the desktop version and not through plug-ins.
Desktop Installed Tools
As the name suggests, you need to download the desktop-installed authoring tool on your PC or laptop. In the past, if you wanted to install software on your desktop, you would purchase it on a disk. Today, these tools are readily available to purchase as downloads from vendor websites. A few examples of desktop-installed authoring tools are Articulate Storyline, Adobe Captivate, and Lectora Inspire.
Pros
They are a one-time investment.
They usually include a wide array of features.
They include asset libraries with templates, character cut-outs, and themes, speeding up the course development process.
Professionals can create interactive courses with a plethora of customizable templates.
They offer a high level of security, as the owner is in charge of the tool's features and data protection.
You don't need an internet connection to access these tools.
Cons
They're usually an expensive purchase.
They are hard to use and require more time to learn.
It can be time-consuming to download them, and they take up a lot of space on the hard drive.
Cloud-based eLearning software
This type of authoring tool is typically offered as a SaaS (Software as a Service), and they're used via the internet. You can access them by subscription, using a login ID and password, through the developer's website by using a login ID and password. If your computer has a stable internet connection, then cloud-based authoring tools are easy to access, as you can use them from anywhere. Some popular cloud-based authoring tools are Udutu, Claro, and Easy generator. Let's look at the benefits and drawbacks and check whether these tools fit your requirements:
Pros
They can be cost-effective as they're not a large one-time investment.
They don't need installation and you can use them from any location with a stable internet connection.
They promote teamwork as designers, administrators, and SMEs can work on projects at the same time and from a remote location.
You don't have to worry about losing content because these tools normally offer services to back up your data on the cloud.
They offer a variety of built-in features that cater for the development of interactive eLearning modules.
They're often easier to use when compared to desktop-installed authoring tools.
Cons
They're unavailable without an accessible internet connection.
Cloud-based services are a potential security risk for your data.
When you use cloud-based authoring tools, you might find them expensive, as they are, after all, a subscription-based service. Also, vendors can choose to increase the price of these tools at any point, making them even more costly.
As cloud-based authoring tools offer a wide variety of features, it can be time-consuming to master them.
How to Select the Right Authoring Tool
When you're looking for the right technology to meet your training needs, it isn't enough to only know the advantages and disadvantages of authoring tools. You need to align the functions of the tool with your budget, cost, available expertise, and software compatibility. Also, you must take the following steps before choosing an authoring tool for your eLearning design and development process:
Determine the budget and goals
The price of different authoring tools varies very much, and they can prove to be a sizeable investment for the development of an eLearning course. If you cannot spend a lot of money, then you should go for designing a PowerPoint-based eLearning course. You can also investigate authoring tools that have a free version. However, the free versions usually offers very few features.
You should make sure your budget is on par with your expectations from the product. If you need to produce an interactive course with animations, characters, quizzes, and features, such as drag and drop, then PowerPoint add-ins won't meet your needs.
Evaluate your eLearning staff
You must select an authoring tool that complements the expertise of your eLearning staff. Desktop-installed authoring tools have a plethora of features, and they're harder to use. Cloud-based authoring tools are easier to learn and take less time to master. Consider investing in tools that your staff have already mastered. If a specific tool meets your needs, but you lack an expert to use it, then consider hiring one as this can save you time.
Determine must-have features
A few authoring tools offer more features than others. However, more features aren't the best for you unless you learn how to use them. You need to determine the features your staff members are familiar with and can learn easily. Also, you must figure out the features you need so you can develop your course. If your eLearning doesn't require learner interaction, PowerPoint add-ins might be a viable option for you. It not only saves you time, but it also saves your team a lot of learning effort. It also keeps you from burning a hole in your pocket.
Define your requirements
When you operate a new authoring tool, you need the support of a vendor. If you have harsh deadlines, you don't want to waste time reaching the customer support team when troubleshooting a technical issue. In such a case, you must find out who provides support via phone or email and check the availability of these support services. You need to ask how you can gain their assistance quickly when you face technical problems.
Ensure software integration
If you have set up an LMS (Learning Management System) or hope to develop an eLearning program using a combination of authoring tools, then don't forget to check for integration compatibility features. You need to know whether your new tool affects the easy functioning of other tools.
Review and test
You should be cautious before investing in any software product, and you must check the reviews. Reviews reveal a lot about the functions of an authoring tool that you are considering. You can understand how easy or hard a tool is to operate from others' experiences. You can even request a free trial from a vendor, and you need to exploit the tool to comprehend each feature and test them. Sometimes, the only way to see if a tool fits your need is through practice.
It's a Wrap
When you are designing an online learning course, it doesn't need to be a tediously long and costly process. Rapid eLearning authoring tools now offer all the required features to build competitive eLearning modules. You can choose the best authoring tool for you by aligning the features offered by different technologies with your objectives, budget, and skill set. If you are ready to develop your own eLearning module with an authoring tool, then download our eBook to help you choose the right one.