The Top 11 Features of Articulate Storyline 360
The intriguing new features of Articulate Storyline 360 are gaining traction in the eLearning sector. This blog discusses 11 lesser-known Articulate Storyline 360 features.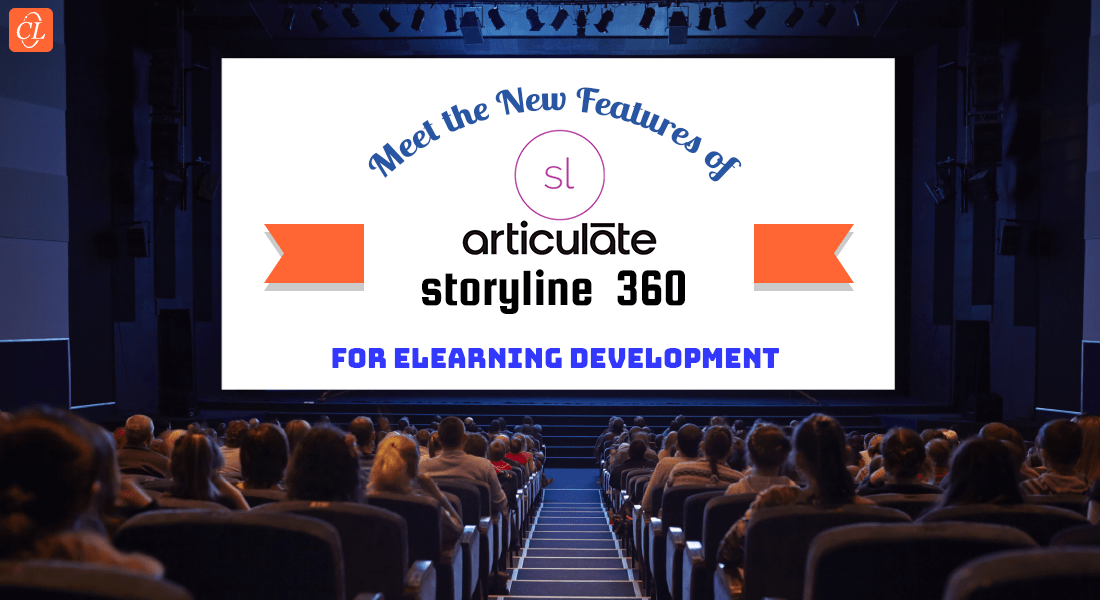 The way an eLearning course is developed has a significant impact on how well it delivers. Choosing the appropriate authoring tool is critical to the success of any digital learning program. Articulate will most certainly come up in your search for authoring tools. Its most recent offering, Storyline 360, is a desktop program popular among instructional designers and eLearning course developers.
What are the Features in Articulate Storyline 360?
Top 5 Features of Storyline 360:
Content Library (Asset Library)
Motion Path Animations
Interaction with Sliders
Dial Interaction
360 Degree Image
Read on to explore its other key features.
What is Articulate Storyline 360?
Articulate Storyline 360 has long been a favorite among eLearning professionals. It promotes itself as being the quickest and simplest method for developing personalized interactive courses. Courses created on Storyline 360 are compatible with devices of various screen sizes, browsers, and operating systems.
Let's take a closer look at the 11 features that make Storyline 360 a great contender for meeting your development needs.
Top 11 Features of Storyline 360
1. Content Library (Asset Library)
The content library in Storyline 360 has been enhanced with a selection of characters and templates. When you use Storyline 360's new and improved content library, you inevitably expedite the design and development process of your eLearning courses.
2. Motion Path Animations
With the "Orient Shape to Motion Path" feature you can ensure that an object moves in the direction you want it to on a non-linear motion path.
3. Interaction with Sliders
You can employ interactive sliders to allow learners to control the data and interact with these and other elements in the course.
4. Dial Interaction
The dial, just like the slider, displays layers or changes the state of objects by changing the number on the dial. It's a fun tool for learners who wish to research information and investigate cause-and-effect connections.
5. 360 Degree Image
By using 360-degree pictures, course designers and developers can create engaging sessions. Storyline 360's markers and hotspots create interactive components enabling learners to connect from every possible angle.
6. Swipe Navigation
You can now scroll through a course on your mobile device's screen by using your finger to slide up and down. Similarly, you can also navigate your way through the course with the 'Next' and 'Previous' buttons on your slide. This is another enhancement that affords Articulate Storyline 360's users' better access of eLearning courses on their mobile devices.
7. Team slides
You can access and create a library of integrated slides with Storyline 360 to make collaborating with your team a much easier task. This library of slides can be repurposed and included in every course that is designed for your team.
8. Import Slides
You can import slides from Microsoft PowerPoint, Articulate Quiz Maker, Articulate Engage, as well as reuse other projects on Storyline. You can also import Excel spreadsheets and text files into your eLearning courses.
9. Media Library
The media library on Storyline allows you to manage all your projects' assets in one location. You can design your course by importing and saving photos, audios, and videos on there. You can also add, remove, change, and export them as and when required. Similarly, you can modify objects using Storyline's third-party tools and save your changes.
10. Tracking Multiple Result Pages
You can consolidate multiple slides that showcase your learners' results into a single slide. You must decide how you want to grade combined quizzes using Storyline's scoring options.
11. LRS
If you intend to report your learners' results using an LRS (Learning Record Store), you need to select the LRS tab on the left side of the window. You then must click on the box titled "Report to an external LRS" which can be found in the LRS Configuration section.
Parting Thoughts!
The Articulate Storyline 360 authoring tool has been a favorite among eLearning professionals for a long time. It can be used to create solutions such as Flash to HTML5 conversion, converting classroom content to eLearning courses, eLearning course translation, customized eLearning course production and mobile learning.
Are you looking to get a better handle on the features and capabilities of the various rapid authoring tools out there? Here is a free eBook that's just what you need – "Handy Guide to Help You Decide the Best Tool for Your Course Development." Download it now!
This blog is co-authored by Nikhil Bhogaraju.