5 Tips for Successful Virtual Training
Moving from the classroom to virtual training in the wake of COVID-19? Here are 5 tips for a successful shift to virtual training.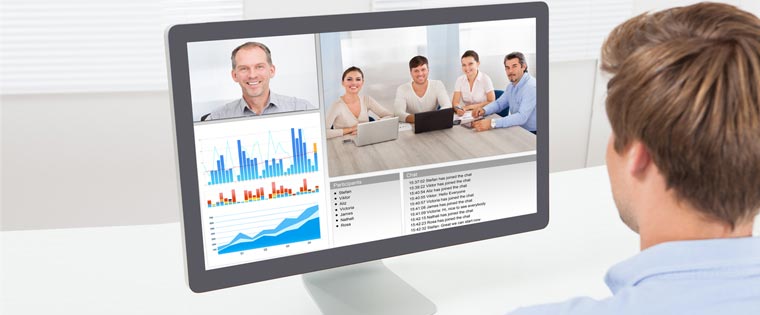 Across the globe, COVID-19 is massively changing the way people work and learn. The entire world is working toward social distancing to contain this pandemic, and the corporate world is no exception. This move has brought virtual training platforms to the forefront, and many organizations are now choosing virtual training to train their work-from-home employees.
According to a report by Bloomberg, coronavirus could cost the global economy $2.7 trillion. We are facing the biggest change management crisis of our lives – with hundreds of thousands of employees and leaders dispersed globally. The strategy of migrating from the classroom to virtual training may also help you prepare for similar eventualities in the future.
5 Tips for Successful Virtual Training
Determine course length and select relevant content
Inform learners of the agenda
Have pre-session activities to build interest
Use skilled instructors/facilitators
Use appropriate technology
The need of the hour is to rethink and reconfigure organizational learning and development – and how you connect with your learners. And virtual training is definitely the answer!
What is Virtual Training?
There are many options for virtual training – eLearning, Virtual Instructor-led Training (VILT), and webinars, to name a few. ILT to eLearning migration is ideal when the goal is to completely digitize your training program, and webinars, for communicating updates or connecting with learners at a short notice. VILT, on the other hand, is the best option when you want to retain the essence of one-on-one interaction in the virtual platform.
VILT involves a 'virtual' classroom where an instructor or facilitator trains learners in remote locations, making it possible to train a large number of employees at the same time. Participants need not be in one single remote location; they can be globally dispersed and connected through the web.
All these virtual training methods remove the need to travel and its associated costs. Rapid deployment of learning to meet changing business needs is possible with virtual training, as it is quick to create and offers learners access to learning from any location. These are some reasons for organizations adopting virtual training, more so in the wake of COVID-19
How do you Ensure Successful Virtual Training?
Tip #1. Fix Course Length and Select Relevant Content
We all know classroom or ILT sessions take anywhere between half a day to several days. But, for virtual training, it is recommended to have shorter training sessions, not lasting more than an hour at a time. This is essentially to keep the virtual learners engaged.
So, your first step would be to review the existing content and organize it into smaller units. For instance, one ILT session can be made into 3-4 eLearning modules or VILT sessions.
Moreover, the classroom material cannot be directly used for virtual training. You need to check for gaps in content, and ensure they are filled with the help of your Subject Matter Experts (SMEs). Also, ensure the content is aligned with the set learning objectives.
Tip #2. Create a Buzz About the Virtual Training Sessions
Involve participants in your online training session by communicating with them prior to the session. These communications may include:
E-mails with:

Information about the session and the topic
The agenda, inviting their suggestions for improvement

Video trailers highlighting the 'what's in it for them'
Digital resources such as audio podcasts and interactive infographics in the company's social media sites. Include guidelines and best practices.
Connecting participants via Chat as this will help learners know each other and encourage collaborative learning
Tip # 3. Have Pre-session Activities to Build Interest
Create a buzz about the session by posting information through e-mails, company newsletters, and bulletin boards.
You also need to provide participants with a list of pre-requisites (if any) to attend the course. You can conduct a pre-test to assess their current knowledge. For instance, you can use microlearning challenges or quizzes to test their existing knowledge. This will also help you determine if you need to include in-depth information in the training.
Moreover, you can host an online group discussion before the virtual training session to let learners share their existing knowledge about the topics, share ideas and apprehensions, and so on.
Pro Tip
Let participants introduce themselves before starting the session; Create interest by asking icebreaker questions, quoting surprising statistics, telling an anecdote, or recalling a real-life experience. You can also highlight workplace situations through a comic strip, use newsletter clippings, or even have a quick poll to set the ball rolling for the session. These will help you lighten the mood and grab attention of your learners from the very beginning.
Tip #4. Use Skilled Facilitators or Instructors
A facilitator can make or break a training session. Ensure you have skilled facilitators who can connect with learners, create the right learning environment, and are skillful in steering the session in the right direction, and at ease with the technology being used. Make sure your instructors are comfortable using the virtual tools or platforms. It will be a good idea to have an orientation session for the instructors or facilitators to help them become familiar with the tool, its features, and how they can be leveraged during the training session.
The instructor should have the necessary skills to engage a remote audience and keep learners hooked to the course They must acknowledge questions and comments from every participant and try to answer promptly.
You can post the instructor's profile on social media groups to encourage interactions and communication. The instructor can also share microlearning assets such as an infographic on the key takeaways of the session he's going to facilitate. Learners can even connect with the instructor after the training to clarify any doubts they might have. This works well for shy learners who are reluctant to ask queries in a large group.
It makes sense to have a co-facilitator if the topic is complex or if a large group is attending the session.
Tip #5. Use Appropriate Technology
Any of the many online meeting tools such as WebEx, GoToMeeting, Zoom, or MeetingBurner can be used to conduct a virtual training session, but you need to choose one that suits your requirements. The choice of the platform also depends on the size of the group and whether it requires live demonstrations.
Before the session, ensure participants set up their systems and have the appropriate software. It is important to let your learners become familiar with the technology, by giving them 10 minutes before the session while you check on the audio and visuals.
Make sure the digital platform offers online poll options, allows online collaboration and screen-sharing capability with learners, and even a whiteboard for explaining something online. Also, the tool should let you record and download the virtual training sessions. This way, learners can access the course later and reinforce what was learned.
Concluding Remarks
Virtual training sessions can be very successful, provided adequate preparation is done. Follow these 5 tips to ensure the success of your virtual training.
Since we are talking about going virtual in the wake of the current situation, here's a resource that shares cool tips to help you deliver virtual training that keeps learners engaged.