E-Learning – Your Best Bet for Corporate Training
E-learning has become a favorite among Fortune Global 500 companies. Check this blog to know why investing in e-learning is the right step to take.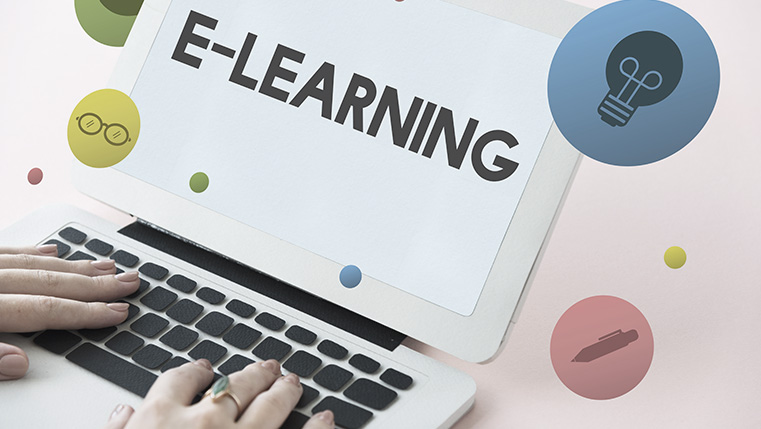 Corporate training has become a must in all organizations to ensure the productivity of their employees. Classroom training or instructor-led training is the most common type of training used by organizations to train their employees. But the question is, is this traditional method of training effective enough to benefit both the employees and the employers? Well, it might be. But definitely, not as effective as e-learning.
Corporate training should definitely be more than just a classroom and an instructor. E-learning which basically is the blend of Technology and Education, will prove to be a very effective tool in training employees. In this blog we will look into the different reasons why your company should invest in e-learning.
E-learning is pocket friendly:
Bid goodbye to instructor travel expenses or printed material expenses required for traditional teaching methods. With e-learning, the only expense you will have to consider is the budget required to develop the online training program. It is basically a one-time investment. All you have to do is analyze your online training needs and invest to develop the appropriate content. And then? Get ready to provide them to your employees anywhere, anytime!
Various formats are available depending on what the employee needs:
Tired of the same old 'Taking down notes' kind of training? E-learning can be developed in various formats such as videos, games, simulations, etc., depending on your employees' interest and also the training needs. Some content might be better if explained with a video and a few might be better if a game is included. You are free to choose!
Boost engagement with interactivities:
Humans are not made for lectures. According to a study conducted by Microsoft Corp., the average attention span of a human being is just 8 seconds. The inability of learners to concentrate for a longer period of time leaves us with the only choice of making the content more engaging. Indulging in e-learning can surely boost their engagement as the interactivity level is very high.
Appeals to all ages:
Everybody loves watching videos. Everybody loves playing games. Hence e-learning is the perfect method to be used for corporate training. As everybody loves content that is more interactive, investing in e-learning will lead to better performance by your employees and thus raise the stakes of your company.
Ease of learning:
According to GSMA intelligence, there are more mobile devices in the world than human beings. Every single individual these days possess a mobile phone, a laptop, or a tablet. Imagine how easy it would be if you could provide training to your employees with the help of these devices. E-learning courses ensure ease of learning as most people in the present generation are comfortable using their smartphones for any purpose, including learning or rather teaching themselves.
Aids in promoting knowledge retention:
Let's imagine that an employee did not understand a particular thing the instructor explained. Or maybe he forgot something the instructor had explained a few minutes ago. But then the instructor is no more available to explain it once again! That definitely is something to panic about.Incorporating e-learning will settle this issue. E-learning courses can be repeated as many times as the employee needs. She/he can in fact go through the course in her/his own pace. These additional benefits in turn lead to better and longer knowledge retention. No more panicking!
Transfer the knowledge gained from training, to work:
As you all have already understood that using e-learning helps in information retention, it brings us to the fact that the knowledge gained through the training will in turn lead to better output at work. This happens because, the high interactivity levels in these e-learning courses lead to more engagement and thus employees tend to remember more of it for a longer duration. Hence, whatever they learn during the training, they involve it in their work too.
Helps in saving time and increasing productivity:
E-learning definitely saves time when compared to the traditional classroom teaching, which lasts for hours together. Traditional methods also cut away the work time of the employees. With e-learning, employees can learn whenever they want to, and it also takes lesser time than the traditional method since courses can be developed as micro nuggets and in learner-friendly formats. This will in turn make learning more efficient and thus a much more productive employee.
Involves detailed tracking and feedback mechanism through an LMS:
A Learning Management System makes tracking, hosting, and managing an organization's training activities easier. An LMS helps in tracking the performance of the employees as well as every aspect of the course. This will help you in knowing the needs of your employees better, thus helping them grow.
Offers better ROI:
The Return on Investment of an organization completely depends on its employees and their productivity. The better the training, the better they incorporate the information they grasped through the training into their work. E-learning being cost-effective will in turn help the organization flourish to greater levels.
E-learning not only benefits employees but also your business. Because what is a business without well-trained employees? Hence, it is time everybody goes digital and sees their companies flourish in time!