Thinking of Implementing Mobile Learning? Get a Bird's Eye View First
Mobile learning is fast gaining popularity as an option for delivering online learning. However, some organizations have apprehensions about implementing mobile learning. Check this blog to get a bird's eye view of mobile learning and take an informed decision.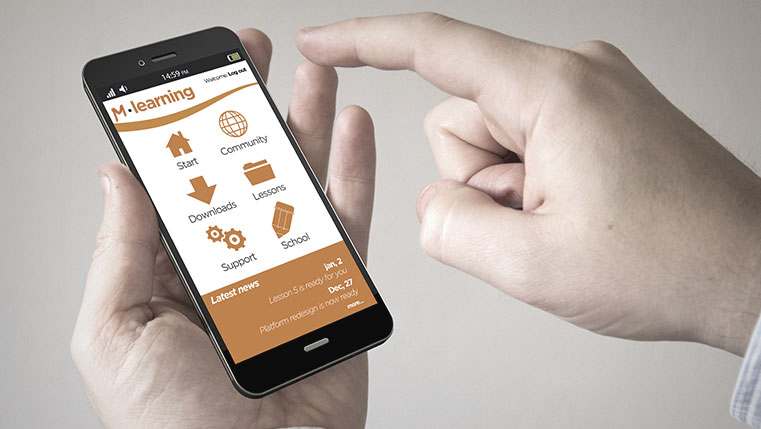 Mobile learning is fast catching up as a means of online training in organizations. According to a 2015 study by Lynda.com, 30% of Smartphone users admitted to using them for accessing their organization's training content. Organizations too are investing in mobile learning programs as they are well aware of the benefits it brings – self-directed learning, anytime and anywhere learning to employees, and the liberty to schedule training at their convenience.
Mobile learning is the ideal solution for training employees who are always on the move: salespeople, field service technicians, remote workers, and others who use the mobile extensively in their work. Their inability to be at a desk for long, to take a course or the lack of a scheduled training time is overcome with mobile learning.
Mobile learning, no doubt, can transform online training. Yet there are certain barriers that stakeholders are wary of, that prevent it from being adopted by organizations. Let's look at some of them and their solutions to get a better perspective before getting started with mobile learning.
Right Infrastructure to Deliver Mobile Learning
Internet Connectivity
For delivering mobile learning, IT departments in organizations have to provide employees certain basic amenities such as constant Internet connectivity and dedicated bandwidth. This may always not be possible, at all locations. However offline learning and learning apps with offline features can take care of this aspect. Offline LMSs allow learners to download training resources on their mobile devices and save them for offline viewing later.
Devices
Organizations have two choices for delivering mobile learning courses:
Use devices that the company has purchased
Encourage employees to use their own devices to access mobile devices as part of the Bring Your Own Device (BYOD) policy
While company-owned devices take care of security and compatibility issues, it means additional responsibility and expenditure for the IT department to purchase and maintain these devices and forcing employees to use multiple devices. On the other hand, employees bringing their own devices reduces cost for the company, but brings with it security issues, threat of data leakage, and compatibility issues.
Security Issues
These can be handled by having adequate firewalls and proper controls that allow employees to safely access the training material. Authentication and single sign-on can restrict access. User privileges can be restricted by not allowing employees to share the mobile learning content with others via sharing apps. Learning apps remove security threats by providing offline access to courses that learners can download and use. However, these apps should be accessible only through secure logins.
Design and Development of Mobile Learning
Some stakeholders are still under the impression that mobile learning is e-learning delivered on mobile devices. They have to understand that designing for mobile learning requires a different paradigm. Mobile learning differs from e-learning and has to be designed keeping this in perspective. Mobile learning includes:
Delivery of content on small, handheld devices
Anytime and anywhere access
Screen size and navigation – small screen size that limits the percentage of text and graphics
Navigation elements that suit tactile interaction by users
Content based on a single learning point, unlike an e-learning course
Short duration to keep pace with the short focus of learners
Stakeholders need to realize this and also assess if they have or can hire instructional designers with the required skills to develop these courses or outsource the development to a vendor.
Speed and Scalability of Implementation
When it comes to mobile learning, organizations worry about making courses accessible on a variety of mobile devices to suit varied user needs. Questions are raised – 'How will this content appear on the mobile screen?' 'Will the interface take care of how users interact with mobile devices?' The solution for this is the responsive or adaptive design for courses.
Thanks to rapid authoring tools such as Articulate Storyline, Adobe Captivate, Lectora Inspire, and iSpring, it is possible to quickly design mobile learning courses that can be accessed in different devices.
Authoring tools offer either responsive or adaptive design features or both, that has made it easier to design mobile learning for different devices. For instance, Gomo is an authoring tool that offers both responsive and adaptive design options. Some authoring tools such as Articulate Rise, Adapt, and Claro have responsive design templates where based on the content, the template can create a fully responsive m-learning course.
Once again, stakeholders will have to assess if they have the in-house expertise to develop courses using these tools and design paradigms or outsource it to a reliable vendor – they will have to take a call.
Options to Track Learners
Another issue with mobile learning is to track learners who access these mobile learning courses. Organizations worry about tracking learners since these courses are accessed anytime and anywhere. It is difficult to track their online activity and support offline learning.
However, today with Tin Can xAPI standard LMSs, it is possible to do this in mobile learning as well. You can track learners' activities in one single and consistent format. Tin Can has features that help track details such as the actual time a learner spent on the course, the point at which he stopped the course, and the number of times he replayed the course.
Employee Readiness to Accept Mobile Learning
Employees do appreciate that mobile learning gives them the flexibility to learn anytime and anywhere, and the freedom to schedule training as per their convenience. Yet some of them rue the fact that mobile learning can be an intrusion into their personal time and forces them to take up training beyond their work hours.
The key here is to sell the idea that mobile learning offers them the convenience of accessing and completing training at those times where they cannot do much – during their commute to work, waiting at a client's office, or during official travel.
Ensure that mobile learning is short and engaging by delivering content in short bite-sized modules. Infographics, GIFs, short videos, or checklists are good ways to deliver such content as they do not take much of a learner's time.
Mobile learning can solve many issues such as training employees on the move, time constraints for training, and the need to provide anytime, anywhere learning. The trends of multiple device usage, rising millennial workforce, and the advances in mobile technology are encouraging mobile learning implementation by organizations.
Stakeholders' resistance to mobile learning can be overcome with use of appropriate technology and learning design strategies. And they help in making a strong business case in its favor. What do you think? Please share your comments.