Choosing The Right Authoring Tool for Mobile Learning
This blog will help you with choosing the right authoring tool for your mobile learning.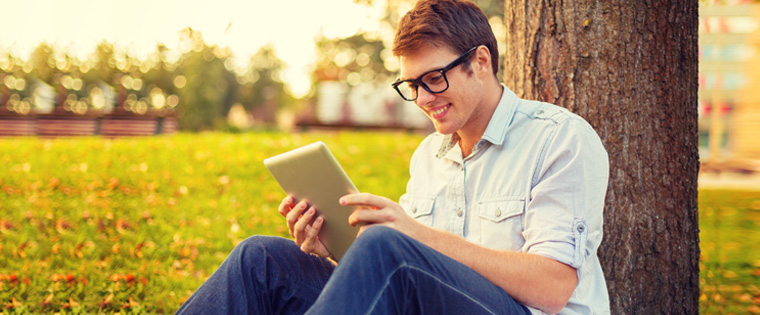 Responsive design is the core of mobile learning because this makes online courses available across all devices. With responsive design, all the text blocks, images, and videos blend seamlessly on the mobile screen. You can create a single course that adapts to any browser or device. This allows for a seamless learning experience; it motivates learners to get involved in the learning and interact with the course material. With employees today preferring to access online courses on their mobile devices, responsive design enriches their experience of learning anytime and anywhere, as per their convenience.
To create a course with responsive design, choose an authoring tool that frees you from creating different versions of the same course for different devices. Responsive design using HTML5 ensures that the course looks and functions the same on all devices. Here is a list of authoring tools suitable for creating mobile learning:
Lectora Inspire
Lectora provides easy ways to convert text-heavy courses to engaging mobile learning courses. The advantage of this tool is its Responsive Course Design (RCD) feature. This enables you to design content only once, but the design will automatically change its layout to suit the screen it is being viewed on.
Lectora can be accessed on most mobile browsers and has templates especially for iPhones and iPads. This tool supports both web-based and native learning apps. This tool also offers Lectora mobile, a native app for all iPhone, iPad, and Android devices that allows you to provide your content on mobile devices – both online and offline.
Articulate Storyline
For an interactive and visually rich mobile learning course, you should choose Articulate Storyline. This tool has an inbuilt library of 47,500 characters in various styles. This tool publishes to three different formats Flash, HTML5, and iOS. This allows you to deliver a rich multimedia and interactive experience for mobile learning.
The responsive player in this tool automatically displays courses created with HTML5 on devices such as tablets and smartphones. This feature adapts content to the size and orientation of any mobile device.
Adobe Captivate
This tool has an intuitive user interface which makes it easy to create mobile learning courses. It also supports gesture-enabled mobile learning. So learners can tap, swipe, or scroll through the courses easily.
The responsive learning design feature helps develop several versions of the online course for multiple devices, from a single source. With this feature, you can create a master course which you can then adapt to any device. If the course has been created for the desktop and you want to convert it for the mobile device, then the tool will automatically adjust the layout of the page to fit the screen size and resolution.
iSpring Suite
This tool is useful when you want to quickly convert a PowerPoint presentation into a mobile learning course. It comes with an adaptive player, enabling courses to play on all devices – PCs, tablets, and smartphones. The tool supports Morph, a complex transition effect of PowerPoint. It helps you create enhanced simulations as well.
Mobile learning developed on iSpring will help the course adapt to the screen size and orientation of the device used by the learner to access the course.
Choosing the Right Authoring Tool
With so many options, how do you choose the right authoring tool for your mobile learning needs? Your choice should be based on the following considerations:
Training objectives and content: If your mobile learning is designed to provide support at the point of need (performance support or JIT support), a mobile-first responsive design tool should be your choice. Choose tools that let you organize small chunks of content which can be neatly organized into interconnected pages with a menu that can help learners quickly find the information they need.
Suppose you want to create a primer for a more complicated course on your mobile device, you must choose a tool that supports complicated elements such as videos in the course, just in case the learner decides to access the whole course on his mobile device. Videos can be delivered on mobile devices, provided they are of short duration (2-3 minutes) and have interactive elements. Content should be to the point and animations short and simple.
Learning environment: Consider the environment where the learner will access the mobile learning course. For instance will they access it during their commute on the train, with only one hand free to operate the mobile? In this case, a tool that supports gesture-enabled mobile learning will help. Do they want a hands-free experience when they are driving? Then you need to choose a tool that supports rich visuals.
You should also consider the location where the mobile learning course will be accessed. If the learner is located in a remote place, animations and videos may not play due to limited or lack of bandwidth. Also having a huge file size can prolong the time the course takes to download on mobiles. Consider these crucial aspects when choosing your authoring tool. The tool must provide the best user experience to the majority of your learners and support the various environments they will possibly access the course in.
Choosing an authoring tool for your mobile learning course requires that you know the exact requirements of the course and your audience. Before you choose one, ensure you talk to tool developers or vendor partners and create a prototype to check whether it will meet your needs.