Is Content Strategy for Mobile Learning Similar to That of E-learning?
Check out the blog to know if content strategy for mobile learning is different from that of e-learning; and if yes, how.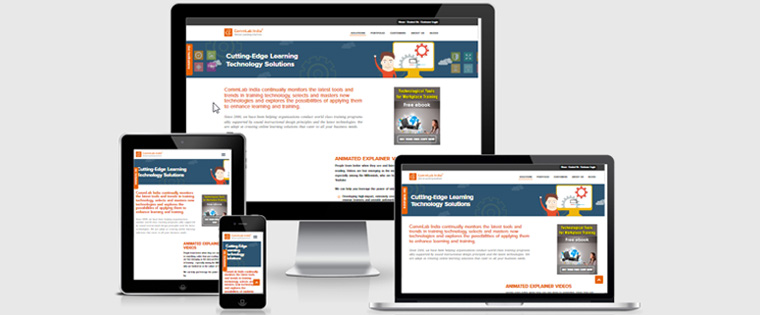 Let's admit it. Mobile learning is not e-learning through mobile devices, is it? While it is true that 'e' in e-learning stands for 'electronic' and mobile devices are surely one, but their size and purpose make them different from desktops, when you consider them for online learning. Having said that, mobile learning is not completely different from e-learning, it is not too similar too. In simpler words, the process of designing and developing training course for mobile and desktops might be the same, but the considerations and recommendations of content strategy do differ when the courses are being designed for mobile devices.
Here are a few recommendations of content strategy to keep in mind while designing mobile learning material:
1. Understand the Purpose
The purpose of online learning on desktops is to teach, whereas the purpose of mobile learning is quite different. Mobile learning is to reinforce training, provide on-the-job support, and ensure collaborative learning. In short, mobile learning is not a replacement for e-learning or classroom learning, as the time spent on mobile is very less for learning.
Instead of having mobile learning as a sole strategy, make it part of the bigger training strategy. For example, after attending a classroom session or taking an e-learning course, learners tend to forget 70 % of what they learn, within 24 hours. So, you can take the help of mobile learning for reinforcing the training, and deliver short mobile courses at defined intervals, which is called spaced learning. Or, you can use mobile learning for providing job-aids in the form of infographics, short videos, interactive PDFs, etc.
2. Keep it as Short as Possible
As the purpose is not to impart skills or deliver in-depth knowledge on a subject, you only offer quick information to the learners at the time of need or reinforce a few points. So, do not make mobile learning lessons too long. Provide information in the shortest way possible that can effectively convey the message and support the ongoing learning process. This idea of providing information in bite-sized learning nuggets is called microlearning.
To keep the mobile courses short, you can create them in the form of quick videos, infographics, comic strips, and quizzes which do not address more than one learning objective. Such formats ensure quick access anywhere, anytime on the mobile devices enabling just-in-time learning.
3. Keep in Mind the Limited Size of the Screen
Unlike desktops, mobile devices have too little area to work on. You cannot put all the content you have on a single screen. If you do so, the learner will have to zoom in to read the content, which is not recommended for an effective mobile learning experience. To avoid this, chunk the content to accommodate only that information which is necessary – the need-to-know information.
4. Consider Single Hand Use of Learners
The common usage of a mobile device will be in the portrait mode, that is, one-handed. No one will like to change to the landscape mode, that is, two-handed use, unless it's an awesome video game. I'm sure the infographics or videos to reinforce training will not be as interesting to them. However, they are quite important. So, ensure you mobile courses or mobile learning nuggets are designed in the portrait mode, enabling one-handed use. Also ensure that the clickable elements are big enough for your thumb and learners do not have to zoom-in.
Yes, content strategy for mobile learning is different. I won't say that an e-learning courses delivered to mobile device cannot be called as mobile learning. It can be. But for the learner, it will not be a great mobile learning experience, and learning experience is important because information is retained for longer, when the learning experience is good.