Essential Strategies to Engage Learners in a Blended Learning Program
Blended learning offers engagement strategies from both eLearning and ILT. This blog discusses a few strategies of blended learning to engage learners.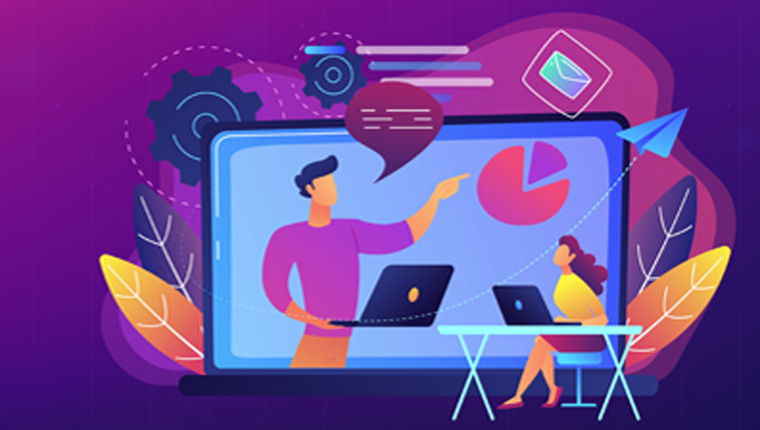 Effectiveness, engagement, and efficiency are the three commonly used criteria for evaluating the success of a training program. There is no absolute formula to engage all learners. Learners come with different goals, desires, and limitations. One of the greatest strengths of blended learning is the wide range of tools and strategies it offers to reach learners. Having its roots in ILT and digital training, the blended approach is at the advantage of adopting engagement strategies that work best in these two worlds.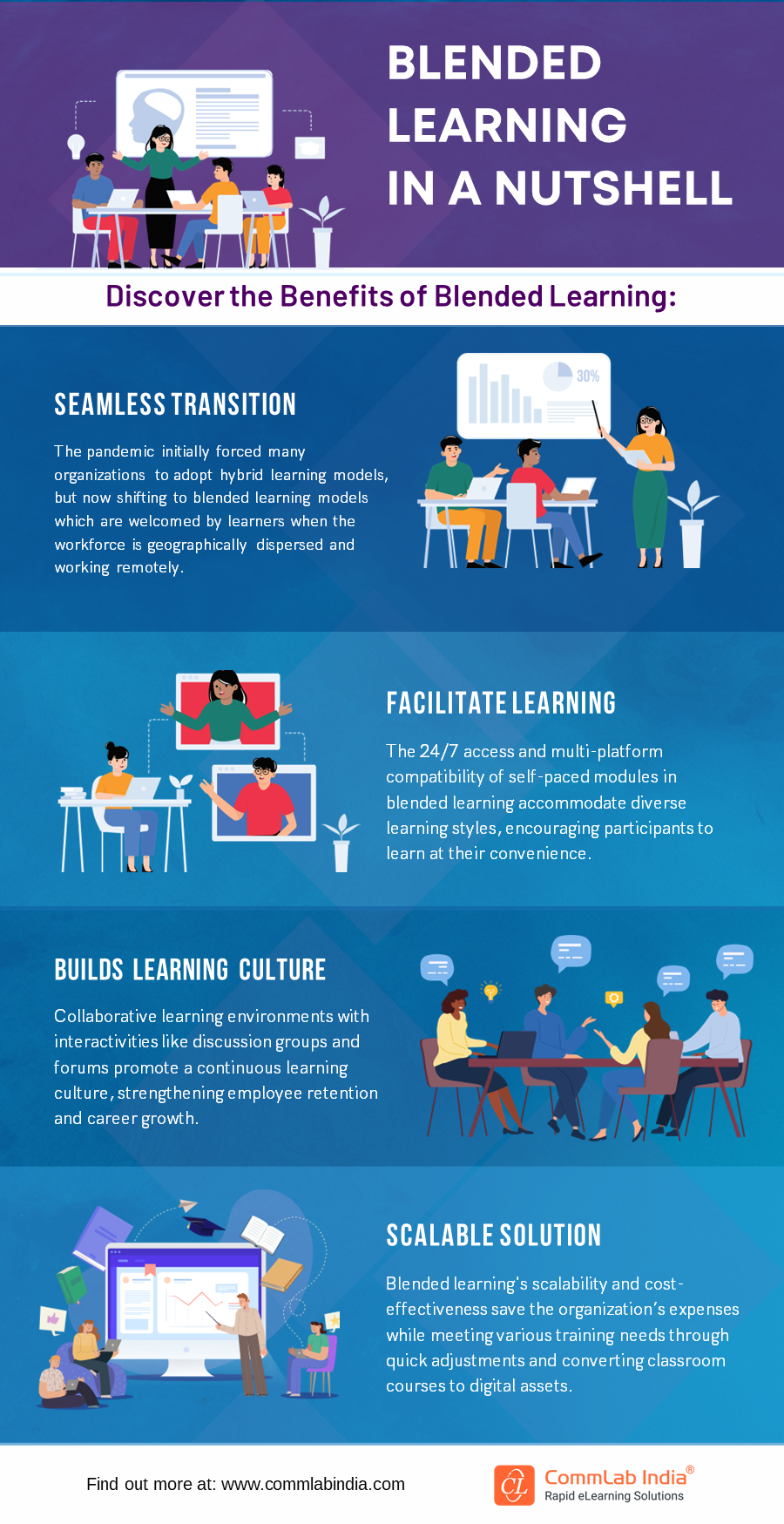 Looking for Engagement Tips in a Blended Learning Initiative?
Here are a Few Strategies to Engage Learners in a Blended Learning Program
Engage the heart and the mind
Create engagement through learner interaction
Design human interactions
Design content interactions
Jared Stein and Charles R. Graham in their book "Essential for Blended Learning- A Standards-Based Guide" discuss strategies for designing a blended course that will engage learners. With the help of these strategies let's see how to carefully plan a blend of classroom and online mode to maximize engagement among learners.
Blended Learning Strategies
1.

Engaging the heart and the mind
Example

Jorge is a senior sales manager with years of expertise. His company has introduced a new ERP system, and Jorge is apprehensive about using it. His organization chose blended learning that included classroom training and simulation-based online training. On the first day of ILT, Jorge was surprised when his instructor gave him a personal hands-on experience with the ERP system. This also gave him an opportunity to share his apprehensions about the system. The instructor demonstrated how to navigate through the ERP and execute the tasks. The ILT session was followed by a simulation-based learning opportunity where Jorge could virtually watch and try tasks as many times as needed to reach proficiency.Because the instructor expressed a thorough commitment to training, Jorge was energized and motivated to continue his engagement in the online activities too. In fact, this helped him get a strong sense of connection with the ERP system.
Reaching a learner's heart and engaging their mind are two important aspects of learner engagement. Often times in online training, we tend to focus on the cognitive aspect of learning and overlook the heart element. Online and ILT-based instructions address the learner-content relation differently for each unique context.
In the above example you saw how a blend of both ILT and online learning helped engage both the heart and mind of the learner. Since the instructor decided to go for a face-to-face instruction with the senior manager, the training offered encouragement and confidence to the latter. The online training that followed offered him/her a personalized practice session and opportunity for immediate feedback.
2.

Creating engagement through interaction
When it comes to engaging learners, according to the "theory of transactional distance" psychological distance is more important than physical distance. A learner might feel emotionally close to an online trainer on the other side of the globe with whom he interacts personally than to a classroom trainer with 200 learners who might develop no personal connect with learners.
There are three major categories of interaction, each contributing to the learning experience in a different way. They are:
Learner-instructor interaction: Interactivities a learner has with an instructor. This can be face-to-face, email exchanges, classroom lectures, or virtual classroom sessions.
Learner-learner interaction: Interaction between learners through self-organized study groups, classroom discussions, debates, and online discussion forums.
Learner-content interaction: Interaction between the learner and content in traditional text-based forms or digital formats such as videos, animations, simulations, etc.
An instructional activity that blends different type of interactions is more engaging than activities that predominantly focus on a single form of interaction. However, when it comes to engaging learners, all these forms of interactions have their strengths and limitations. Nonetheless, these strengths and limitations oftentimes also complement each other. Thus, an appropriately designed blended solution can take advantage of the strengths of all three forms to engage learners.
Choose online and ILT on the basis of how their qualities will best support the learning requirements.
To increase emotional engagement, use learner-learner and learner-instructor interaction when appropriate.
Employ interactions that promote emotional engagement in the areas learners are weak.
3.

Designing human interactions to engage learners
"Good teaching cannot be reduced to technique: good teaching comes from the identity and integrity of the teacher"
– Parker J. Palmer
According to a survey by Forbes, among 760 business executives, 86% preferred face-to-face interaction for better engagement. Human communication consists of 93% body language. Compared to other forms of communication, body language helps instructors gain a much better understanding of how a learner feels.
In other words, personal relationships can be built more quickly in a face-to-face interaction. Using a blended learning approach, you can precede an ILT session with an online course that offers an in-depth understanding of the subject matter with facts and principles. This will help you augment the classroom training to build a relationship with learners and help them on a personal level. This also helps establish a personal connection and sense of community among learners.
Today, since organizations are growing globally, an onsite face-to-face interaction is not always a feasible choice to foster human interaction. Modern-day eLearning environment offers synchronous eLearning solutions and online forums where learners can virtually interact with trainers and peers at the time and space most convenient for them.
4.

Designing content interaction to engage Learners
Compared to learner-instructor and learner-learner interactions, a learner-content interaction can engage learners differently, in more advanced forms. Modern learners who are tech-savvy have access to mobile devices all hours of the day and night. This facilitates an opportunity to provide individualized experiences to multiple learners simultaneously. Learner-content interaction falls under two general categories.
Interaction with static content which can include eBooks and web pages.
Interaction with dynamic content that changes according to input from learners. This includes animations, simulations, and game-based assessments.
Parting Thoughts!
Blended learning can offer a wide range of learning opportunities that build on the strength of both ILT and online interactions. And yes, remember, in addition to the cognitive outcome of your learners' minds, you are also obliged to consider the emotional factors that play a significant role in corporate training. Ready to set sail on your blended learning journey or still contemplating the idea? Well, download this checklist to navigate the maze.
Editor's note: This post was originally published in 2019 and has been updated for comprehensiveness.