Synchronous E-Learning: Best Practices for Trainers and Learners
One of the key advantages of synchronous e-learning is a non-threatening platform to learn from each other. Explore the best practices that both learners and trainers have to follow, to ensure a successful session.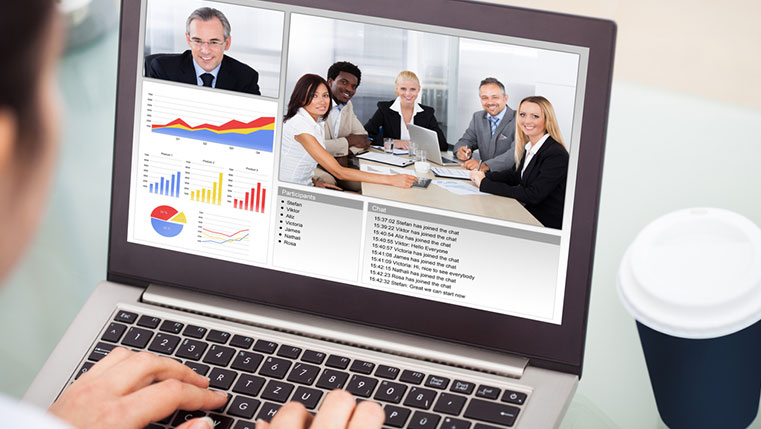 With the recent developments in technology and the growing global demand for e-learning, today we have several interactive online learning techniques, each with its own benefits and limitations. Synchronous e-learning is one among them. A lot like traditional classroom learning, this e-learning methodology allows a group of people to virtually come together at a given time to learn and discuss a particular topic.
What difference does synchronous e-learning make in the role of a trainer and a learner? What are the best practices to be followed by the trainers and learners involved in synchronous e-learning, to reap the benefits of this real-time online learning experience? While synchronous e-learning offers the flexibility of e-learning with the personalization of a classroom, there are certain dos and don'ts that'll enhance the experience.
Best Practices for Trainers
1. Know your learners: Get familiar with the knowledge levels and background of your learners and their skill level. This will help you predict the learners' capability to grasp the course content and ensure every employee is on the same page.
Establish a rapport with your learners at the beginning of the course. Greet them individually and inform them of the learning objectives and give an overview of the course.
2. Choose interactive elements over text-heavy presentations: For a successful synchronous e-learning environment, keep your course content 'text-light' and 'activity-heavy'. Go from the known to the unknown, and correlate your message with case studies and real-life scenarios from jobs or your own experience.
You can also employ activities and visual aids that would encourage learners to interact with you and their co-learners. Also ensure that you have all the training material such as audio clips, videos, and infographics, sorted and saved in a single location for their easy access during the session.
3. Encourage learners to pitch queries and share their insights: Make your learners feel free to ask queries and share their thoughts during the synchronous training session. Set the expectations at the beginning of the course. Let them know what the session is going to cover and how and when their queries will be answered.
In case you are using an online chat platform or a webinar, encourage learners to address their concerns and feedback in the chat box or comment section, and respond to all of them at the end of the training session. If you are using video conferencing, tell them queries shall be answered via audio.
4. Get ready with supplementary resources: Make ready the links to online resources such as articles and videos employees can access at the end of the training program. Downloadable digital resources can also be designed for learners who do not have regular access to the Internet. This will help you cater to the demands of all your learners and enable them to benefit from your synchronous e-learning session.
5. Check for technical glitches: Have a quick run through for technical glitches before you commence the training session. This will give you comfort over the technology you will be working with. Check for visibility and audio, and make sure the presentation order and timing is correct.
In case you are planning to ask poll questions, ensure all the answers will be well integrated and you would have the provision to collect and share them.
6. Moderate your tone and pace based on your learners: Modulate your voice because your voice communicates as much about you as the words you speak. Tune your tone, narrative voice, and pace corresponding to the background and needs of your employees.
For example, if you are training the top level executives of a manufacturing industry, you would probably use industry-specific jargon and cover more ground in a shorter span of time than if you were addressing new hires.
However, regardless of who your learner is, always maintain a steady pace, without rushing through the content, and speak with enthusiasm and clarity.
7. Stress the significance of collaborative learning: Create opportunities for your learners to collaborate and learn from each other's experiences. However, not every employee will be comfortable working in large group settings. So, divide them into smaller virtual groups of 2-3 people and assign activities or evoke an online discussion. This approach will help learners evaluate their ideas and appreciate the concept of collaborative learning.
At the end of the course, restate the key points. Ask learners to share their understanding rather than you repeating it. Give them the opportunity to share their feedback and invite questions and share additional online resources.
Best Practices for Learners
1. Participate Actively: One of the key advantages of synchronous e-learning is a non-threatening platform to learn from each other. So explore the many avenues for innovation and efficiency this real-time collaborative approach offers. Participating in conversations with your trainer and fellow learners, responding to your trainer, and reading ahead the topics to be discussed will help you become an active participant in synchronous e-learning.
2. Get acquainted with technology: A fundamental understanding of the hardware and software to be used is necessary for synchronous e-learners. Getting acquainted with how to participate in teleconferencing – video conference, audio conference, or web conference; how to use instant chat applications, how to use the navigation buttons of the online search engine are the primary requirements before attending the training session.
As this online training method facilitates real-time training at any place of your convenience, lack of access to technical support can be a major challenge you would encounter. Thus, get acquainted with the basic technicalities so that you are prepared to attend the training with everything in working order.
3. Be a self-directed motivator: Abraham Lincoln once said, "Always bear in mind that your own resolution to succeed is more important than any one thing". It is this spirit of self-directed motivation that is expected out of the participants of synchronous e-learning.
Self-motivation is necessary to explore the myriad possibilities this collaborative learning environment offers. Taking notes, asking questions, and answering questions raised by the trainer, participating in discussions and polls, all help you in becoming an active learner.
Synchronous e-learning transforms the focus from e-learners as individuals to e-learners as social participants. It is emerging as an acceptable option to exchange social support and discuss "complex" issues. The best practices discussed in this blog will offer you a chance to deliver successful synchronous sessions and enhance the overall learning experience.