5 Proven Tips to Blend Learning Formats
Check this blog to get 5 proven tips to blend learning formats effectively.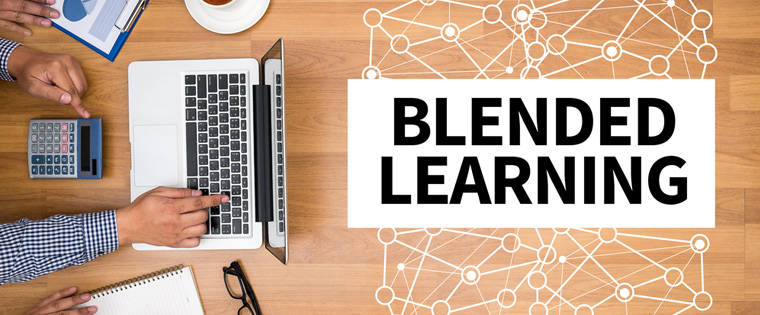 A well-designed blend of learning delivery methods enables organizations to impart training of high quality and provides a high degree of flexibility to learners. Learners can be better involved through various types of instructional material. Good hybrid learning strategies allow the trainer to evaluate learner trends and proceed accordingly. They help companies make the most of the online learning format, while retaining the much needed human element in their training programs.
Are you too planning to climb the blended learning bandwagon? How can you create an effective blend of online and classroom training methodologies? What does it take to ensure that your hybrid learning initiative provides the best ROI on your training dollar? Here're 5 proven tips.
Tip 1: Explain the benefits to top brass
As with any corporate initiative, a blended program can be successful only if it has the support of top management. You can obtain this support by clearly listing the benefits of a hybrid learning approach.
Tell that blended learning provides the best ROI, reduces the expenditure incurred to hire instructors, and the logistical costs of holding classroom training sessions (back your statement with proper calculations; solid numbers are more effective in convincing higher-ups of the need to adopt blended learning). You can state that fewer work hours are lost to training, as the e-learning component can be delivered anytime, anywhere, on any device, without interruptions to work.
You can also tell them that blended learning is a good way to introduce e-learning in your organization (if it isn't yet in place), as it helps your learners get used to the online learning format, without any change management problems.
Tip 2: Give precedence to learning outcomes, not technology
The design of a blended learning strategy must be based on the desired learning outcomes. It is necessary that you give precedence to learning objectives over a particular learning medium or technology. For instance, you need to come up with the appropriate blend of learning methodologies to deliver an ERP training program, based on its objective i.e. equipping staff members with the knowledge and skills required to use the enterprise software efficiently. This objective can be met through a blend of instructor-led workshops and watch-try-do simulations. You can explain the re-engineered processes in the workshops, while simulations can be used to train employees on the steps to implement the processes using the ERP system.
Tip 3: Consider learners' preferences and work environment
You need to consider the work environment and learning preferences of the target audiences when you design a hybrid learning approach. It's a good idea to conduct a survey to find out what the needs of your learners are and the learning methodologies they prefer. For instance, one of our clients in the manufacturing sector realized that most of its shop floor workforce preferred an instructor-led format, as they were not comfortable using computers. The company arranged for lectures by trainers to be recorded, and then used these recordings for training employees. Likewise, a customer from the consumer electronics sector found that most of its service technicians wanted to have video-based online training sessions, as learning videos could be accessed very conveniently on their mobile devices.
Tip 4: Move as much content as possible to the web
It is a blended learning best practice to deliver only critical content in an instructor-led session. Make sure that the time spent by your learners in the classroom is optimized, by moving content pertaining to basic concepts of the subject matter to the web. Once learners complete the fundamentals, hold a classroom session to deliver content pertaining to advanced topics and/or facilitate practice.
One of our customers in the medical device domain delivers video-based e-learning courses for imparting basic training on its products to technical personnel. After the staff members complete the online courses, they need to attend a five-day workshop for advanced training on the products and hands-on practice.
Tip 5: Harness the power of your Learning Management System (LMS)
Your LMS is a very useful tool to implement a blended learning program. You can use the application to perform the following activities.
Schedule trainer-led sessions
Conduct pre-classroom learning activities
Create a learning content repository
Reinforce learning periodically
Facilitate social learning
Evaluate learners online
Generate reports to analyze learning performance
A good blend of learning methods goes a long way in delivering training of high quality. Follow the best practices listed above to come up with a good hybrid learning strategy.