Can Virtual Instructor-Led Training (VILT) Become the New Normal? If Yes, How?
When the world locked down, VILT opened up doors to keep training moving. What is VILT? What are the reasons for its growing appeal? And how can you overcome challenges to use it effectively for corporate training? Read on for the answers.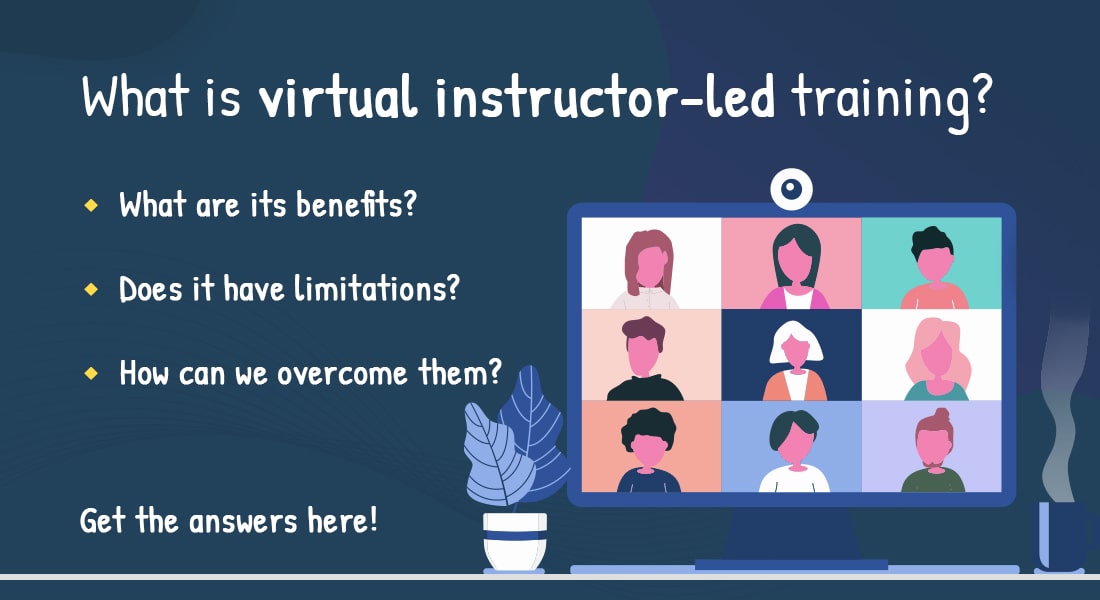 Even before the pandemic, the world was moving slowly toward the virtual world, from gaming and social networking to entertainment and shopping. And with the pandemic's arrival, working and learning made a drastic shift from a predominantly offline mode to a completely digital one. Virtual training is becoming more and more popular since organizations are opting for online training solutions – eLearning, microlearning, virtual instructor-led training.
Types of Online Training
Online training solutions can broadly be classified into synchronous and asynchronous formats.
Synchronous online training requires both learners and the instructor to be present in the session at the same time, from any location. It offers learners most of the benefits of the human interaction of a classroom without traveling to a particular location, thereby avoiding all the costs and logistic headaches of organizing a brick-n-mortar classroom session.
Examples: VILT, webinars
Pro Tio: Read why VILT is much more than a webinar here.
Asynchronous training, on the other hand, can be accessed by learners at their own time and pace, but without the presence of an instructor.
Examples: eLearning, microlearning, mobile learning
What is VILT?
Classroom training conducted via a video conferencing facility. Allows learners to connect without any geographic limitations, at the same time. It lacks the physical interaction and visual cues available in a traditional classroom; but affords scope for collaboration through activities such as polls, annotations, chat, and breakout rooms.
What is VILT?
VILT or virtual instructor-led training can be thought of as the virtual version of traditional classroom training with the instructor and learners present in the session, at the same time (across different zones), on a virtual video conferencing platform. So, it is a synchronous method of online training.
Some of the popular platforms used for virtual training are Microsoft Teams, Cisco Webex, Zoom, Google Meet, Slack.
Traditional vs. Virtual Classrooms
Traditional Classroom

Virtual Classroom

Instructor and learners have to be present at the same geographical location at the time of the session.
Visual non-verbal cues such as body language, facial expressions, eye contact, etc., guide the instructor on how learners are reacting to the session.
There is a lot of scope for interaction between and among learners and the instructor, so more chances of building rapport.

Instructor and learners can be in different geographical locations but have to be present online at the time of the session.
There is an absence of most visual cues, making it hard for the instructor to detect learners' level of engagement.
It can be challenging to build rapport and instill trust in learners due to the lack of physical presence, visual cues, and personal interactions.
Virtual Classroom vs. eLearning
Virtual Classroom

eLearning

Synchronous online training led by an instructor.
Can be complemented with eLearning modules for better learning and retention.
Is scheduled at a specified time, led by an instructor who sets the pace of training based on course duration, topic complexity, and level of understanding of learners.
There is scope for interaction between the learner and instructor.
Can be used for collaboration and offers a comprehensive and detailed learning experience.

Asynchronous online training without an instructor.
eLearning courses can be broken down into microlearning modules.
Can be completed by learners at their own pace and in their preferred time.
There is no direct interaction between the learner and the instructor.
Advantages of Using VILT for Corporate Training
No Restrictions due to Location
VILT gives learners and instructors the freedom to attend the session from anywhere, without having to be physically present at the training location.
Interaction
VILT provides scope for interaction much like the physical classroom. Learners can clarify doubts, pose questions, express their opinions and concerns and be part of discussions with the instructor and other learners, promoting effective and collaborative learning.
Scope for Personalization
VILT sessions are specially designed to help learners achieve their learning objectives. The instructor can make changes, if necessary, in the pace, approach, or have intervals, based on learners' feedback and participation. The instructor can also revise complex topics, assess learners, and give them opportunities to reflect and remember.
Bottlenecks of VILT and Means to Overcome Them
Lack of Visual Cues
Visual cues such as facial expressions, body language, and eye contact play an important role in effective training. They act as a form of feedback for the instructor to help judge the engagement, interest levels, and understanding of learners.
Lack of these non-verbal cues in VILT makes it difficult for the instructor to gauge learner engagement making the process of training less efficient.
Solution
Instruct learners to utilize the chat and 'raise hand' options to ask questions, convey concerns or opinions.
Address participants by name and also ask for feedback.
Incorporate games embedded in PPT or small activities and polls to break monotony.
Use the video facility for introductions, and when needed.
Ask them to share how their feel or their opinions through chat (emoticons) or polls.
Lack of Rapport and Trust
As there is no possibility of physical interaction, it is difficult for the instructor to bond with the learners which is important for building trust and ensuring engagement for effective and smooth learning. Learners too might be new to each other, hindering active interaction.
Solution
Interact with learners before the session by setting up a virtual lobby. A lobby can be set up in the virtual platform (most platforms support this) where learners can meet and greet before the session starts.

Plan for creative orientation and icebreaker sessions where the instructor and learners introduce themselves, form teams, play games, and have discussions.
Personally contact learners who might need extra help and encouragement.
Recognize and appreciate each learner's contribution and participation. Send messages complimenting their entries, give them points or other rewards that add up throughout the session to encourage them to participate often during the sessions.
You can also contact participants before the session and get to know them.
Use pre-training surveys to know their pain points or what they expect from the session.
Reduced Attention Spans
Reasons for learners not paying attention in the session include distractions, boredom, or even the absence of a monitoring presence!
Solution
Break down the session into smaller modules with intervals in-between.
Frequently assess learners' understanding, engagement, and consensus with the context by asking questions.
Use the polling feature to know if learners are in sync with the content being taught.
Conduct activities such as games, team quizzes, discussions.
Use breakout rooms to foster teamwork.
Present information in different formats such as audios, videos, infographics, mind-maps.
Let learners share their experiences/challenges/war stories.
Lack of Control Over Learner Participation
Learner participation is crucial for better engagement and retention. It also acts as a form of feedback for the instructor. But it is difficult for the instructor to assess the extent of learner participation in a virtual classroom, making it difficult to understand their understanding and involvement.
Solution
Set ground rules for learners to participate. Emphasize the importance of participation.
Give them time and encourage them to share their views on different topics.
You can reward active participants to instill a healthy spirit of competition.
Discourage the usage of mobile phone by peppering the session with activities such as annotations and worksheets.
Use breakout rooms to allow learners to discuss and share views.
Use chats to answer questions and have discussions.
Create group learning activities, direct questions to groups, and ask for different methods to find solutions.
Use puzzles, polls, quizzes, discussions; share anecdotes and war stories to enhance participation.
Check a few more VILT bottlenecks and their workarounds in this infographic.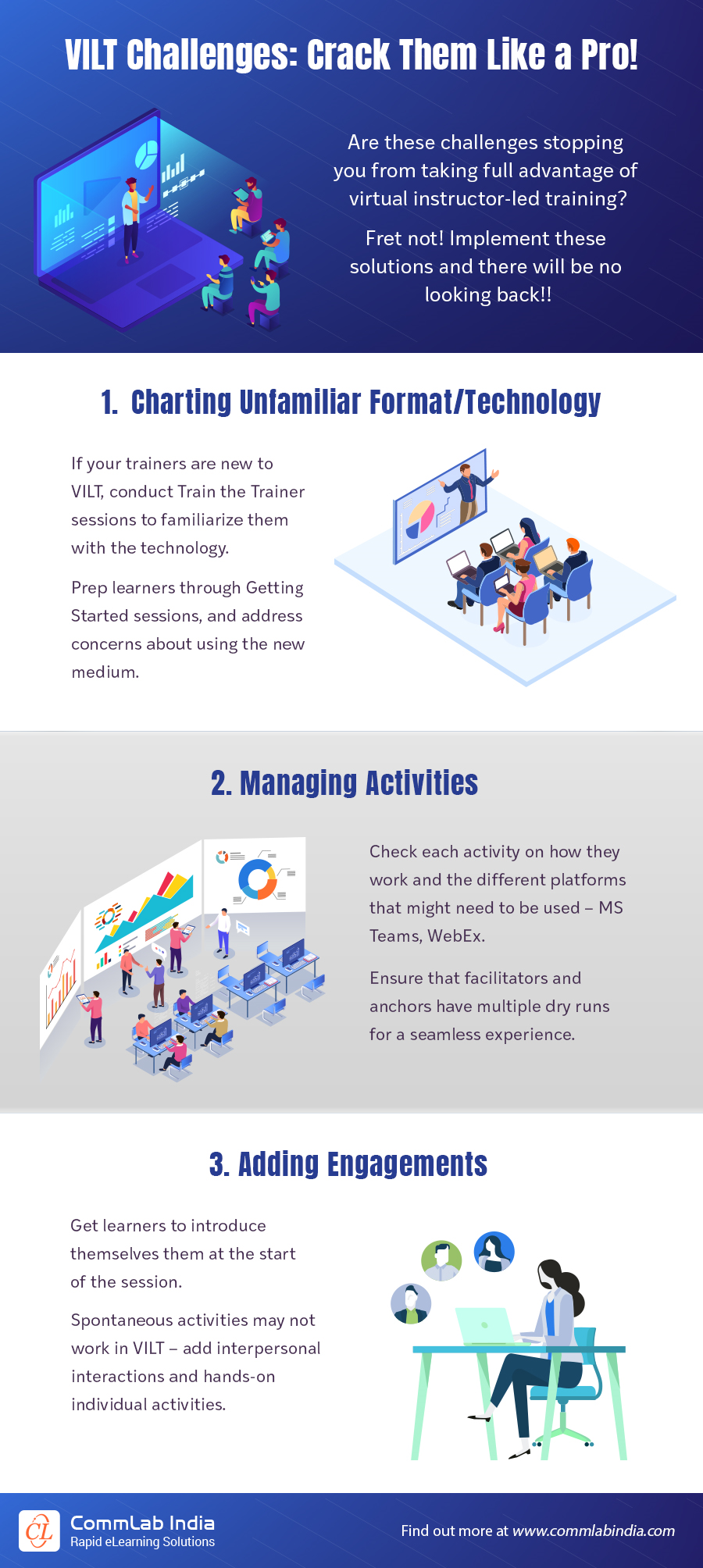 Parting Thoughts
Can virtual classrooms completely replace traditional classrooms? Maybe not. While traditional classrooms have been around for decades, they have many advantages that virtual classrooms are striving to meet with the help of emerging technology.
VILT is an effective, utilitarian method of virtual training and is here to stay. Providing the best of both worlds – the convenience of remote learning and the interaction of instructor-led training – VILT is surely a win-win game for everyone concerned.
So, go for it. What are you waiting for?
To know more about virtual classrooms and how to make them as engaging as physical classrooms, check this eBook.