Everything You Should Know About Designing eLearning Assessments
eLearning assessments are an effective way to measure learners' achievement of the learning objectives. How do you use them in your eLearning courses? Here is a blog with answers to some FAQs on eLearning assessments.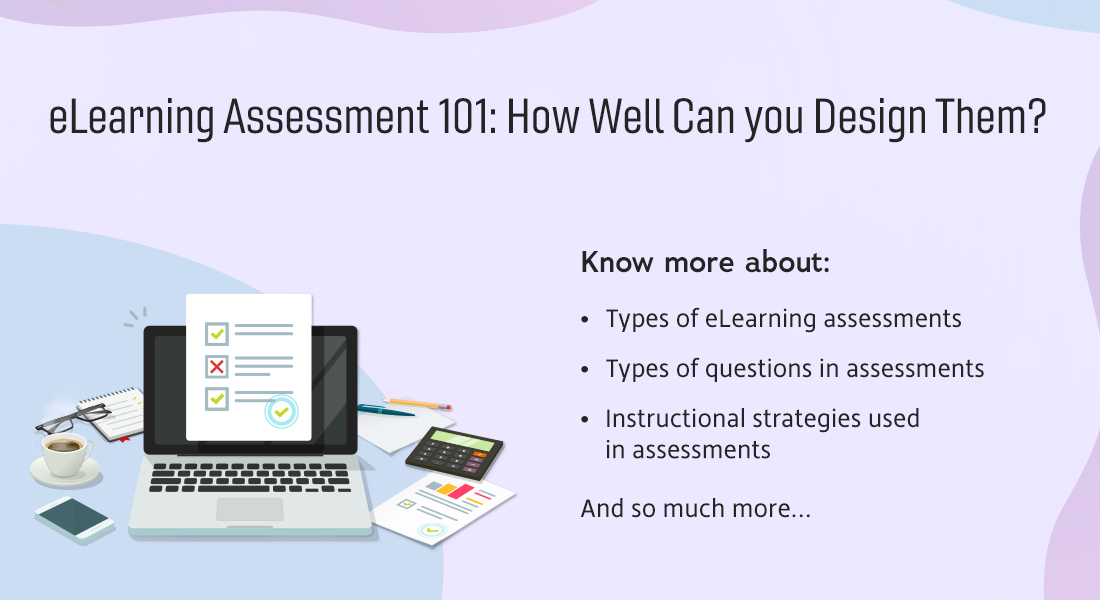 As corporate training professionals, we are always on the lookout for new learning theories, the latest technologies, and innovative instructional methods. But we often neglect a very important aspect of eLearning courses – assessments. ELearning assessments are critical to your entire training program. They measure whether learners have achieved the intended learning outcomes and whether they are ready to apply that knowledge to their jobs. So, it does seem unfair that we don't give eLearning assessments their due, doesn't it?
5 Things to Know about eLearning Assessments
Types of eLearning assessments – Formative, summative, others
Types of assessment questions – MCQs, drag n drop, fill the blanks, etc.
Types of new-age interactive eLearning assessments – Scenario-based, simulations, and gamified assessments
Nature of assessment questions – Not-too-easy, not-too-difficult, aligned to learning objectives
Best authoring tool– Depends on the kind of assessment required
We'll discuss the 5 most frequently asked questions about eLearning assessments in this blog. So let's get started.
5 FAQs about eLearning Assessments: Answered!
1. How Many Types of eLearning Assessments are There? And What are They?
Two types of eLearning assessments are usually included in an eLearning course – formative and summative assessments. In addition to these, other types of assessments can also be used. Let's discuss all these eLearning assessment types briefly.
Formative Assessments: These are diagnostic in nature and are included throughout the course, usually at the end of each learning point/learning objective. Formative assessments are not meant to score learners but rather reinforce learning. They are accompanied by immediate constructive feedback.
Summative Assessments: These are evaluative in nature and are found at the end of the eLearning course. Summative assessments score learners and give a qualifying verdict on whether the learner has successfully finished the training. These assessments may or may not be accompanied by feedback.
Pre-assessments: These tests are conducted before the start of an eLearning course to assess the learners' existing knowledge on the topic, and also to connect prior workplace training to the current one. Pre-assessments make learners aware of their knowledge gaps so that they will know where to focus during the training.
Icebreakers: These questions are meant to catch learners' attention and make them an active part of their learning experience.
Reflective Questions: These are open-ended questions that can be included within the eLearning course to make learners pause for a moment and think about a particular point.
Post-training Assessments: These are conducted weeks or months after the completion of the training. They are meant to measure learners' knowledge retention and act as a refresher at the same time.
2. What are the Different Question Types in eLearning Assessments?
There are many types of questions that can be used in eLearning assessments.
Multiple Choice Questions: MCQs can be single select or multiple select. Since these questions are usually straightforward, easily scorable, and trackable, they are mostly used in summative assessments.
'Match the set' and 'Drag n Drop' Questions: 'Match the set' questions are used to test the relationship between 2 sets of data. 'Drag n Drop' questions help evaluate or check recall. Both these question types are usually used in formative assessments.
Fill the Blanks, Drop-down Options, and True/False: As these questions can be easily scored and tracked, they can be used for both formative and summative assessments in online training.
'Do You Know' Questions: These questions perform well as icebreakers, to catch the learners' attention either at the start of the course or at important points in the course.
Open-ended Questions: These questions do not actually require an answer and are used at the start or end of a topic to make learners think about what they are going to learn or have just learned.
3. Can we make eLearning Assessments more Engaging and Interactive?
Yes, of course! Who said eLearning assessments need to be boring? We can use highly interactive instructional design strategies to make eLearning assessments interesting for learners. Here are a few examples.
Scenario-based Assessments: Converting conventional assessment questions into scenario-based ones increases the level of difficulty, provides relevant context to learners, and measures their critical thinking. You can provide diagnostic feedback to help learners understand why their answer was or wasn't the most appropriate choice.
Simulation-based Assessments: Simulation-based assessments place learners in an environment that mimics their actual job environment and they are asked to perform tasks they will face in their job roles.
Gamified Assessments: The entire design of these assessments is based on game elements, with points to be scored with every correct answer and badges to be earned after each level. This adds an element of fun and competition to the assessment, and a sense of achievement after successful completion.
4. How can you Frame Effective Assessment Questions?
Much like the rest of the eLearning content, your eLearning assessments need to follow some rules to be effective. Here are a few things you need to keep in mind while framing assessment questions.
Question should be aligned to the set learning objectives to ensure they measure the ability of the learner to perform something at the end of the training.

Do NOT use content-oriented questions (which test knowledge in isolation) "Do you know it?"
Create performance-based assessment questions (that ask the learner how to apply the knowledge), "How well can you use what you know?"
All questions in a formative assessment should be directed towards the one learning objective it is addressing. On the other hand, in a summative assessment, there should be at least one question for each learning objective in the course.
A well-constructed question has two parts – the question stem and response
The question stem carries the action verb used in the learning objective. It should address the right assessment level of Bloom's Taxonomy.
The response stem contains the answer(s) and distractors.

The answer(s) should be clearly correct.
The distractors should be:

Consistent
Standardized
Belong to the same family
In general, the questions should:

Check learners' understanding, not his memorization skills
Not be too easy or too difficult
Not confuse or trick the learners
Not contain abbreviations or negative words
Randomizing questions from a question pool is a good practice so learners don't get the same questions when they retake the quiz.
5. Which Authoring Tool is Best for Creating eLearning Assessments?
Well… there is no right or wrong answer to that question. "It depends on what you need." The choice of eLearning authoring tool should depend on the kind of assessment you want to create. If you want a different variety of questions in the same assessment, iSpring can be a great choice because iSpring QuizMaker gives a lot of options with different question-types, even mathematical questions, and subjective quizzes. If you want a customized assessment like a gamified or scenario-based design, you can go for Articulate Storyline.
On the other hand, Adobe Captivate is great for developing simulation-based assessments. And with Lectora, you can use CenarioVR to give learners an immersive experience by using AR technology for creating assessments.
End Note
How do you feel about creating eLearning assessments now? It's quite easy you see, all you need to do is figure out which assessment type will best address your learning objectives and choose an authoring tool that can create that assessment design. And don't be too worried about the time and cost; eLearning assessments can be created easily using a rapid eLearning approach.
If you want to know more about what rapid eLearning is and how it can help boost your training deliverables, download our eBook.