4 Questions on Performance-based eLearning Assessments Answered! [Infographic]
Performance-based eLearning assessments help measure and improve learners' performance. How can we create meaningful eLearning assessments? This article has the answers.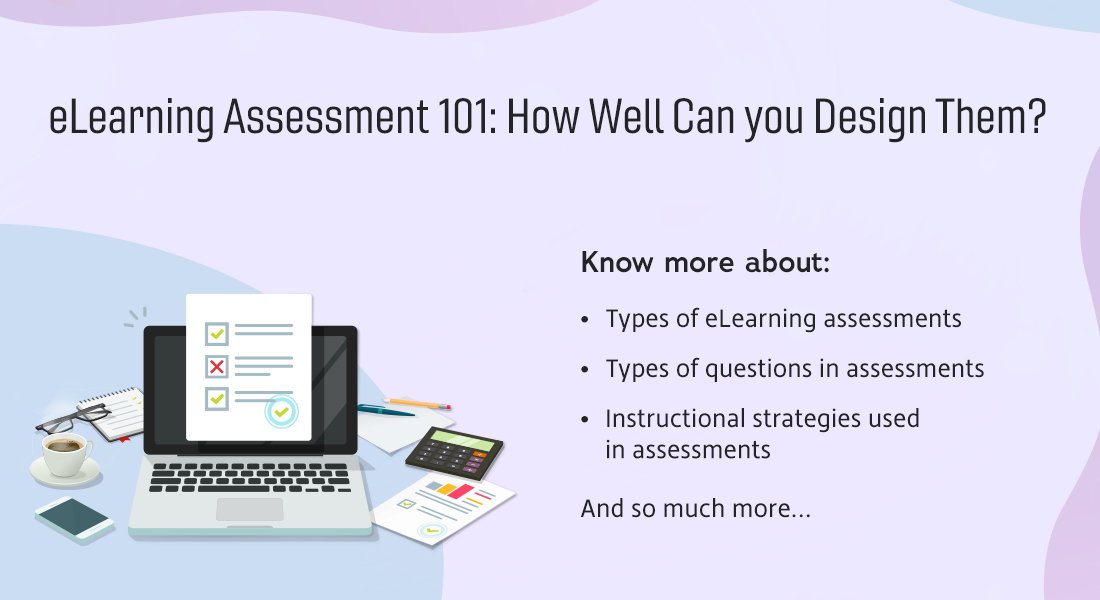 Assessments are an integral part of learning, whether in the classroom or online training. Performance-based assessments can drive learning and results if designed correctly. Using performance-based learning assessments will develop the performance required to generate the desired business results in employees.
How do performance-based assessments help corporate training?
Performance-based assessments help us measure learners' achievement of the learning objectives, and indirectly assess the effectiveness of the eLearning course. As corporate training professionals, we are always on the lookout for new learning theories and technologies, and innovative instructional methods.
However, we often neglect a very important aspect of eLearning courses, the assessments. eLearning assessments are very critical for your entire training program because they hep in measuring the efficiency of learners, they measure whether learners have achieved the intended learning outcomes and whether they are ready to apply the knowledge to their jobs.
4 FAQs on eLearning Assessments Answered
1. How many types of eLearning assessments are there in a course?
Formative and summative assessments are usually included in eLearning courses.
Formative assessments appear throughout the course, usually at the end of each unit. They are diagnostic in nature and help learners assess their own learning. Formative assessments are not scored. They are accompanied by immediate constructive feedback that reinforces learning.
Summative assessments are evaluative in nature and found at the end of the eLearning course. Summative assessments score learners and qualify whether they have successfully achieved the learning objectives. These assessments may or may not be accompanied by feedback.
Apart from the commonly used formative and summative assessments, there are other types of assessments used in eLearning courses.
Pre-assessments are tests conducted before the start of an eLearning course to assess learners' existing knowledge on the topic, and also to connect their prior workplace training to the current one.
Pre-assessments help learners become aware of their knowledge gaps so that they will know where to focus during the training.
Icebreaker questions are meant to grab the learner's attention and pique their interest in the training.
Reflective questions are open-ended and used to make the learners pause for a moment (and reflect) to think about a particular point.
2. What are the different question types that can be used in eLearning?
Many types of questions can be used in eLearning assessments.
Multiple Choice Questions: MCQs can be single select or multiple select.
'Match the set' and 'Drag n Drop' Questions: 'Match the set' questions are used to test the relationship between 2 sets of data. 'Drag n Drop' questions help evaluate or check recall.
Fill in the Blanks, Drop-down Options, and True/False: These question types can be easily scored and tracked, and so can be used for both formative and summative assessments in online training.
'Do You Know' Questions: These questions perform well as icebreakers, to catch the learners' attention either at the start of the course or at important points in the course.
Open-ended Questions: These questions do not actually require an answer and are used at the start or end of a topic to make learners think about what they are going to learn or have just learned.
3. Can eLearning assessments be engaging and interactive?
Yes, of course! Who said eLearning assessments need to be boring? We can use highly interactive instructional design strategies to make eLearning assessments interesting for learners. Here are a few examples:
Scenario-based assessments
Simulation-based assessments
Gamified assessments
4. Any tips to frame effective assessment questions?
Much like the rest of the eLearning content, your eLearning assessments also need to follow some rules to be effective. Here are a few points you need to keep in mind while framing assessment questions.
The questions should be aligned to the set learning objectives to ensure they measure the ability of the learner to perform something at the end of the training.
Content-based questions (which test learners' recall in isolation) are best avoided ("Do you know it?")
Performance-based questions (that ask the learner how to apply the knowledge) need to be used in assessments ("How can you use what you just learned?")
For 5 tips that can be used to design performance-based assessments that drive learning, go through this infographic.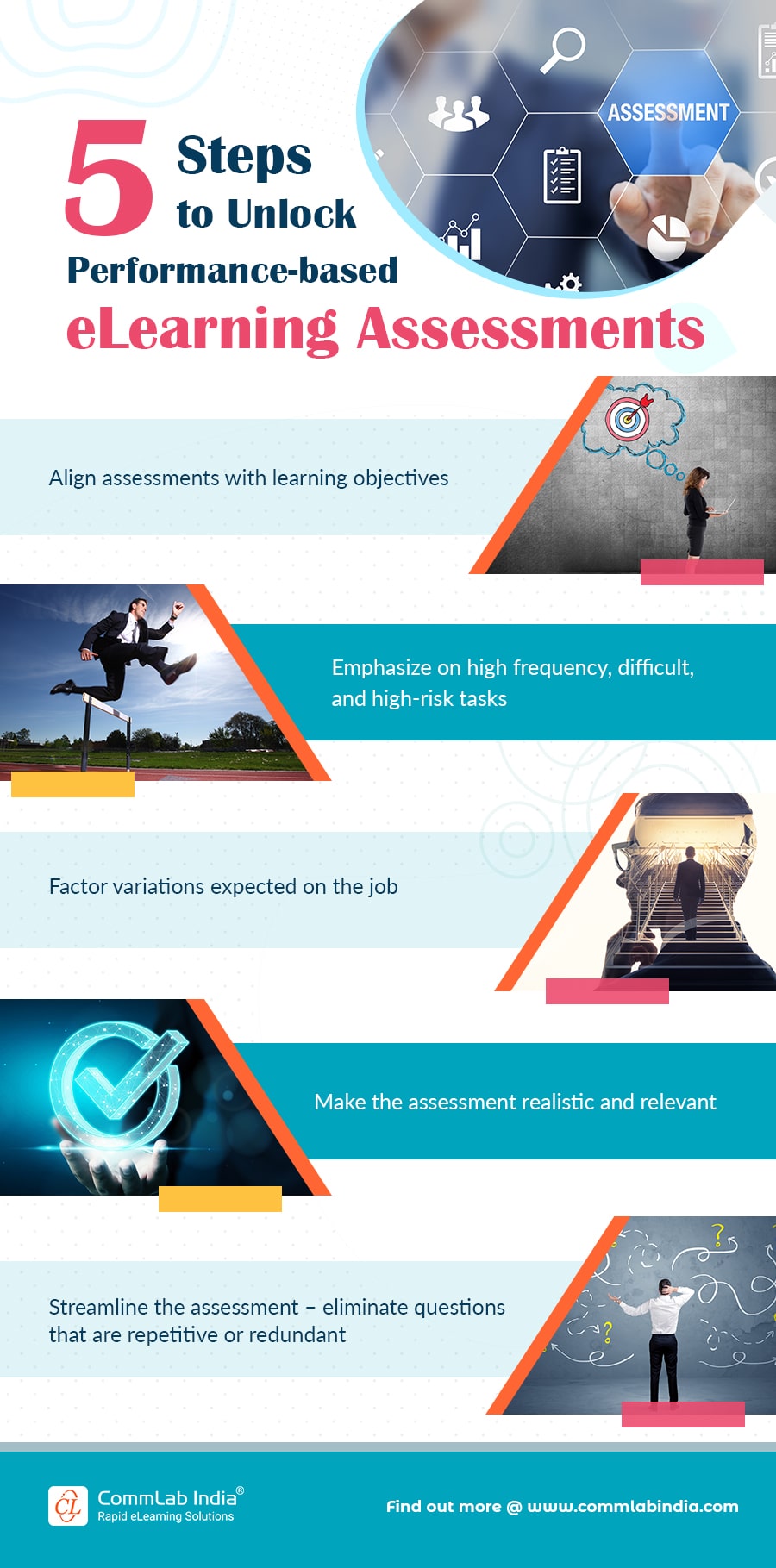 End Note!
Hope you found this blog informative to design performance-based assessments. With some careful thought and planning, it is easy to design assessments that actually drive learning and results.