6 Questions to Ask Yourself about Performance-based Assessments
To design assessments that drive performance (performance-based assessments), ask these questions regarding stakeholders, course designers, and learners.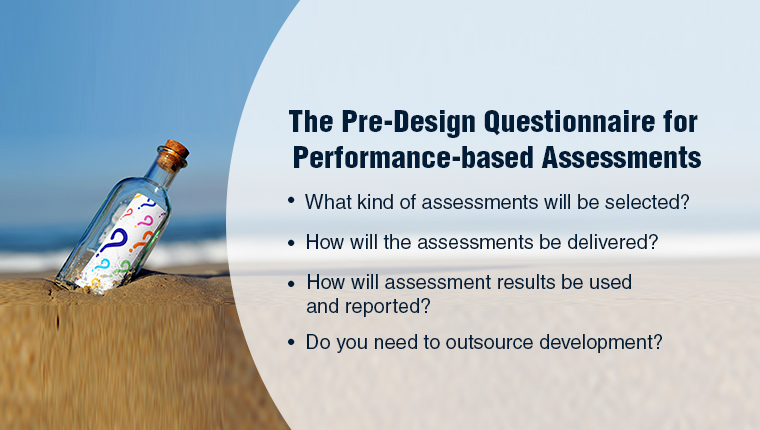 Conversations around e-learning assessments usually revolve around two themes: one on the flexibility that e-learning provides to learners to take a test anywhere and at any time; and the other on the reduced administrative overheads associated with eLearning assessments. However, very little information is available on aligning assessments with the performance-based learning objectives of online learning.
Questions about Performance-based Assessments
Stakeholders…
How will the assessments be delivered?
What is the feedback?
How will results be used and reported?
Course Designers & Developers…
Do You Need to Outsource the Assessment Design/Development?
Learners…
Will reinforcement be included post-assessment?
What kind of assessments will be selected?
Any training must enable employees to apply the newly acquired knowledge to the job tasks at hand, i.e., training must help learners perform their work well. Performance-based objectives are formulated based on the skill gaps in learners to perform task/s (what is hindering their work performance).
Unlike knowledge-based assessments which merely extend knowledge and test recall of facts and concepts, performance-based assessments (PBAs) are closely linked to the overall effectiveness of the e-learning program; challenging learners to apply their higher-order thinking skills to create a product or complete a process. This leads to the acquisition of new skills and improved performance at work. Tasks covered under performance-based assessments can range from a simple constructed response (e.g., short answer) to performing a series of steps in a process.
How does one go about designing good performance-based assessments? There are a few questions you must ask yourself before jumping on the design wagon—questions involving three important groups of people in any training: stakeholders, course designers, and learners.
Getting Performance-based Assessments Right
1

Questions that Involve Stakeholders
1. How Will the Assessments be Delivered?
A good performance-based assessment strategy is only as good as its delivery method. Decide how the assessments will be administered and by whom. Do you have a classroom-based training in place for which you would like to offer assessments online? How do you want them to be delivered? On the learner's mobile or personal desktop?
Most instructor-led training programs have a dedicated facilitator who oversees the classroom assessments. Online learning assessments, on the other hand, are hosted on an LMS (Learning Management System) for easy dissemination and tracking. Learners can log in using their login credentials and take the assessments on their desktops, mobile devices, or tablets, and complete them whenever they choose.
2. What is the Feedback Provided for Assessments?
An effective assessment must include appropriate feedback that:
Justifies to learners how their assessment was assessed
Identifies and rewards specific qualities in the learner's performance
Guides learners on what steps to take to improve
Feedback in assessments needs to be constructive and help reinforce learning. Providing a simple 'You're right' or 'Sorry, you're wrong' as feedback just won't do. Good feedback should also include why their response was right or wrong, and in the process, reinforce learning. Feedback should encourage learners to think critically on their performance and reflect on how they need to improve it.
Feedback in PBAs also needs to be meaningful, targeting the specific needs of the learner and help in performing his/her job task. When a wrong answer is marked, feedback can also include links and references to the section in the course where the employee can find detailed explanation to the question. For example, some handy references at the end of each assessment—in the form of PDFs and infographics can be provided.
3. How Will Assessment Results be Used and Reported?
At times, even with the best training content, there will be some learners who under-perform, and this will reflect in their assessments. The results of assessments are indicators of not just learner performance but also of whether or not the course is achieving the desired objectives. Assessment results therefore provide valuable insights into the effectiveness of training programs. And assessment results can be recorded and tracked through an LMS.
Modern LMSs adhere to eLearning standards such as SCORM or xAPI which allows for tracking and storing learner activity and progress. Along with the post-tests, an LMS also supports pre-tests as part of the learning process. Results of these assessments can be accessed by training managers or instructors/facilitators to gain valuable insights into how learners are performing— if the set learning objectives are being achieved by learners, or if the existing instructional design strategy needs to be improved.
2

Questions that Involve Course Designers & Developers
4. Do You Need to Outsource the Assessment Design/Development?
Having the best content is only half the job done. Developing good performance-based assessments requires expertise in learning and development, instructional design, and expertise in various rapid authoring tools that are used to develop these assessments. Good assessments, like e-learning, involve the collective effort of instructional designers, learning and design experts, and SMEs.
Some organizations have an internal team that takes care of all the design and development projects. However, you have to decide if you have appropriate resources and budget, whether your teams are capable/skilled enough to take up the design of good performance-based assessments, and whether they have the necessary skills to execute the assessment strategy. If not, outsourcing is the ideal solution.
Hiring a third-party rapid eLearning vendor provides you access to a team of learning experts with years of experience and expertise in creating instructionally-sound courses and assessments. They also have good project management processes in place to coordinate the inputs and feedback of the relevant stakeholders—subject matter experts (SMEs), training managers or facilitators— during the design and development of PBAs.
These vendors also use rapid authoring tools to cut down on the overall development time while still developing different kinds of performance-based assessments including scenario-based assessments, simulation-based assessments (Watch-Try-Do simulations), and game-based assessments.
A PRO TIP: Instead of asking learners the same assessment questions until they achieve a pass mark in their final assessment, get your eLearning vendor to create a pool of quiz questions (50 or more) and randomize them. With the randomizing strategy in place, your learner will receive a new set of questions every time they take the quiz, helping you evaluate the comprehension of your learners effectively.
3

Questions that Involve Learners
5. Will Reinforcement be Included Post-assessment?
The assessment results obtained come in handy to identify under-performing learners. Using these results, organizations can choose to put in place reinforcement mechanisms in the form of microlearning modules, each module teaching one learning point.
Other examples of reinforcement include offering support through the LMS. Topics which demand repetitive learning—such as compliance training—can be turned into PDFs, infographics, and FAQs for easier assimilation.
6. What Kind of Assessments Will be Selected?
Selecting the optimal assessment type again depends on the nature of the learning objectives formulated initially. As you know, there are umpteen kinds of assessment including Fill in the Blanks, True/False, Single or Multiple Select Multiple Choice Questions, Matching, and Drag and Drop. However, different learning objectives need different assessment types. If assessments are misaligned with the performance-based learning objectives, it can undermine both learner motivation and learning.
Consider this scenario:
Your objective is for sales reps to learn to apply selling and objection handling skills, but your assessment measures only factual recall. There is no way a 'Fill in the Blank' or 'Short Answer' can help them use this information productively in the real world. This leads to frustration in learners that the assessment does not measure what they have learned.
A good way of assessing the learner on his/her selling skills would be to ask the learner to speak or demonstrate the skills either to a coach or record the presentation.
Concluding Remarks
Organizations need to identify the constraints learners face in their work environment, and the factors that prevent them from achieving optimal performance. The first step after identifying the constraints to performance is to formulate learning objectives that aim to bridge the gap between expected and actual performance. For ensuring optimal performance, assessments must be aligned with the performance-based objectives.
Throughout this process, ask yourself the six questions discussed in the blog. Answering them will help strengthen the value learners derive from assessments and lead to a training program that truly delivers on performance.
For today's learners, training that only appeals to their left brain-based skills (logic and rationality) is not enough. Design learning that facilitates empathy, synthesis, and emotions—the right brain-based skills. To learn more, access our eBook on 'eLearning Design and the Right Brain'!