A Beginner's Guide to Effective eLearning Assessments
If you are new to eLearning and wish to understand more about eLearning assessments, this blog is for you. Learn about when and why you should assess your learners; what you should include in your eLearning assessments, the best authoring tools to design assessments, and more.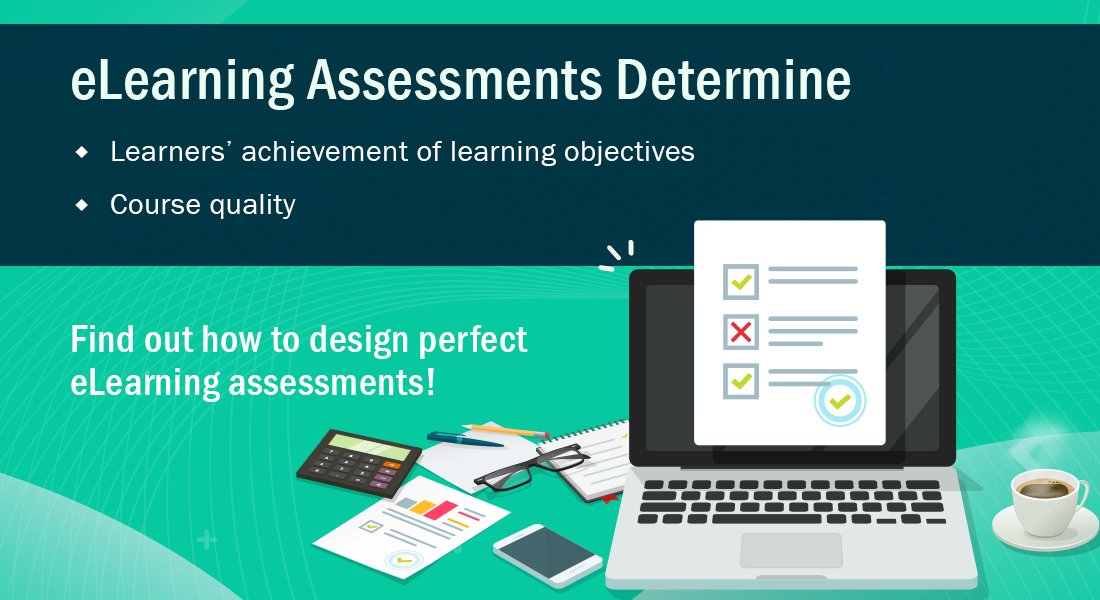 Why are eLearning Assessments Important? Assessments should not be seen as separate from eLearning. They are an integral part of the learning process. They are used to:
Reinforce learning – When constructed properly, assessments help facilitate and reinforce learning (with the help of immediate feedback) as well as motivate the learner and build confidence.
Measure the achievement of the set learning objectives – The final quiz at the end of the course will help determine if learners have achieved the stated objectives. This type of assessment (summative) is focused on performance (what the individual should be able to do on the job) and scored.
Assessments also provide insights into the effectiveness of the course – what is working well and what might need to be improved.
Types of eLearning Assessments
Generally, two kinds of assessments are used in eLearning courses – Formative and Summative.
Formative assessments are provided during the course and help reinforce learning. They are diagnostic in nature and occur after every learning objective is addressed. Any knowledge gaps are promptly addressed through the immediate feedback that is provided.
Question types that can be used for formative assessments include:
Multiple choice questions (MCQs) – Single and multiple select
Drag and drop
Match the following
Fill in the blanks
True/False
Scenario-based questions
Gamified assessments
In fact, there is no question format that can't be used for formative assessments. The designer's imagination is the limit!
Summative assessments determine whether the learner has achieved the set performance-based learning objectives at the end of the learning. They are evaluative in nature and determine the final milestone of the learner's journey.
It is recommended to use single-select MCQs for summative assessments as they enable easy scoring and evaluation.
How are MCQ Assessments Created?
It is crucial that eLearning assessments be based on the learning objectives. Each objective must be tested with at least one question.
A well-constructed MCQ has three parts:
A Question stem containing the appropriate action verb
Options that include the:

Correct answer
Distractors (incorrect options): Distractors must be plausible, consistent, and belong to the same family as the answer.
The Importance of eLearning Assessments
eLearning Assessments:
Reinforce learning
Measure the achievement of learning objectives
Other Types of Questions Used in eLearning
Other kinds of questions that can be in eLearning courses include:
Icebreakers/"Do you Know?" Questions: This kind of questions set the stage for learning and are used at the beginning of a course.
"Can you Recall?" Questions: These questions are used in eLearning curriculums to help the learner recall key points from the preceding module/s.
Pre-tests: These are used to check learners' existing knowledge on the topic of the present course.
Reflective Questions: These open-ended questions may be used in eLearning courses to encourage the learner to pause and think about the content and to ensure their continued participation.
Microlearning Assessments: These standalone assessments can be delivered in many interesting formats (gamified assessments, quizzes, flashcards, etc.) and be assigned to learners at regular intervals to check their retention, fight the forgetting curve and reinforce learning.
Best Practices to Create Effective Assessment Questions
Here are some ways in which you can create assessment questions that will help the learner achieve the set learning objectives:
Seek to assess application, not merely memorization: Questions must be performance-oriented, and not used merely to check rote learning.
Use learner-appropriate language: The assessment must be clear and concise in simple, easy to understand language.
Provide timely, meaningful, constructive feedback in formative assessments: Feedback aids critical thinking and helps reinforce learning.
Best Authoring Tools for eLearning Assessments
Authoring tools need to be chosen based on the nature of the assessment. For instance, if you want to have a variety of questions for the assessment, iSpring QuizMaker provides many options for various question-types, including subjective quizzes and mathematical questions.
Adobe Captivate works well to develop simulation-based assessments. Lectora uses CenarioVR, which provides the learner with an immersive learning experience by employing VR technology to create assessments. A customized assessment that requires a gamified or scenario-based design might require an authoring tool like Articulate Storyline.
Final Thoughts
So far, we have seen how eLearning assessments are a crucial part of eLearning courses. We have also discussed the ways in which assessments are important for learners to assimilate and retain knowledge. While designing eLearning assessments, it is important to figure out the assessment type that will best address the learning objectives. It is also necessary to work with the right kind of authoring tool to design the assessment.
Many times, designing eLearning assessments can pose a challenge, even for the best of us. But we can design relevant and effective eLearning assessments by following a few best practices. Looking for a way to tackle them more effectively? Check this mini masterclass on the basics of designing eLearning assessments.