How Can eLearning be Used to Improve Corporate Training?
Wondering how you can enhance the various types of training for your employees? Try eLearning! This blog shows you how you can leverage the benefits of eLearning for your many corporate training needs.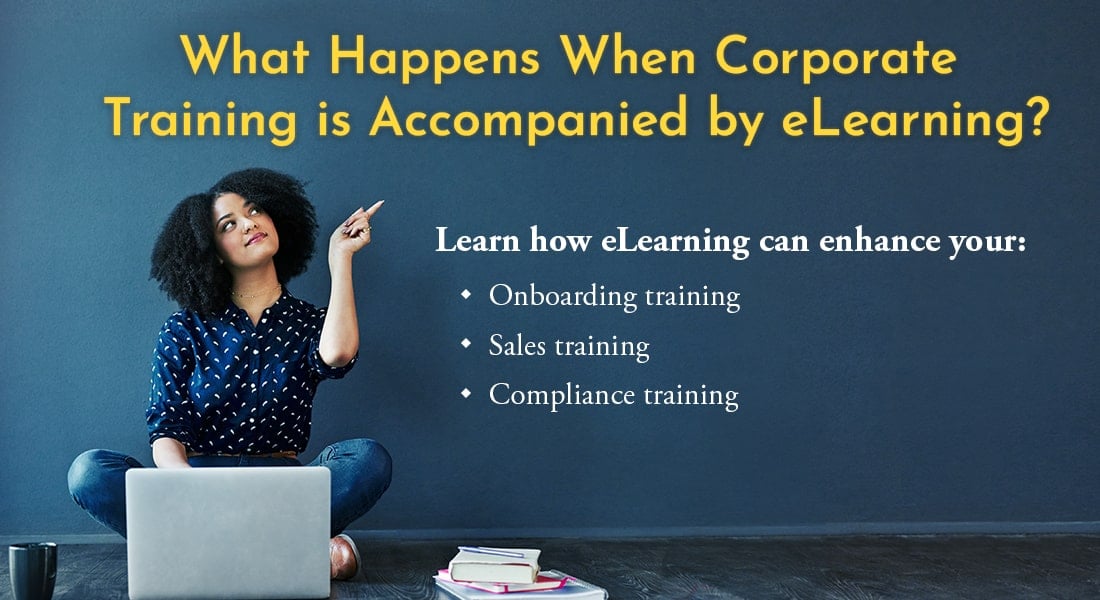 Corporate organizations have been training their employees only through traditional classroom and on-the-job training until eLearning came into the picture. Although eLearning is not new and has been doing the rounds for the past two decades, a lot of organizations aren't using it to its best potential. But owing to the COVID-19 lockdowns, eLearning has finally ceased to be 'one of the options' and has become the 'new normal' for organizational training worldwide.
E-learning in the corporate world generally refers to self-paced learning modules hosted on a Learning Management System (LMS).
Corporate organizations find eLearning very useful in terms of lowered training costs and improved convenience and effectiveness. So, let's find how eLearning can meet your various corporate training needs, shall we?
Various Types of Training that eLearning Can Enhance
1. Onboarding Training
Onboarding training is essential for molding the perceptions of your new employees about your organization. It gives your new hires a glimpse of your company's work culture and a firm direction to follow. This is essential to take your employees to the next steps smoothly, so that they can become more productive faster.
By implementing eLearning design and development for onboarding programs, organizations can provide a cost-effective, scalable, and simple way to help employees become familiar with their new workplace.
Here's how eLearning components can improve your onboarding process.
Video-based Modules for Brand Presentation
The company's mission, core values, history, and legacy can be presented through short and engaging video modules, integrated into the eLearning course. This reduces the time to convey a huge chunk of information, while also cutting short the overall onboarding time, allowing employees to attend to tasks quicker and be more productive.
Simulations for System Awareness
Organizations use numerous software applications and systems that run live, and training new hires on these could be difficult with an element of risk. Inexperienced employees are better off training in a safe virtual environment that allows room for mistakes, while enabling them to have first-hand experience with the tool.
eLearning and Corporate Training
3 Corporate Training Programs eLearning Can Improve:
Onboarding
Sales
Compliance
This is where software simulations come handy, as they can simulate a reality where learners don't have to worry about making mistakes and messing up software systems. By integrating technologies like 'augmented reality' (AR) and 'virtual reality' (VR) in eLearning, learners can engage in live and immersive experiences, while learning how to use the systems and applications without risk.
2. Sales Training
Sales is a dynamic process, where the location, products, services, preferences, trends, and customers keep changing constantly, according to time and circumstances. To deal with such situations, sales personnel require regular training and easy access to information about new sales concepts, strategies, tactics, and negotiation skills. In other words, sales training requires proactive learning models where learning and assimilation happen simultaneously.
Microlearning for Negotiation Skills
"Why do I need microlearning?"
Your sales representatives are constantly on-the-go and usually meet clients on-the-move. On top of that, they also have pressing targets which need to be met, which makes it impractical for them to frequently take time off-site for training. Microlearning can help deal with such situations by significantly reducing the need for off-site training.
Microlearning modules are bite-sized, each just under 12 minutes on average, and facilitate learning in short bursts. They are the ideal formats for training for sales reps, allowing 'learning in the flow of work'. Since your sales reps often have some 'dead-time' usually when in transit or while waiting for clients, they can take these short microlearning sessions to refresh their knowledge and skills.
Example
If your sales rep is about to meet a prospective customer to sell a product, he can access a short microlearning module that takes him through the product features – that is 'just-in-time' training to prepare him for the client meeting.
Organizations can cut down on the cost and time that they would have incurred with traditional off-the-site training. And given that microlearning modules can be developed quickly and cost-effectively, keeping your sales reps updated with the latest knowledge and skills becomes easy.
Microlearning Simulations for Negotiation
Your sales professionals need to have good decision-making skills, as well as the ability to respond appropriately in unexpected situations. When negotiating with clients that are savvy buyers, good persuasion skills matter the most. Using role-plays in the classroom is the best way to train your sales reps on such real-life situations. But because that is not feasible every time and for all situations, simulation-based learning modules based on real-life scenarios are the next best thing that will allow your sales professionals to sharpen their decision-making and negotiation skills.
Blended Learning for Teaching Sales and Negotiation Skills
Blended learning is a mix of instructor-led classroom training (ILT) and online training. A mix of classroom training, online courses, and microlearning interventions can be a powerful training method for your sales team.
Learners can be initiated into intensive virtual classroom sessions where they are trained on topics such as negotiation skills, dealing with difficult customers, and more. With the help of an instructor, these communicative skills can be taught effectively.
Online courses that have interactive elements such as quizzes, assessments, and videos can be used to teach topics that don't require the instructor's presence, for example, product information.
After the formal classroom or eLearning sessions, microlearning modules can be used to recap or refresh learning at regular intervals. This can act as ready reference whenever they need to refresh their knowledge or recall information.
3. Compliance Training
Organizations allocate a huge portion of their training budgets toward compliance and ethics training. Training on ethics, prevention of sexual harassment, compliance to regulations, etc., is mandatory in most organizations.
Branching Narratives/Scenarios with Videos
Videos are a widely used instructional strategy for online training. These videos can be incorporated into branching narratives/scenarios to make the learning more engaging and interesting.
A scenario presented in the form of a video creates a lasting impression in employees' minds when it comes to compliance training. Videos are an effective medium to tell narratives, and scenarios that have a well-designed narrative within the context can explain the dos and don'ts of compliance and ethics.
With the availability of numerous instructional strategies, for instance, video-integrated scenarios, organizations can provide an immersive and interactive atmosphere for learners where they can actively participate in their training. Short videos of scenarios can be taken and integrated into the training modules to train employees on ethics and compliance effectively.
To Sum it All Up!
eLearning has been quite disruptive in the corporate training domain after years of dependence on classroom training, since training programs can be rolled out quickly and cost-effectively by leveraging the benefits of eLearning.
With the help of the right blend of (virtual) classroom and online training methods like videos, simulations, scenarios, and microlearning modules, corporate training can be enhanced significantly. All in all, eLearning is no more just an option now; it has become almost the only option for organizations worldwide, and this trend is only going to grow in the future. You are one click away from exploring other eLearning trends!