9 Ways How VILT Can Benefit Corporate Training
The rapid technological developments have paved the way for Virtual Instructor-Led Training (VILT) in the L&D sector and organizations now hold real-time training for their employees. In this blog, we will look at the 9 benefits of VILT in corporate training.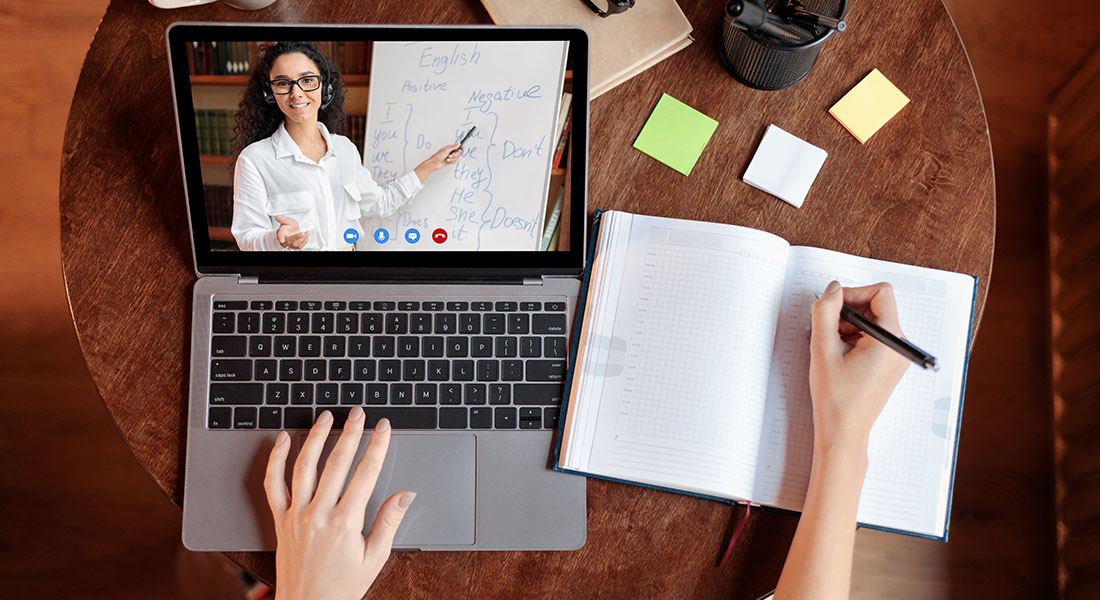 Before the COVID-19 pandemic, corporate training was facilitated through Instructor-led Training (ILT) and live classes, where both the training managers and employees were required in the same room. However, the pandemic ended this abruptly and necessitated a virtual training environment. This changing situation led organizations to prioritize the ongoing training needs of their employees and gave rise to Virtual Instructor-Led Training (VILT) which offers an amazing learning experience in an online environment.
Organizations across the globe have started embracing VILT in corporate training. It is one of the fastest-growing approaches in the Learning and Development industry. In this blog, we will explore more on VILT and how it can benefit your organization.
Not Sure Whether to Implement VILT or Not?
Convince yourself of these amazing benefits it holds:
Offers Flexibility and Convenience
Saves Time and Cost
Keeps Employees Engaged
Facilitates Quick Performance Tracking
What is Virtual Instructor-Led Training?
As the name suggests, VILT is a training session conducted in a virtual environment through electronic devices. The instructor is in one location and the participants are in a different location, but they are brought together using virtual learning platforms.
Imagine, a regular in-person training session for employees by industry experts. Now picture the same session conducted online- that is VILT for you! At its core, VILT sessions are live training programs that offer employees a perfect combination of in-person and digital learning environments. It offers instructors to share relevant information using various formats including videos, documents, and others to keep the employees engaged during the training.
9 Key Advantages Of VILT In Corporate Training
VILT is a simulation of a live classroom setting and holds various benefits for organizations. Here are some key advantages of using VILT for corporate training.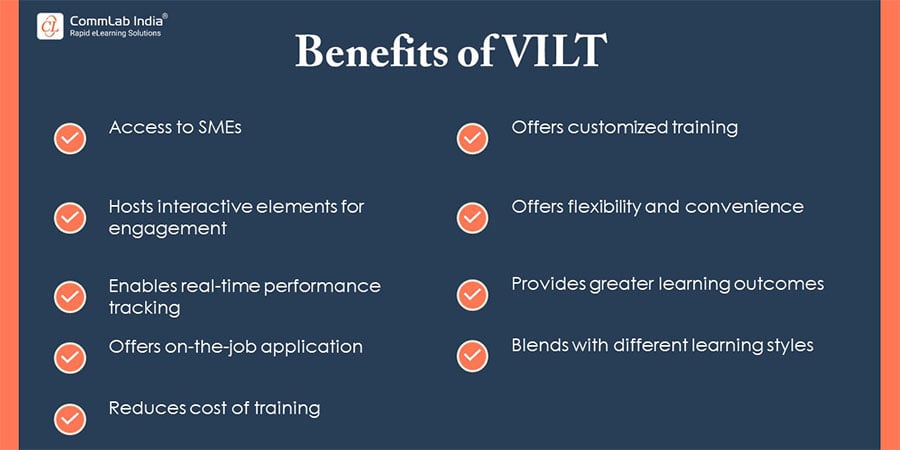 1. Access to Subject Matter Experts
In a classroom setting with all learners together, some employees might hesitate to ask questions or clarify their doubts. VILT offers a solution to this where learners can have access to a Subject Matter Expert at all learning platforms. Your employees can reach out to them via discussion forums or in-person, and not be worried about others judging them.
Plus, it also enables prompt responses from SMEs as they have anytime access to their training devices. Thus, VILT enables learners to seek immediate clarity from the instructors and improve their knowledge.
2. Customized Learning for Employees
When you have to train employees from different verticals, it becomes difficult to organize a common training session for everyone. The learning needs and requirements are different for each employee and training managers are expected to cater to all these diversified needs. They also want to meet these specific learning needs of employees in a very short period.
VILT offers organizations the flexibility to adapt and personalize training for as many employees. It allows you to gather all information under one umbrella and share it effectively with the right employee.
3. Interactive Elements for Engagement
VILT allows employees to engage with the content- express their opinions, ask questions, participate in discussions, share notes and watch videos together in a virtual environment.
It enables a collaborative learning experience using interactivities like chats, polls, breakout rooms, etc., that create an impact on employees and improves their retention ability. Further, it also allows them to download learning materials in formats like docs, PDFs, PPTs, links, and infographics and upskill themselves with ease. This immersive learning experience of VILT makes employees participate actively in their learning process and enhance their performance.
Watch this video for some amazing tips to make your VILT sessions more effective.
4. Flexibility and Convenience
With an ever-increasing global and remote workforce, participating in training at the same time can be a challenge. VILT comes as a rescue here and offers learning opportunities for all remote employees. Instead of getting all your employees together in one place, organizations can now carry out virtual training that offers unique flexibility to your employees.
While the learners and trainers both need to be present during a VILT session, you can share the session recordings in case the learners miss the session, or want to brush up on their concepts. This way, employees get more time to understand the content with ease.
5. Real-Time Performance Tracking and Feedback
In a conventional classroom learning environment, it is difficult to assess employee performance and measure the effectiveness of your training programs. With virtual learning, you can easily track your employees' performance using built-in analytics within learning platforms, questionnaires, and other engagement techniques.
You can also display the results in between the courses and help employees focus on improving their results in the upcoming sessions. This way, you can also assess their progress and provide instant feedback to improve their performance.
6. Great Learning Outcomes
VILT offers a two-way and real-time conversation between instructors and employees. This allows employees to use technology to access virtual learning platforms and learn in the comfort and convenience of their homes.
Plus, employees can focus on their training as they don't have to match other employees' learning pace. This leads to improved concentration and improves the overall learning outcome of the training. Check out this blog for some effective tips to keep employees engaged in VILT.
7. Offers On-The-Job Application
Unlike in-person training, VILT is spread across multiple sessions in small modules. This breakdown of content keeps employees focused on their learning and offers on-the-job application of the same. They can apply their learnings from the training in real life, and understand the concepts better. Thus, breaking the entire training content across consistent small chunks of learning leads to skill development among employees and drives greater retention.
8. Blends With Different Learning Styles
Each employee has a different learning style and organizations need to cater to these varied learning needs at all times. With Instructor-led Training, it can be challenging to address the different learning styles, but, with VILT, employees can acquire new skills and knowledge in their preferred styles.
VILT offers organizations to customize the courses according to the employees' preferences. Thus, it is an effective training technique that blends with different learning styles and facilitates enhanced work productivity.
9. Increased Effectiveness With Reduced Cost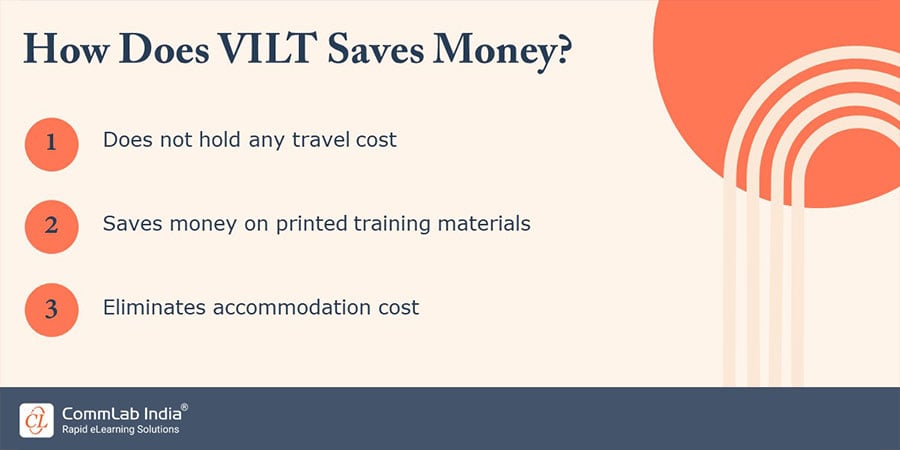 Virtual training does not require any special equipment or a specific location. Right from material costs to travel and accommodation costs- organizations can reduce some major expenses with VILT. Apart from cost-saving, it also allows for remote participation and offers great flexibility in their learning. So, not only is VILT less expensive but also more effective for training.
Parting Thoughts
All in all, VILT is a valuable training method with various benefits. Features like flexibility, cost-effectiveness, scalability and enhanced learning have made it a popular training method in the Learning and Development industry, and it is likely to expand as more organizations recognize its benefits.
If you wish to implement VILT in your organization, here's the ultimate eBook that can help you make the right start. Check it out now!