7 Amazing Benefits of Video-based Learning for Corporate Training
Who doesn't like watching videos? Everyone, irrespective of age! Videos are the most popular tool when it comes to corporate training. In this blog, we will take a look at some of the benefits of video-based learning modules and understand how videos work in a corporate setting.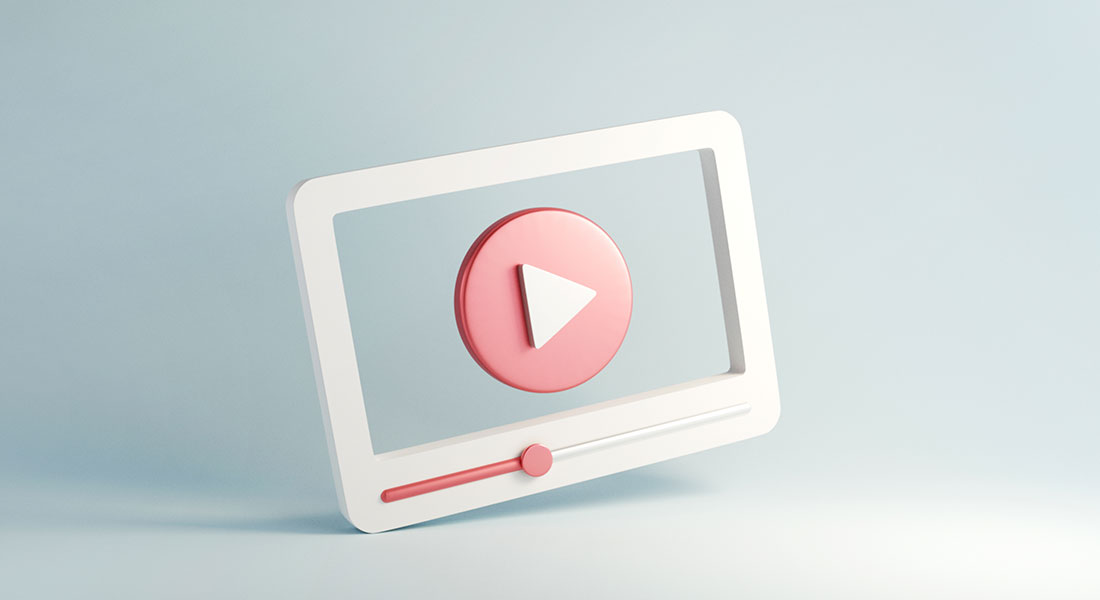 When you think about learning, what comes to your mind? If you're like most people, it's probably a classroom setting. In other words, you learn something by listening to someone else talk about it—sometimes for hours on end. While this method is great for some contexts, there are others that may be better suited for other kinds of teaching methods. For example, video content can help get the point across quickly and easily while also engaging learners with different styles of learning or interests in a subject matter. No wonder it is becoming one of the popular corporate training formats.
Video-based learning and content are the future of human consumption and will lead the wave of change into a digital future. They can be used to deliver complicated In this blog, we look at some of the benefits of video-based learning modules and how it works in a corporate setting.
Video-based Learning is the Latest Buzz in the L&D Space
Here's how it benefits corporate training:
Helps get the point across quickly
Enhances learner engagement
Boosts learner retention
Offers rich and diverse content
Well, there are a few more. Read on to explore them
5 Interesting Video Formats for Effective Corporate Training
Videos can be in various formats. Here are a few that can be useful in corporate training:
Explainer videos: These videos can be used to explain complex concepts in a simple manner. You can build scenarios and convey complicated yet crucial topics like change management and sustainability.
Tutorial videos: These videos can be used to teach a skill or give a demo of how something is done.
Talking head videos: In these videos, the speaker talks directly in front of the camera. These videos are impactful due to the human touch; the viewer feels connected to the speaker.
Animated videos: If the topic is too dry you can use animations to deliver the content through animated videos which ensures your learners learn while having fun.
AI/VR-based videos: AI/VR-based videos are becoming extremely popular, especially with the modern workforce. You can use modern easy-to-use AI tools like Pictory, Deepbrain AI, and InVideo to design these videos to offer immersive learning experiences.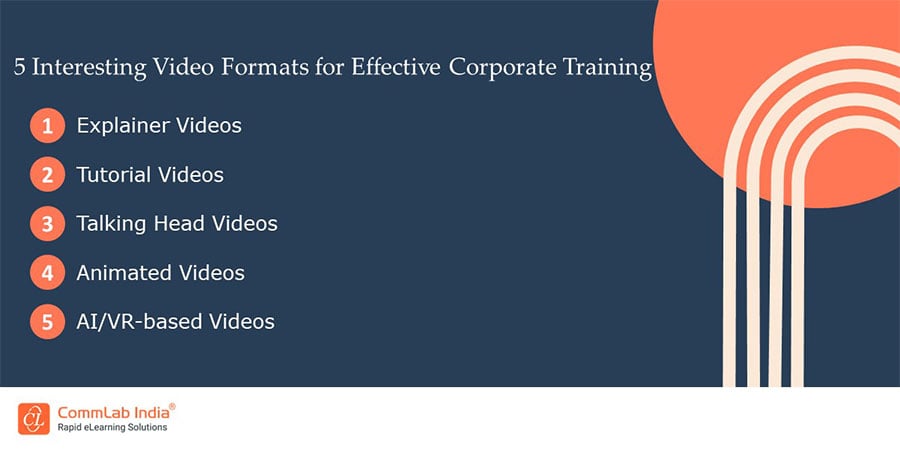 Benefits of Video-based Learning in Corporate Training
Video-based learning is a wonderful way to ensure that your employees are getting the most out of their learning experience. Video-based learning allows for less trainer-led interaction, which means you don't have to worry about paying for too many instructors or dealing with scheduling issues. You can also record the videos so they can be used repeatedly in case an employee needs a refresher on a topic, or if they want to take it home and watch it after work.
Fortunately, many current CEOs have come internally and have benefited a lot from video-based learning in their organization. As per LinkedIn's workplace learning report in 2021, almost 63 percent of CEOs believed they profited from learning programs in their organizations and were active champions. Researchers, experts, and executives believe that the wave of change will trickle down and benefit organizations positively.
Here are a few key benefits of video-based learning for corporate training:
1. Picturizes Real-life Scenarios
Video-based learning can provide a more authentic and realistic experience than other types of learning. You can depict real-life work scenarios in your videos that can help learners experience their day-to-day work challenges. These scenarios strengthen learners' critical thinking abilities, and they also get an idea of how to make decisions in such scenarios.
2. Helps Get the Point Across Quickly
Video can be an effective way to get the point across quickly. If you need to explain complex ideas or how something works, it's much easier and more engaging for employees if they can see it demonstrated in a video rather than reading about it. Employees may also be able to learn a technique faster by watching someone else do it first.
You can create a video to introduce your topic and explain what employees will learn and why it's important. This prepares learners for the main training session and ensures better participation.
3. Enhances Learner Engagement
There's no doubt that visuals captivate learners and enhance learners' involvement with the content. The more the learners are involved, the better their understanding of the concept delivered. This subsequently leads to better application of their learning in day-to-day job tasks and boosts their performance and productivity.
4. Boosts Learner Retention
The act of listening to something, as well as watching it on screen, is a powerful way to learn new things. Videos also allow you to watch at your own pace and pause or rewind if you need to go back and listen again. This reinforces learning and facilitates better learner retention.
This is a wonderful way to learn new things, especially if you are learning something that requires practice. For example, if you are learning how to use a new software application or operating system, watching a video on it can help you get the hang of it much more quickly than just reading about it.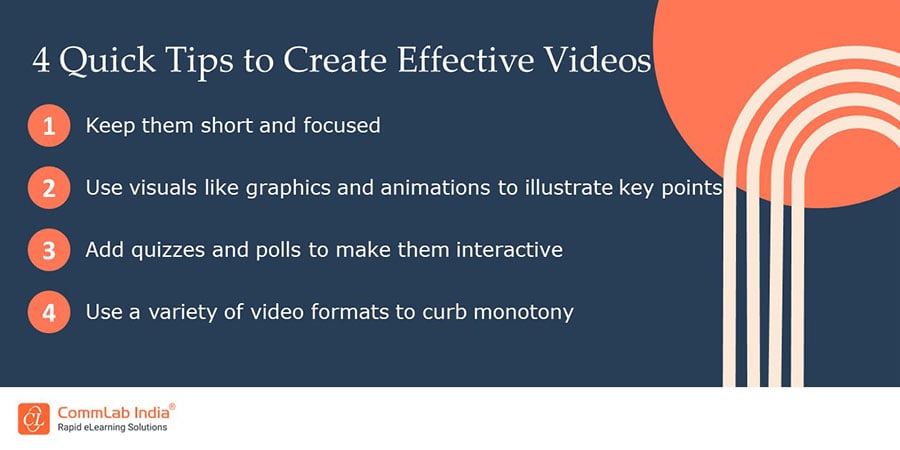 5. Aid in Practicing Language Skills
Video-based learning is an ideal way to practice your language skills. When you listen to native speakers, you naturally pick up new vocabulary, learn how to pronounce words correctly, and use grammar correctly. This can help learners learn the language better and use it in their day-to-day work.
6. Offers Rich and Diverse Content to Learners
Video content is usually rich and diverse. It can be used to learn about any number of topics related to the corporate world. Video-based learning is also a fantastic way to learn about many different topics at once. For example, if you want to learn more about the history of a certain process, you could watch a series from a relevant solution that focuses on the subject.
You can make video content or training modules for everything under the sun. The modules don't have to be complicated if they deliver the point. Additionally, you can also complement video-based learning with a hybrid approach that also integrates text into the picture.
Watch this video to unleash the power of video-based learning!
7. Can be Used to Share Information About Varied Topics
You have room to experiment with videos and can create videos pertaining to many discussion topics. For instance, you can use videos to explain how to:
Install a software
Managing a meeting
Make a cup of coffee
Parting Thoughts!
Video-based learning is much more convenient than traditional face-to-face instruction since employees don't have time restrictions on when they learn content or where they learn it from. Employees can understand core concepts easily and then act for interactive implementation. If you're looking for a way to engage your employees and help them learn, video-based learning is an excellent choice. It's especially useful for those who struggle with written language or cannot keep up with written or verbal forms of learning. Synthesia, Camtasia, and Vyond are a few popular tools that can be handy to create engaging videos for your learners. Try them!
Apart from videos, there are many other formats that are effective to impart corporate training. Eager to know what's happening around in the current L&D space? Download this eBook for recent eLearning trends in 2023.