The Top 5 Resources of 2021 on VILT You Were Waiting For!
Incorporating virtual instructor-led training (VILT) in corporate training strategies has had a huge positive impact on employee performance. Read this blog for the reasons behind VILT's success as an effective corporate training strategy.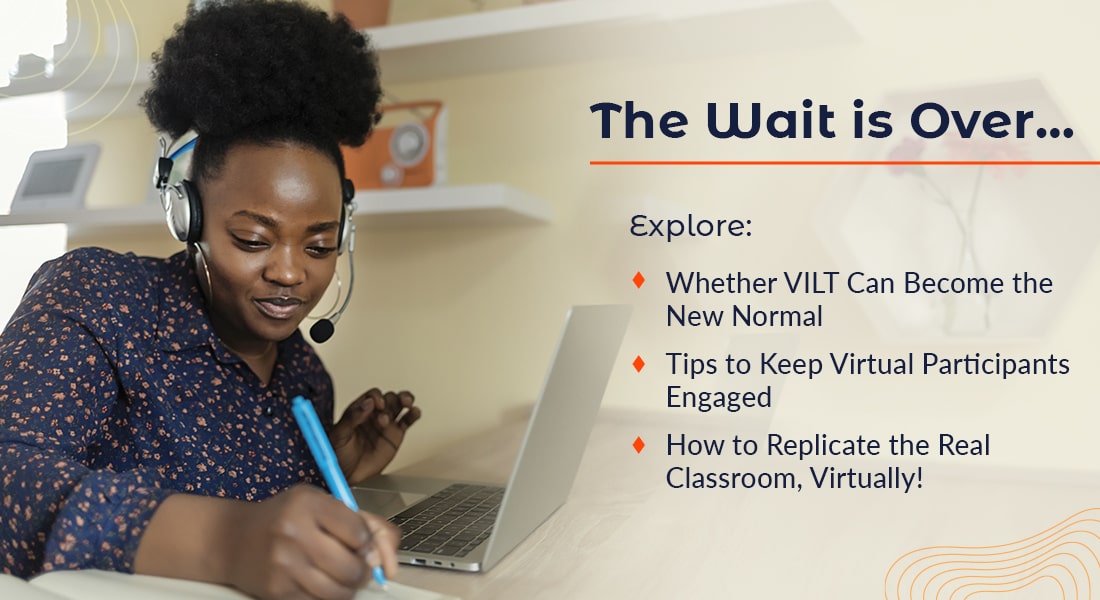 VILT, or virtual instructor-led training, is a type of synchronous online training that is delivered in a virtual environment, with the instructor and learners participating in the session at the same time, albeit from different locations.
It provides learners with all the benefits of human interaction in a physical classroom without the hassles of travel, logistics, and space – thanks to technological advances that have led to the availability of videoconferencing and other web conferencing tools. Apart from avoiding the costs associated with off-site training, VILT can be delivered simultaneously to employees in multiple locations.
As classroom training is not a viable option in the present global situation with the pandemic, VILT has been playing a major role in corporate training for organizations worldwide. Let's go through these top resources on VILT of 2021 to see how VILT can help your corporate training initiatives.
The Top 5 Resources on VILT of 2021
Can Virtual Instructor-Led Training (VILT) Become the New Normal?
5 Tips to Keep Virtual Training Participants Engaged and Motivated
The VILT Digest for Corporate Training
ILT to VILT Conversion – Replicating the Real Classroom, Virtually!
Elements of VILT in 2021
The Top 5 Resources of VILT for 2021
1. Can Virtual Instructor-led Training Become the New Normal? If Yes, How? [BLOG]
As a training manager, you need to know:
The advantages of VILT
No restrictions due to location
Lot of scope for interaction
Opportunity for personalization
And also, the limitations of VILT
Lack of visual cues
Lack of rapport and trust
Reduced attention spans
Lack of control over learner participation
So how do we overcome these limitations? Find the answer in this blog.
2. 5 Tips to Keep Virtual Training Participants Engaged and Motivated [Article]
There are several ways you can make your VILT sessions more interesting and engaging to learners and make your training more effective.
Use learning activities and media that mimic classroom activities
Use polls to measure learner understanding and engagement
Use breakout rooms for learners to work in groups to solve problems
Recognize learner progress and accomplishments with rewards and prizes
Have a look at this article if you want tips and guidelines for your virtual training program.
3. The VILT Digest for Corporate Training [Blog]
Want a quick read about VILT, its benefits, and best practices for success? Explore why you should transition from classroom training to VILT as soon as possible. VILT is the closest digital replica of in-person classroom training.
The Perks of Using VILT for Corporate Training
Reduced Cost
Increased Convenience
Modular Design
Increased Scalability
Factors for Successful VILT
Technology
Content
Delivery
To explore best practices and more, have a look at this blog.
4. ILT to VILT Conversion – Replicating the Real Classroom, Virtually! [Webinar]
Explore the art and science of virtual classrooms – designing instructional material and selecting & utilizing technology effectively!
With several webinars and eBooks on virtual instructor-led training (VILT) already available, what new will you find in this webinar?
Well, if that's what you're thinking, this webinar provides practical guidelines for customizing your VILT sessions to replicate the human interaction of the physical classroom for optimal learner engagement.
And if you're wondering how to tweak content to suit the digital space or how to select the right technological platform and use collaborative activities optimally, get answers to your questions in this webinar.
5. Elements of VILT in 2021 [Article]
VILTs have emerged as a boon during the pandemic and going forward, their usage is only going to increase as they offer learners the benefit of direct human interaction, minus the logistic headaches associated with the brick-and-mortar classroom.
But there are some important elements in VILT that can make the difference between the success and failure of your learning scheme. To know more about these elements, explore this article by Dr. RK Prasad.
To Wrap Up
VILT is nothing short of a blessing when it comes to corporate training. Now that you are familiar with the top resources of VILT, why wait? Go ahead and reap the benefits of this training method and boost your organization's performance. If you want to know more about VILT, check this eBook that serves as a detailed guide to VILT training.