Top 5 Rapid eLearning Challenges No One Tells You About
Rapid eLearning swiftly launches eLearning courses but bring challenges. This article discusses five such challenges and suggests solutions for each.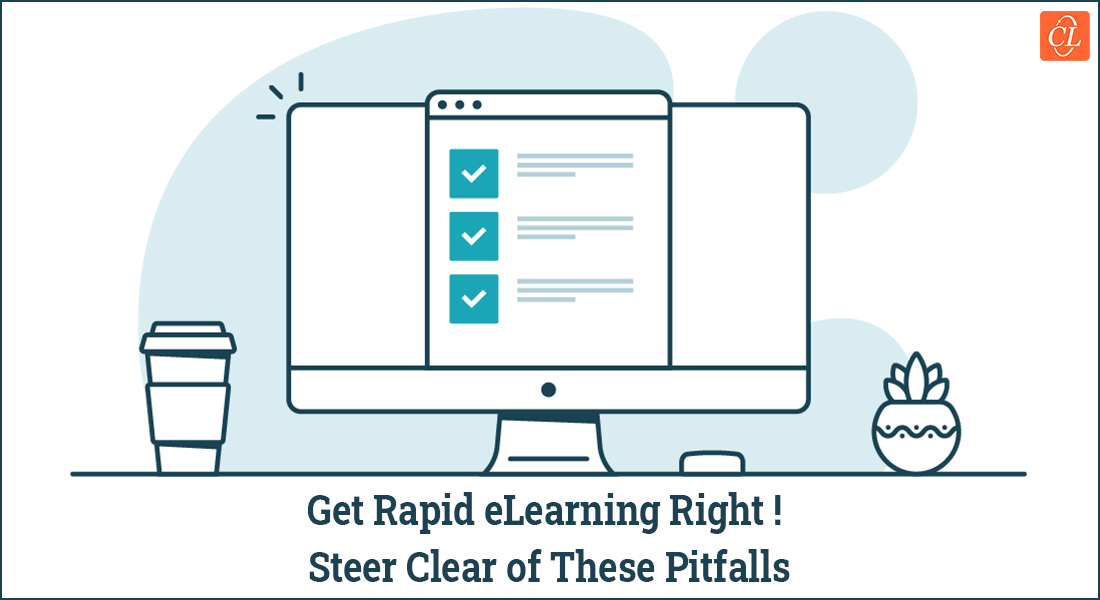 It's challenging to handle training in today's fast-paced corporate environment. To minimize the time, it takes for employees to become proficient, you are required to give training at breakneck speed. While keeping a tight rein on the budget, you must attend to all the requests of stakeholders. Rapid eLearning development is, of course, the greatest way to overcome all these obstacles.
Are You Using Rapid eLearning Correctly?
Here Are the Top 5 Common Mistakes to Avoid:
Handling Too Much or Too Little Content
Thinking Rapid eLearning is the Answer to Every Problem
Selecting the Best Authoring Tool
Achieving Project Timelines with Limited Resources
Improving the eLearning Course's Interactivity
Continue reading for solutions.
True to its name, Rapid eLearning offers an efficient eLearning solution with a speedy turnaround. Rapid doesn't necessarily imply hastening the development, either. An excellent first step to achieving your company objectives is to invest in rapid eLearning and that's why it's the current buzz in L&D because it promises to achieve maximum effect with less effort and expense.
There is a wealth of information available on the internet about rapid eLearning, ranging from choosing the best rapid eLearning authoring tool to choosing the best eLearning outsourcing partner. However, most of these articles focus on "what to do," "how to do it," and "why should you do it." It is uncommon to find advice on how to avoid errors in rapid eLearning creation. We believe that avoiding these mistakes while picking a rapid eLearning solution is equally important for creating a successful training program.
6 Pitfalls to Avoid While Using Rapid eLearning
1. Handling Too Much or Too Little Content
When it comes to eLearning, whether it be conventional eLearning or rapid eLearning, content is an essential part of training. You should revaluate your notion that lengthy or difficult topics are unsuitable for rapid eLearning. Given how false this assertion is.
Solution: Rather than creating the entire topic information into an eLearning course, the strategy for dealing with difficult or lengthy information is to logically segment the knowledge into a curriculum of brief but potent microlearning units.
What if there isn't enough material to work with? Before contacting the SMEs about it, a preliminary round of extensive study on the available resources is required to save their time.
And I've got some shocking news for you if you believed rapid eLearning didn't require instructional design: rapid eLearning is based on strong instructional design concepts. Through icebreakers, personalization, simulations, and gamified components, it also promotes engagement.
2. Thinking Rapid eLearning is the Answer to Every Problem
The correct training requirements at the proper moment should be met using rapid eLearning. Rapid eLearning is not a "one-size-fits-all" solution due to the technological constraints authoring tools face. It may not be the greatest solution for training that has to be fully engaging and have a lengthy shelf life, particularly if it is templated. Rapid eLearning may not be able to provide immersive learning, like branching situations or game-based learning.
Solution: Blended learning would be the best option under these circumstances, combining the right amount of online learning with instructor-led instruction (ILT). With self-paced online learning and an instructor there to clarify questions and explain topics, this will offer the finest of both worlds.
3. Selecting the Best Authoring Tool
Rapid authoring tools are necessary for the development of "rapid" eLearning. If the course creation is going to be done internally, the choice of authoring tool will rely on the unique demands (which are based on the audience, the subject, and the approach) and the tool's usability. (If you want to create your courses internally, it is not advised that you pick an authoring tool with a high learning curve.) So how do you select the appropriate tool?
Solution: You must first comprehend the three major kinds of authoring tools to choose which one best suit your unique needs.
installation-based or standalone: These work well for eLearning developers with greater expertise and for big eLearning development teams that develop bespoke eLearning solutions.
Adobe Captivate, Lectora Inspire, and Articulate 360 are a few examples.
PowerPoint-based: Such authoring tools feature an interface similar to PowerPoint and are highly user-friendly, making them a fantastic option for businesses who create their eLearning courses. It is also possible to update courses without consulting professionals.
Adobe Presenter and iSpring Suite are two examples.
Cloud-based: Such authoring tools are well-liked for their accessibility and are perfect for collaborative projects involving many developers and reviewers. With cloud-based authoring tools, developers can just log in to their devices and begin working.
A few examples include dominKnow, Articulate Rise, and Lectora Online.
4. Achieving Project Timelines with Limited Resources
Stakeholders also often inquire about the impact of rapid eLearning on the timetables for implementing training. This is a pertinent inquiry. Can we produce rapid eLearning courses in a flash? What should be the boundaries of our reasonable expectations? are a couple of questions worth considering for efficient project timelines,
Solution: Rapid eLearning takes few resources. It saves money and time. Rapid eLearning still needs some forethought, even though it is well suited to fast-paced organizations that need virtually instantaneous training solutions.
As a result, rapid eLearning, like traditional end-to-end eLearning, requires efficient project management, with a defined project plan and precise dates.
5. Improving the eLearning Course's Interactivity
Many stakeholders retain the false belief that rapid eLearning courses cannot include interactivities, which would make learning exceedingly monotonous and uninspiring. These misunderstandings are baseless, however.
Solution: Since high-level interactivities take longer to design and are more expensive, rapid eLearning creation may not have much room for them. However, you may include easy interactivities to make sure your rapid eLearning courses are more than just page-turners, depending on the kind of material, the intended audience, and the training expenditure. Depending on the resources and time limits for development, interactive elements like clickable pictures, tabs, hotspots, rollover, timelines, numbers, or procedures, movies, slideshows, FAQs, Flipbooks, media tours, or flip cards may be utilized to enhance learner engagement.
Parting Thoughts
Rapid eLearning authoring solutions include built-in features and resource libraries to make eLearning development considerably faster and more effective, but as we've seen thus far, rapid eLearning has its own set of difficulties, but they may be solved with a firm grasp of the advantages and disadvantages of eLearning and efficient adaptation.
Rapid eLearning authoring tools give you access to built-in features and content libraries, allowing you to speed up eLearning production and achieve far superior results. But bear in mind these five challenges to provide your learners with a rapid eLearning experience quickly.
Are you interested in knowing how to enhance your rapid eLearning experience? To begin your rapid eLearning adventure, get this free eBook.