8 Challenges of Rapid eLearning Nobody Tells You About
Rapid eLearning is a fast and effective way to rollout eLearning courses in record time. However, it's not without its share of challenges. This blog talks about eight challenges of rapid eLearning, and how best to deal with each of them.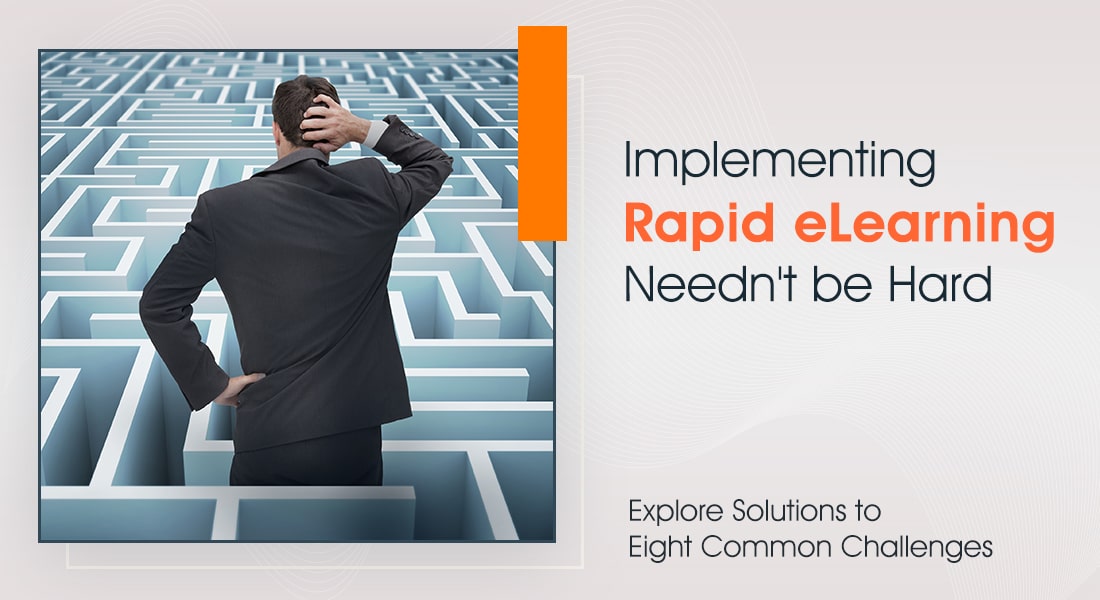 Rapid eLearning, true to its name, provides a fast and effective solution for eLearning with a quick turnaround time. However, 'rapid' doesn't mean rushing through the development. Investing in rapid eLearning is a good first step to achieve your business goals. However, even rapid eLearning comes with its own share of challenges. And the way to overcome these challenges is by having a clear understanding of what rapid eLearning can do, and what it can't.
Some Challenges We Might Face with Rapid eLearning
Challenge 1: Dealing with too much or too little content
Content is a critical component of training, especially so in eLearning, whether traditional eLearning or rapid eLearning. If you are laboring under the misapprehension that complex or lengthy topics are not a good fit for rapid eLearning, think again. Because nothing could be farther from the truth.
Solution
The key to dealing with complex or lengthy content is to logically chunk the content into a curriculum of short but effective microlearning modules instead of developing the entire content into a single eLearning course.
What about having too little content to work with? An initial round of extended research on existing resources is necessary before consulting the SMEs about it, so that we save Subject Matter Expert (SME) time.
And if you thought rapid eLearning doesn't need instructional design, I've got news for you – Rapid eLearning is built on sound instructional design principles. It also fosters engagement through icebreakers, personalization, scenarios, and gamified elements.
Challenge 2: Choosing the Right Authoring Tool
'Rapid' eLearning requires 'rapid' authoring tools for development. The choice of authoring tool depends on the specific need (that in turn is based on the audience, the topic, the strategy) and the tool's ease of use if the course development is going to be done in-house. (It is not recommended to use an authoring tool with a steep learning curve if you plan to develop your courses in-house.) So, how do you choose the right tool?
Solution
To find out which authoring tool is a good fit for your specific requirements, you need to first understand the three broad categories of authoring tools.
Standalone or installation-based: These are well suited to more experienced eLearning developers and large eLearning development teams who create customized eLearning solutions.
Examples include Articulate 360, Lectora Inspire, Adobe Captivate.
PowerPoint-based: These authoring tools have a PowerPoint-like interface and are very easy to use, making them a good choice for organizations that develop their eLearning courses in-house. Updates to courses can also be made without having to involve experts.
Examples include iSpring Suite and Adobe Presenter.
Cloud-based: These authoring tools are also popular for their ease of access and are ideal when multiple developers and reviewers are working on the same project. For developers, working with cloud-based authoring tools is as easy as just logging in to their device and starting work.
Examples include Lectora Online, Articulate Rise (part of Articulate 360), and dominKnow | ONE

Challenge 3: Getting SME Buy-in for Rapid eLearning
SMEs play a key role in organizational learning and development. However, they have multiple roles and responsibilities, and training is usually not their primary role. But because of their vast knowledge in their domains, their inputs are critical to finalize the content and to sign off developed courses. Because training is not high up in their list of priorities, it's very difficult for them to make time for eLearning reviews, leading to delays in the entire eLearning development process. So, how do we get their buy-in for eLearning?
Solution
While you can't provide SMEs extra time for eLearning, you can take a few measures to cut down their involvement and time in the development process, making it easier for them to contribute.
Include SMEs right from the beginning of the rapid eLearning project.
Set clear timelines and plan your course review based on the SME's availability.
Use online review tools (ReviewLink or Review360) which facilitate multiple reviewers to review the course simultaneously, cutting down review time.
Challenge 4: Optimizing the Level of Interactivities in the eLearning Course
Many stakeholders have this mistaken idea that there is no room for interactivities in rapid eLearning courses, thus making learning very boring and uninspired. However, these misconceptions are unfounded.
Solution
Rapid eLearning development may not have much scope for high-level interactivities as they need time to develop and also increase the cost. But depending on the nature of the content, the target audience, and the training budget, you can include simple interactivities to ensure your rapid eLearning courses aren't mere page-turners.
Interactivities such as click on images, hotspots, rollover, tabs, timeline, numbers or processes, videos, slideshows or media tours, flip cards, FAQs or Flipbooks can be used to increase learner engagement, depending on the budget and time constraints for development. Know more about these interactivities here.
Eight Challenges You Might Face with Rapid eLearning
Explore solutions to:
Dealing with too much or too little content
Choosing the right authoring tool
Getting SME buy-in
Optimizing the level of interactivities
Providing remote access to learning resources
Meeting project timelines with minimal resources
Finding the right resources for development
Rolling out rapid eLearning for all training needs
Challenge 5: Providing Remote Access to Learning Resources Outside the Workplace
A mobile workforce has become a necessity in today's fast-changing world for fulfilling business goals, and it demands access to learning on-the-move. Training sales professionals and service technicians who are on the move most of the time is crucial for reaching organizational goals. How do we achieve that?
Solution
Rapid eLearning is the perfect solution for addressing the unique needs of learners who have very little time to spend on training. The responsive layout of rapid eLearning courses offered by most authoring tools ensures that viewing them on multiple devices (and screen sizes) is a breeze.
Most authoring tools:
Offer a responsive player, thus providing the perfect output for multiple screen sizes and orientations of smartphones, tablets, and other devices (Articulate Storyline 3, Articulate Storyline 360, and Studio 360)
Increase or decrease the screen size of the course to fit any given device (Articulate Storyline and Adobe Captivate 8)
Define the breakpoints of commonly used devices to avoid poorly formatted screens (Captivate 8, 9 and Lectora Inspire)
Offer responsive templates for designing beautiful, engaging courses (Articulate Rise, Adapt, Claro, and Gomo)
Offer a fluid box layout (a relatively new feature in Adobe Captivate) which adapts the design of the course to be fully responsive, from desktop to mobile.
Read more about responsive courses through authoring tools in this blog.
Challenge 6: Meeting Project Timelines with Minimal Resources
Another question that stakeholders routinely ask is whether rapid eLearning affects timelines in rolling out training. This is a relevant question. Can we instantly churn out rapid eLearning courses in the blink of an eye? What should our expectations be realistically?
Solution
Rapid eLearning requires minimal resources. It is both cost effective and time efficient. Though it is conducive to fast-paced environments that require nearly instant training solutions, rapid eLearning still requires its fair share of planning to maximize the resources available at hand.
Therefore, much like regular end-to-end eLearning, rapid eLearning also needs to be developed with the help of effective project management with a detailed project plan and clear timelines.
Challenge 7: Finding the Right Resources to Develop Rapid eLearning
Since rapid eLearning tools like iSpring and Articulate Rise have a gentle learning curve, they are the perfect for in-house development, making for seamless eLearning development. However, they still need some hands-on knowledge of the tool, without which the development could be problematic.
Solution
If you do not have a dedicated team of developers in-house, you can outsource your rapid eLearning projects. You can outsource:
Only the course development by providing fully designed storyboards with relevant images
Both design and development by providing course inputs and leveraging the experience of your rapid eLearning vendor for your design and development
Challenge 8: Rolling Out Rapid eLearning for All Training Needs
Whether you need to address an immediate training need, develop courses on a tight budget, or update your courses frequently, rapid eLearning is the perfect solution. However, is rapid eLearning the right source for all your training needs?
Check this blog about why rapid eLearning is the undisputed champ of corporate training.
Solution
Rapid eLearning is not always the antidote to all your training problems, but you can use it with other training solutions where needed. In training such as Sales and Leadership that requires face-to-face interaction, it doesn't make sense to opt for rapid eLearning.
Instead, you can consider blended learning and implement rapid eLearning as part of the solution. That way, you would still be increasing the effectiveness of your program without overshooting your budget.
Final Thoughts
As we have seen so far, rapid eLearning comes with its own set of challenges, which can be overcome by having a clear understanding of the potential and the limitations of eLearning and adapting to them effectively.
Curious about how to supercharge your rapid eLearning experience? Download this free eBook to get started on your rapid eLearning journey.
Editor's note: This post was originally published in February 2022 and has been updated for comprehensiveness.