6 Popular Rapid eLearning Authoring Tools and All They Have to Offer
The market today is overflowing with rapid eLearning authoring tools offering a variety of useful features and picking the right tool can be confusing. To make things easier, I have curated a list of 6 popular authoring tools. Read on to explore…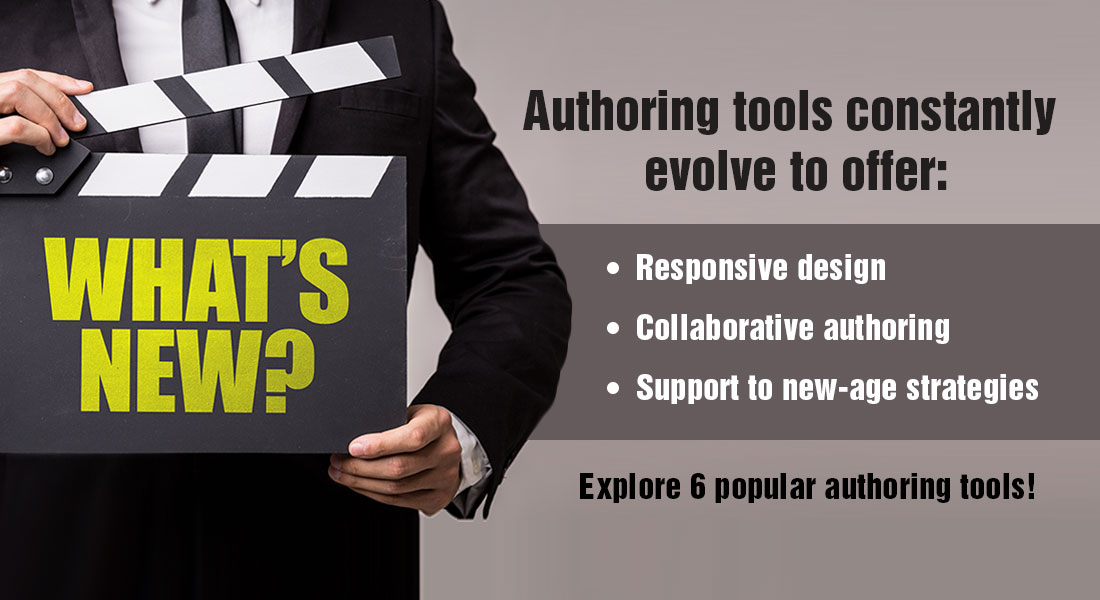 Authoring tools in the market are a dime a dozen nowadays, don't you think? With so many options out there and that too with common features, it is hard to pick the 'one' authoring tool to work with, right? So, to make your task easier, here are the top authoring tools for rapid eLearning design and development…
6 Popular Rapid Authoring Tools for Corporate Training
Articulate Storyline 360
Articulate Rise 360
Adobe Captivate 2019
Lectora Inspire 19
iSpring Suite
Easygenerator
Top Features of 6 Most Popular Rapid eLearning Authoring Tools
1. Articulate Storyline 360
Articulate Storyline 360 is inarguably one of the most widely used rapid eLearning authoring tools in the market today. It is a hot favorite of eLearning developers because it helps create a variety of visually engaging eLearning courses. It incorporates several new-age learning strategies such as animated storytelling, gamification, game-based or branching scenarios, and simulations.
Storyline 360 will certainly appeal to you if you wish to develop highly interactive courses, as it:
Has a library of 6 million free stock multimedia assets – characters, images, interactivities, and templates – for developers' use.
Has a myriad of built-in customizable interactive templates (gamified, scenario-based or assessment templates) that can be reused time and again in your courses.
Can create high-quality animations using ten different motion paths and triggers.
Offers a responsive player that can automatically adapt the screen layout to all mobile devices –smartphones and tablets. It also offers a responsive preview toolbar.
2. Articulate Rise 360
The Articulate suite actually comes with two authoring tools – Storyline 360 is the high-end desktop version while Rise 360 is the versatile easy-to-use cloud version. Though Storyline 360 often steals the limelight, Rise 360 has its own features and unique capabilities.
For instance, if you want to convert available classroom training materials (the usual – PPT decks, PDFs, guides, manuals, and other resources) to simple eLearning courses (not anything fancy), Rise 360 is the tool to use. You can easily use Articulate Rise 360 and convert classroom materials to level 1 or 2 interactive eLearning courses, because Rise:
Is a cloud-based authoring tool that is easy to install, use, and most importantly, allows multiple author collaboration for easier and faster course creation.
Has built-in learning blocks that can be customized easily to fit your content (text, images, quotes, quizzes, videos, etc.).
Has access to Articulate suite's stock multimedia library, enabling developers to create visually attractive courses easily without looking for images or videos in external sites.
It helps create fully responsive eLearning courses that can fit themselves to the screen size of any mobile device without needing any tweaks or alignments.
3. Adobe Captivate 2019
Flash may have become obsolete, but Adobe is still in the competition for the title of 'Best Authoring Tool' with its latest version – Captivate 2019. From developing mobile responsive courses to Flash to HTML5 conversions to simulations, Captivate is the tool for rapid eLearning development to provide a highly interactive and immersive training experience.
Here are a few features that make Adobe Captivate worth your choice: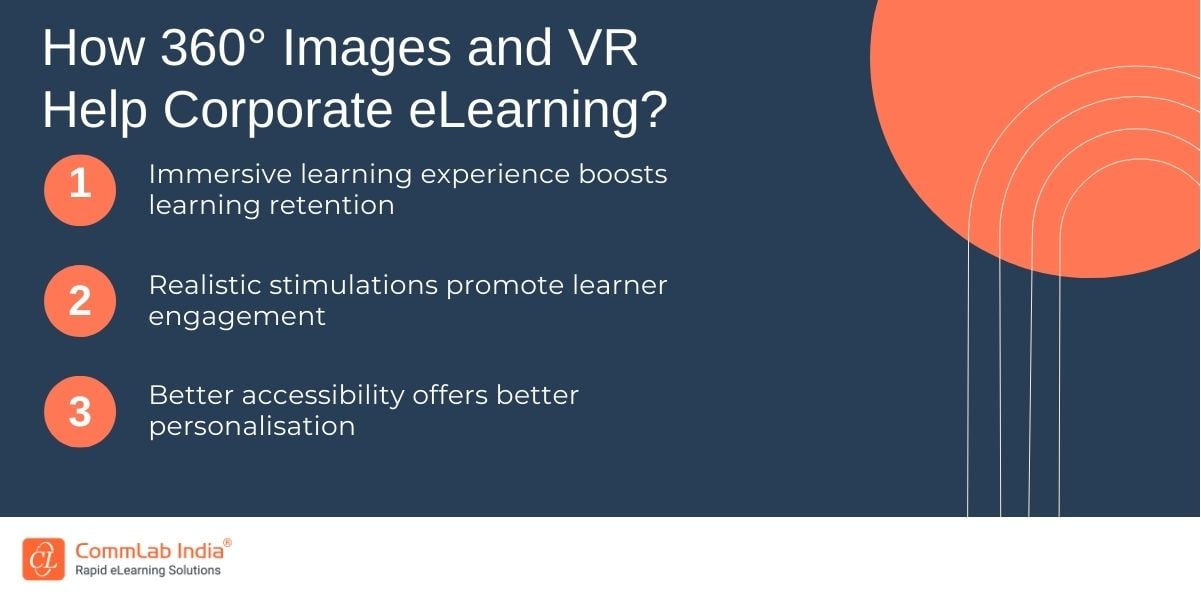 It helps build an immersive learning experience via 360° images and virtual reality. Captivate has built-in VR templates which eliminate the need for extensive programming. All you need to do is record a 3D image or use a 360⁰ image from the library, import it into the VR templates, and add the interactivity of your choice.
Captivate can also transform a boring passive video into a highly interactive one using the 'slides overlay' feature. This feature allows you to import any video in the MP4 format and add interactivities (e.g. knowledge checks and quizzes at specific locations). It also allows adding live-action web cam recordings to simulation-based courses.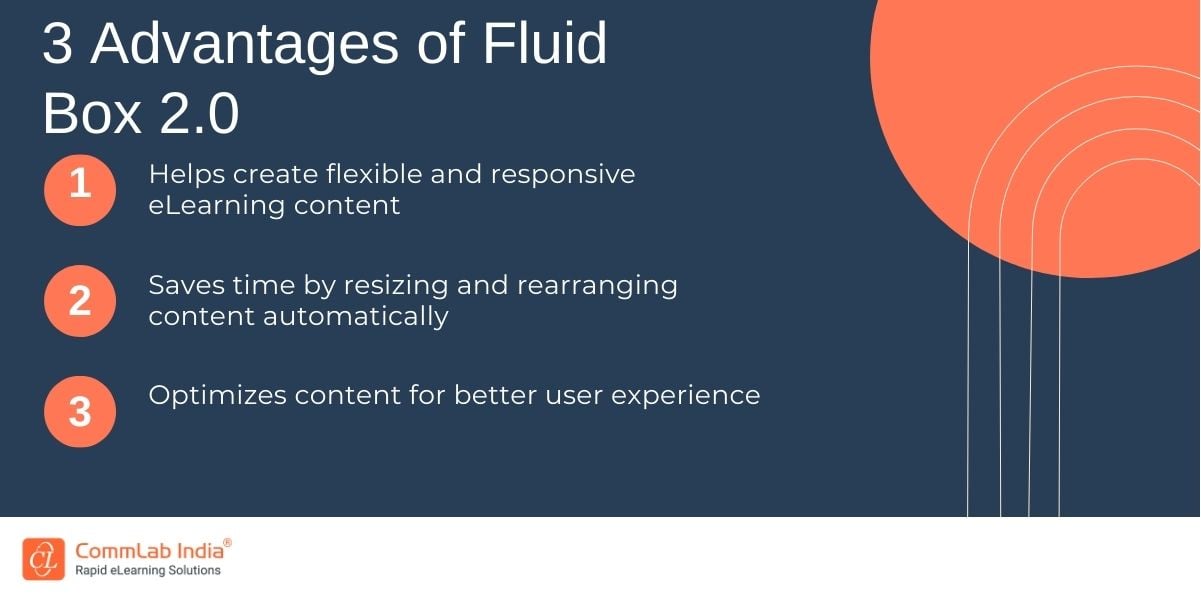 It offers Fluid Box 2.0 that allows a seamless transition of content across device sizes and orientations for mobile responsive courses.
4. Lectora Inspire 19
If there is one authoring tool that truly can generate a fully responsive mobile design, it's Lectora Inspire. Its RCD (Responsive Course Design) feature makes it the first choice for organizations with a BYOD (Bring Your Own Device) policy and mobile-first eLearning strategy.
It is also one of the best tools when it comes to Flash to HTML5 conversion. And the cherry on the cake is its enhanced features after it was recently acquired by eLearning brothers. Some of the features it has include:
The new built-in media library has 40 times the stock multimedia assets as before – with over 120 million stock images, 89000 customizable icons, 9000 PowerPoint layouts, and 1500 interactive templates.
It has a new built-in screen recorder and editor that comes in handy while creating video-based eLearning courses and simulations.
It also has a multilingual switchable user interface that can be used to develop courses with a switchable graphic user interface (GUI), allowing learners to switch languages anytime and anywhere in a course.
The Lectora Suite also has a cloud version of the tool – Lectora Online – that allows easy course creation with multiple author collaboration. The suite also comes with another tool called CenarioVR that is dedicated for creating quick VR-based immersive learning.
5. iSpring Suite
iSpring Suite is one of the most easy-to-use and agile authoring tools. It truly lives up to the name and objective of being a rapid eLearning authoring tool. It reduces the time, effort, and resources needed for courseware development and can produce highly interactive courses. It is especially favored for rapid classroom to eLearning conversion and here are the reasons why:
It has a very, very short learning curve because it acts like a PowerPoint plug-in. It was designed for instructional designers to help them quickly convert classroom material to eLearning courses without wasting too much time.
It facilitates the conversion of PPT files to SCORM/cmi5/xAPI with just a few clicks, while preserving original effects like text transitions and animations. It can create videos by synchronizing PPT slides and interactive flip books from MS Word documents.
Its 'QuizMaker' provides built-in templates for multiple choice quizzes, subjective assessments, drag and drops, and hotspots to design effective eLearning assessments. Each template also has built-in feedback and info slides for giving extra pointers and nice-to-know information.
Its 'TalkMaster' feature helps create dialogue simulations and branching scenarios for effective learning. It has iSpring Space for course creation and team collaboration right in a browser.
6. Easygenerator
This is an authoring tool that has become quite popular in the eLearning industry in recent times. It is an extremely user-friendly, cloud-based authoring tool with next to no learning curve. Here are a few reasons why Easygenerator is gaining quite a few votes of approval:
As it is a cloud-based authoring tool, it is easy to install, easy to access, and easy to use. In fact, it is so easy that the authoring tool advocates the idea of employee-generated content that encourages employees or learners to create their own content and share it as courses with others.
Like Rise 360, Easygenerator has content blocks that allow easy eLearning course creation. It also allows multiple author collaboration for rapid eLearning development. It can generate fully responsive eLearning courses that enable remote learning.
Summing it Up!
So, these are a few of the most popular eLearning authoring tools in the market. While they all may seem similar on the surface, each has its unique features that allow them to stand apart from the rest. Depending on your organizational training needs, one authoring tool among all others will end up being the right tool for you for rapid eLearning development.
Are you looking for a detailed guide that can help you choose the rapid eLearning authoring tool that's just right for you? This eBook can help. Download it for free now!
Editor's note: This post was originally published in January 2018 and has been updated for comprehensiveness.