Top 4 Advantages That Make Rapid eLearning a Perfect Choice for Corporate Training
Hey, you got a minute? I know paucity of time is a real thing! Let rapid eLearning take care of the quick rollout of your eLearning courses. In this blog, I've discussed the top 4 advantages of rapid eLearning that you can't miss!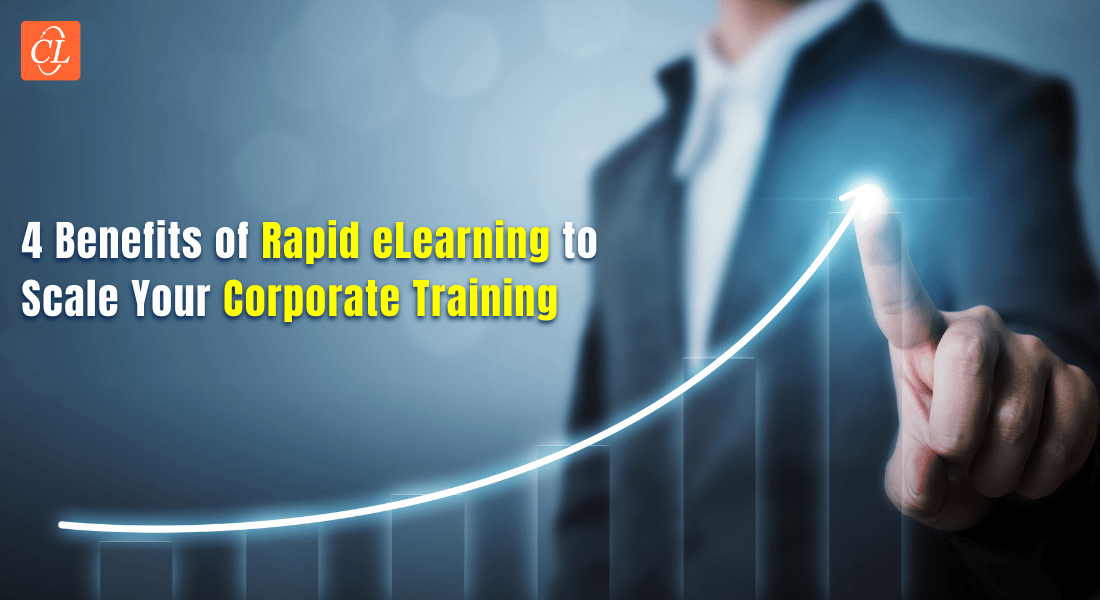 Rapid eLearning is the talk of the town! It is celebrated and widely appreciated among eLearning industry experts and training professionals. After all, it is the one-stop destination that is adept in catering to all your conventional as well as modern corporate training requirements. From adhering to tight deadlines and budget constraints to a seamless development process, rapid eLearning has it all! With these kinds of invaluable perks, it leaves no room for second thoughts to claim its title as being the perfect solution for your corporate training needs. But if you're still wondering whether it's worth the shot, this post is just for you!
Rapid eLearning is Nothing Less Than Perfect!
Here are the top 4 reasons to uphold the statement:
Time-saving; promotes quick rollout of eLearning courses
Pocket-friendly; ensures uninterrupted training even under tight budgets
Adaptable; caters to new-age learning habits
Modifiable; facilitates easy updation of eLearning courses
Here I'll discuss the top 4 advantages of rapid eLearning that make it an excellent choice for corporate training. Let's get started!
4 Advantages of Rapid eLearning in Corporate Training
Time-saving; Promotes Quick Rollout of eLearning Courses
Rapid, as suggested in the name, saves you precious time as it facilitates quick and timely rollout of eLearning courses. This promotes the scaling of an organization to match desired organizational goals. Rapid eLearning saves time as it leverages rapid authoring tools like Lectora, Articulate 360, Elucidat, iSpring, Adobe Captivate, etc. These modern authoring tools contain a rich asset library consisting of various multimedia, pre-built templates, interactivities, and even customizable designs and themes. Instructional designers can save a significant amount of time as rapid eLearning follows agile project management and leverages the Successive Approximation Model (SAM) which involves the active participation of all the key stakeholders at every phase. All these handy features with uncompromised quality of the eLearning content make rapid eLearning a perfect choice for corporate training.
Therefore, rapid eLearning allows you and your employees to have some spare time that can be used for crucial business priorities. It also cuts down on bells and whistles and includes only need-to-know content, which saves time and delivers only what is essential for the learner to improve their skill and performance. Furthermore, the courses designed are responsive or multi-device compatible, thereby saving you time and effort in creating different courses for different platforms.
Pocket-friendly; Ensures Training Content Even Under Tight Budgets
Low cost doesn't always have to be compromised quality. Rapid eLearning proves just that! It incorporates strategies that tap into various aspects of eLearning design and development where you can save the cost. Rapid eLearning follows SAM which is an agile model that involves the active participation of the Subject Matter Experts (SMEs) at every stage of the eLearning course development. They provide feedback and sign-off at every stage and then only the course proceeds to the next phase. This saves the cost of redoing the entire eLearning course in case the final course developed is not as expected. So here's your number one to save the cost with rapid eLearning.
Rapid eLearning authoring tools encompass all the modern features and interactivities, so you can definitely upscale your eLearning courses to improve learner engagement and participation without going heavy on the pocket. Moving further, it repurposes already existing content from classroom training to eLearning, or eLearning to other formats, thereby saving the cost of designing everything from scratch. Wait! There's more. If you wish to update your pre-existing eLearning courses, rapid authoring tools enable that in the easiest way possible. You don't need to spend money on designing everything from scratch. This helps you cut down a lot of expenses without lowering the quality and standards of your eLearning course.
Adaptable; Caters to New-age Learning Habits
Learning, nowadays, is no longer limited to formal modes alone. With the advent of technology, the learning habits of the modern workforce have seen a major shift. With that said, different learning formats, like self-paced learning, live format, performance support, blended learning, and more, have been on the rise. Rapid eLearning is open arms to embrace this change. Name an instructional design strategy, and you have it! Videos, check. Animations, check! Gamified elements, quizzes, interactive PDFs, simulations, scenario-based learning, storytelling? Check and check! It incorporates various learning formats that provide you with every possible way to create engaging, immersive, and learner-centric eLearning courses.
Here's an infographic to tell all about it.

Rapid authoring tools play an integral role in facilitating this readiness for new-age learning formats. Different authoring tools like Articulate 360, Captivate, Elucidat, Lectora, etc., help you design responsive eLearning courses, which makes it easy for learners to access training content as per their convenience and from any location. Even better, rapid authoring tools provide a rich asset library that augments the visual appeal of the eLearning courses. They also facilitate incorporating advanced interactivities in the online training courses. Since the rapid eLearning courses are compatible with multiple devices (yes, mobile phones too), they make the learning experience seamless and interesting.
Modifiable; Facilitates Easy Updation of eLearning Courses
Blink! And the trends change. That's how fast paced the corporate world has become. Business goals are evolving at lightning speed and accordingly set in motion the need for new and improved corporate training. But not everything changes just like that. So, throwing away your already existing training material out of the window is not necessary. You can easily modify a few things here and there as per the new requirements, and you're all set. Here's a catch!
Had it not been for rapid eLearning authoring tools, this whole process would have been nothing short of a nightmare. Imagine having to create everything from the start just when a new change kicked in. Fret not! Rapid eLearning authoring tools allow you to modify a particular segment of the eLearning course without having to change or create other elements of the training content. This whole process is cost-effective and timesaving. With rapid eLearning tools, let not the change be a reason for worry, rather let it be an opportunity to grow and learn something new!
It's a Wrap!
Some things just make your life better! And rapid eLearning is definitely one of them. It enables quick and speedy rollout of eLearning courses without compromising the quality or spending too much money. It even attends to the learning habits of the modern workforce, providing you with an array of options where you can select the best one according to your needs. All these features allow you to bridge the gap between employee skills and desired performance, thereby facilitating the scaling of an organization. If you think there's got to be more to rapid eLearning, you're absolutely right! Learn about the 4 Rs of rapid eLearning explained in this handy eBook. Check it out now!
Editor's note: This post was originally published in January 2023 and has been updated for comprehensiveness.