Easygenerator as L&D's Favorite Rapid Authoring Tool
If you had your ear to the ground, you must've heard about the Easygenerator authoring tool. So, what's new about this authoring tool? And why is it becoming so popular? This blog answers all your questions about Easygenerator.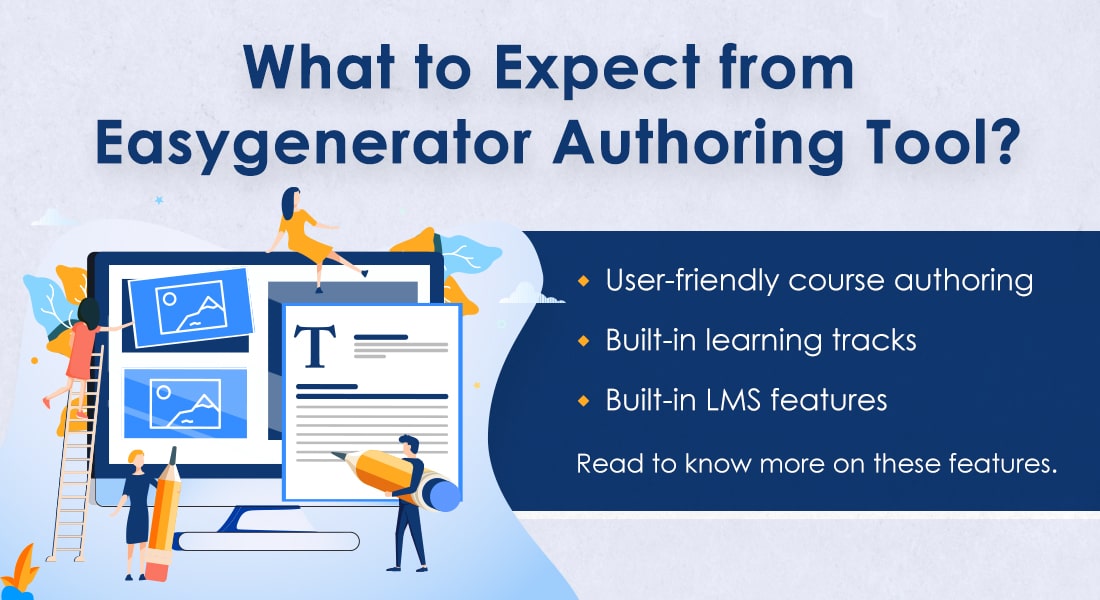 Corporate L&D is known for a lot of things – working well under pressure, mostly overworked and underappreciated, dealing with stakeholders who are often at odds with each other – but being experimental is not one of them. We like following rules and set processes, adopting learning designs we are already familiar with, and working with tools that we know how to wield. And honestly, who would want to experiment when there are urgent deadlines to meet? That's why there are only a small handful of authoring tools that we keep using, even though there are many to choose from. But Easygenerator is the exception to this 'no experimentation' rule.
3 Popular Features of Easygenerator Authoring Tool
Extremely User-friendly Authoring Experience
Built-in Customizable Resources
Built-in LMS Features
If you had Googled 'best authoring tools for eLearning' a couple of years ago, you would have gotten the standard responses of Articulate Storyline, Adobe Captivate, iSpring, etc. But this Easygenerator authoring tool, out of nowhere, is now buzzing in every conversation. So, we set out to experiment – to solve the mysterious appeal of this new authoring tool. And today, we shall discuss what makes Easygenerator so popular among corporate L&D.
What Makes Easygenerator So Popular as an Authoring Tool
1. An Extremely User-friendly Authoring Experience
Okay…so 'user-friendly' is something that most authoring tools claim to be. But with Easygenerator it is more than just a claim. Course designers and developers who have worked with the tool will vouch for their statement that course creation with Easygenerator is 12 times faster than with any other authoring tool. The tool has next to no learning curve. The interface is open to navigate. And the process of course creation is also very simplified.
It has 11 content modules to choose from where you can simply drag-n-drop your content and start adding built-in interactivities.
There are 10 built-in question types where you can create eLearning assessments by just adding content.
It has dedicated options to add logos, select color schemes, and add themes and buttons; and to enable and disable them in every slide. This makes it easy to implement your organization's branding within the eLearning courses.
Since Easygenerator is a cloud authoring tool, it allows for collaborative authoring and reviews where any number of course designers, developers, and reviewers can work together remotely without the need for a dedicated system where the tool is installed.
2. Built-in Customizable Resources
Now, this is something new and unique to the Easygenerator. While some authoring tools do provide sample courses to show how certain training (like Compliance, Sales, or Onboarding) can be built, no tool provides dedicated learning tracks. But Easygenerator does! You can simply download these learning tracks or resources on onboarding or compliance course templates, customize them, and create your own course. It's almost like getting an off-the-shelf course with the option to customize the media as well as the content to fit your requirements.
You can also translate these resources into 30 international languages.
3. Built-in LMS Features
Both authoring tools and Learning Management Systems are based on learning software infrastructure that works in sync but in different ways. Authoring tools are used strictly for course creation and LMSs are used primarily to host and track eLearning courses. But Easygenerator bridges the gap between these two tools and provides an all-in-one solution.
You can publish courses and track learners' activities, much like an LMS, within the authoring tool.
Also, Easygenerator allows publishing courses in xAPI learning format. It can also integrate with a Learning Record System (LRS). This way all learning activities that happen while learners access courses in offline mode can still be tracked and updated in the LRS when learners come back online.
You can generate learner surveys where they can rate and provide feedback on the courses. You can use the feedback to generate Course Engagement Scores.
The course certification can be generated directly and sent automatically to learners through the tool so you don't have to manually send certificates to learners each time.
So…What's the Catch?
Ah! That is the million-dollar question that our pragmatic side poses every time we see something that seems too good to be true. And this time too, it has its merit.
With Easygenerator, a lot of course authoring problems are easily solved. It truly allows for rapid eLearning design and development, and almost eliminates the need for a separate LMS too.
But even with all this, it is still too simplified a tool to handle complex interactivities and high-level courses. It doesn't have much scope for implementing new-age learning strategies like branching scenarios and simulations. And while certification, hosting, and tracking courses are all good to have in the authoring tool itself, it cannot replace the new-age LMS that offers so much more than that.
End Note
Easygenerator is the tool you should go for when you need to create simple eLearning courses with minimal effort. It is ideal for rapidly converting classroom training to eLearning. It can also be a very useful tool if you need a set of standalone courses that can be or have to be hosted separately from the centralized LMS.
I hope this blog gave you some food for thought before you decide upon the authoring tool for your organization. Choosing the right tool is very important when you are looking for rapid eLearning development. If you want to know more on the topic, download our eBook.