Articulate Rise 360 vs. Easygenerator: A Comparison for Rapid eLearning
What is the best authoring tool for rapid eLearning development? It is a question with no easy answer, but we'll try nonetheless. Here is a comparison of Rise 360 and Easygenerator, tools for easy rapid eLearning development.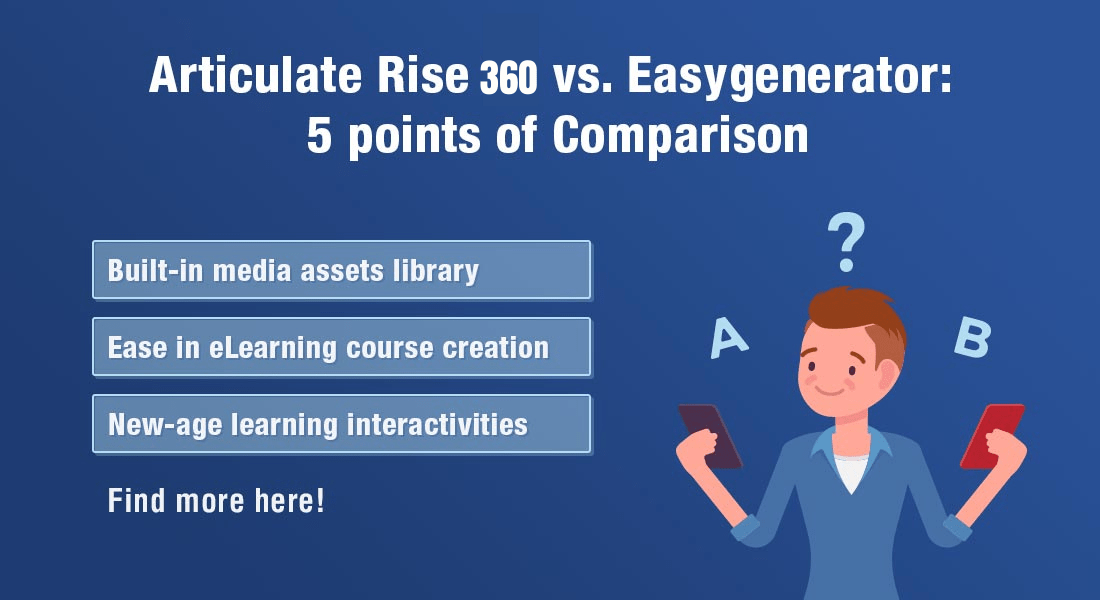 As L&D professionals, we all understand the need to deliver quick and cost-effective eLearning courses while striving to achieve maximum training effectiveness. That is why we fervently advocate a rapid eLearning strategy, as it promises maximum learning impact in minimum time and budget.
Rapid eLearning Authoring Tools are Many. Choose the One That Best Suits You
Articulate Rise 360 vs Easygenerator – Let's find the difference
Built-in media assets library
Ease in eLearning course creation
New-age learning interactivities
eLearning technical standards
Mobile responsive eLearning design
Rapid eLearning has always been a popular eLearning design and development strategy. But its popularity has risen manifold during the COVID-19 crisis. The lockdown and consequent disruption to classroom training has forced organizations across the world to look for fast online training solutions and rapid eLearning has become the choicest strategy to meet the current training demands.
But what is the main reason behind this over-arching success of rapid eLearning? Indeed, the answer is 'authoring tools' – the secret tools that make the whole design and development process truly rapid. With built-in interactivities, multimedia assets, and other features, authoring tools offer a way to design and develop eLearning courses without the need for coding or programming, saving a lot of time and cost in the process.
With rapid eLearning becoming increasingly popular, more and more authoring tools are entering the race for the best, user-friendly, and most interactive tool. Every day, we are asked about the effectiveness of different authoring tools and compare the many available options.
In this article, we'll be discussing the features and specifications of two popular authoring tools – Articulate Rise 360 and Easygenerator.
So, keep reading, lest you miss out on some features that can help you select the right authoring tool for your organization's training development.
A Brief Review of Articulate Rise 360 and Easygenerator as per the Industry Thought Leaders
Articulate Rise 360
Articulate Rise 360 is a cloud-based authoring tool that comes as a part of the Articulate Authoring Suite. It is one of the two authoring tools offered within the Articulate suite, the other being Storyline 360. The name Articulate itself is a benchmark and Rise 360 has lived up to it. Most thought leaders credit its user-friendliness, fully responsive design, and ease in converting text based ILT content into more visual and interactive eLearning courses.
Rise 360 cannot be purchased separately and is licensed as part of the Articulate 360 subscription. Also, being associated with Storyline 360, Rise 360 often hides behind Storyline's spotlight!
Easygenerator
Easygenerator too is a cloud-based authoring tool that has earned the industry's approval because of its user-friendliness and ease in content creation. It is a single tool and has next to no learning curve which makes it easy to operate even by users without much experience in authoring tools. Because of this, the tool advocates the idea of employee-generated content that enables learners to create training content themselves.
But here's the catch. While most of the industry rates it highly because of user-friendliness and easy content creation, there is no mention of new-age learning designs or custom interactivities!
Articulate Rise 360 vs. Easygenerator: Points of Comparison
1. Built-in Media Assets Library
Media assets such as images, videos, audios, etc. form a major part of eLearning content. They make the courses more visually appealing and engaging for learners. Having an internal library with images, icons, character cut-outs, templates, and the like will help a great deal when it comes to rapid eLearning development. It will enable quick content creation because your course designers and developers won't have to scour external libraries such as Shutterstock, iStock, or Getty images for media assets, nor will they need to create them from scratch. It would certainly reduce cost, since there will be no need to pay for licensing.
When you opt for Rise 360, you will get access to Articulate Content Library 360 with over 6 million stock media assets that can be used to create engaging eLearning content. The templates in the library are highly customizable and reusable, and can be tweaked to fit your content needs.
On the other hand, Easygenerator has no such built-in library. You'll need to export external images and media assets and that can be both tedious and expensive. While there are a few layouts and templates available within the authoring tool, they do not offer much scope for customization. The lack of an internal asset library is a huge drawback for any authoring tool and certainly doesn't help the case for Easygenerator.
2. Ease in eLearning Course Creation
When it comes to rapid eLearning authoring tools, we often focus on what they can do rather than how easy they are to use. Though it is the job of an authoring tool to ease the process of content creation, 'ease' is a relative term. Many authoring tools have interfaces similar to PowerPoint, making them extremely user-friendly while others have a steep learning curve. Lucky for us, both Rise 360 and Easygenerator were designed for easy course creation and hence are extremely user-friendly.
Both Rise 360 and Easygenerator provide content blocks where you can simply drag and drop your content, be it images, videos, or text. It is especially helpful in ILT to eLearning conversion. Rise 360 offers even more options for content blocks to accommodate tables, lists, quizzes, text paragraphs, and other interactions.
Content blocks are not the only feature that eases content creation. Since both Rise 360 and Easygenerator are cloud-based authoring tools, they allow collaboration between multiple authors. That means several content developers can work on the course at the same time, making way for rapid eLearning development.
3. New-age Learning Interactivities
One of the most common misconceptions about rapid eLearning is that it creates very simple, often boring, PPT slide-like eLearning courses. This is of course not true. The scope of interactivities rests solely with the authoring tool you use. Many authoring tools today can easily enable the creation of highly interactive new-age learning interactivities without much effort.
Unfortunately, both Rise 360 and Easygenerator don't offer much scope for complex and customized interactivities. They are suited for quickly developing interactive and engaging eLearning courses that are not too complex. If you want to develop such interactivities with Easygenerator, you'll need to use external plug-ins. For instance, for creating branching scenarios, you'll need to license BranchTrack and integrate it with the authoring tool.
However, Rise 360 does have an advantage over Easygenerator. Though it cannot create custom interactivities, it can import them through Storyline 360. And since both these tools are part of the same authoring suite, you won't need any external plug-ins. You can create learning interactivities – animations, scenarios, game-based designs – using Storyline 360 and import them to a content block in Rise 360.
4. eLearning Technical Standards
Learning methods and technologies have evolved tremendously in recent times. Corporate eLearning is now not just about making information available to learners, but also about engagement and measuring the effectiveness of training. And eLearning technical standards like SCORM, xAPI, and cmi5, once meant to ensure the compatibility of eLearning courses with Learning Management Systems (LMSs), are now also responsible for tracking, analyzing, and reporting learning activities.
As you must know, AICC was the first eLearning standard developed but it couldn't track learning actions. SCORM was developed specifically to solve this issue and was later updated to SCORM 1.2 and 2004. SCORM 2004 is one of the most widely used eLearning standards today. xAPI and cmi5 are the latest eLearning standards that enable offline tracking as well. A good authoring tool should be able to create eLearning courses adhering to these standards to keep up with present training needs.
Both Rise 360 as well as Easygenerator can create AICC, SCORM 1.2, SCORM 2004, and xAPI compatible eLearning courses.
5. Mobile Responsive eLearning Design
Remote working was becoming increasingly popular even before the COVID-19 lockdown. And in the last few months, with most organizations forced to implement a work from home policy, it was brought home very clearly that mobile learning has come to stay. It is no longer just a trend but has become a necessary part of corporate training. eLearning courses need to have a responsive design to ensure learners access learning anytime, anywhere, on the device of their choice.
Responsive design allows eLearning to adapt to different devices, screen sizes, and orientations. Both Rise 360 and Easygenerator have a fully responsive design. That means developers do not need to tweak the eLearning course layout for different devices, the tool does this on its own. Moreover, both tools provide a preview option where you can get the 'look and feel' of the course in different devices before publishing.
Summing it Up!
It is a tough call to choose between the two seemingly similar authoring tools – Rise 360 and Easygenerator! They are even priced in more or less the same range. But I do hope this article gave some insights on the strengths of each tool. You also have to consider the added benefit of Rise 360 being a part of the Articulate authoring suite – a hugely popular and respected brand name that delivers on its promise of easy, engaging, and rapid eLearning content creation.
Most authoring tools offer more or less the same features. And yet, many L&D professionals have favorites, tools they prefer over all others. That in itself is not an iron-clad testimony that one tool is better than the other. Truth is, the choice of the best authoring tool depends entirely on your training requirement. So, before you make a decision, be sure you know what you want from your training and the choice will be clear.
For more information on how rapid eLearning can help you generate fast and efficient training solutions, download our free eBook.