Corporate eLearning Norms and Trends: Where Should You Focus?
Are you curious about new-age eLearning trends? Which of these trends is best suited for your eLearning program? Read to know more.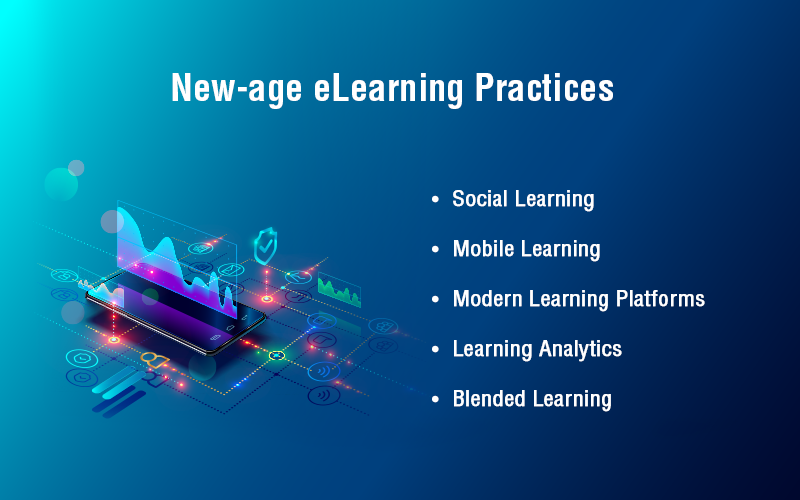 According to recent market study, global corporate eLearning is predicted to reach US$230 billion by 2023. A key factor behind this is rising employee satisfaction, partly due to new-age workplace training practices. L&D teams are trying to maintain this momentum of successful workplace training by going in for many of these new trends and approaches.
Where's eLearning Heading in 2020?
Popular New-Age Approaches
Social Learning
Mobile Learning
Modern Learning Platforms
Learning Analytics
Blended Learning
Emerging Trends
Artificial Intelligence
Immersive Learning (AR/VR/XR)

Adaptive Learning
But as more and more of these 'new-age trends and practices' keep pouring in, the real challenge now is recognizing what works for your employees and organization. Many trends have become normative practices over the years, and many are still buzzing around with no viable effect or use. Many new-age trends are useful yet futuristic, much ahead of their time to be relevant. So, where should you focus?
New-age eLearning Practices: Transforming Corporate Training for the Better
Social Learning: 'Training through Peer Collaboration'
When you're stuck with a problem at work, your first instinct will be to turn to the person beside you, won't it? That's natural because humans are social animals and have always gained and shared knowledge like this. Even the '70:20:10' model of learning proposes that 20% of workplace learning happens through social interactions and collaborations. Now that we are in the world of global social networking and connectivity, the idea of social learning has gone much beyond the usual 'water cooler meetings'.
Over the years, eLearning has incorporated many social learning elements such as discussion boards, messenger apps, and online communities. Many gamification features such as leaderboards and point scores encourage competition as well as collaboration among learners. Social media connections in the workplace also provide employees the opportunity to learn and interact with industry thought leaders and experts. Today, roughly 60% of organizations use some form of social learning and going by its results, you can surely bet on it.
Mobile Learning: 'Training On-the-go'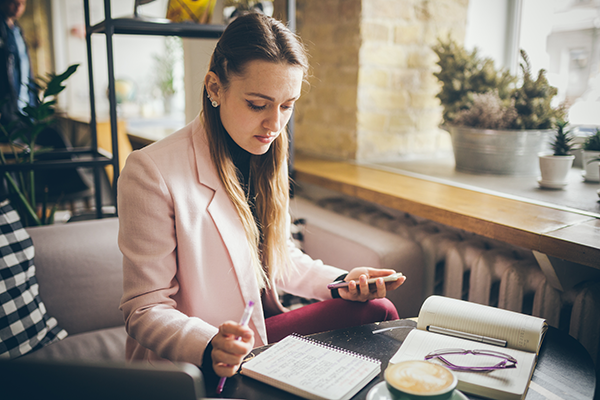 The proliferation of mobile devices and the influx of millennials and Gen Z into the workforce has made it crucial for organizations to have mobile responsive training. But apart from appealing to this new generation of employees, mobile learning offers undisputable benefits in online training. Training on-the-go frees employees from the restriction of time and place of learning.
On-the-field employees need not waste time and job-hours sitting behind a desk and in-house employees can take the training at their own pace and convenience. This makes training a self-directed, self-paced approach which is always the goal with adult learners.
From providing performance support to employees on the job to making training accessible on-the-go, mobile learning has become an essential part of the online training strategy. The growing BYOD (Bring Your Own Device) policy among businesses is also adding to the popularity of mobile learning. Today, one out of every five adults is a 'smartphone-only' Internet user. And since there is no possibility of their use decreasing in the near future, it's safe to say mobile learning has come to stay and has become a vital part of workforce training.
Modern Learning Platforms: 'Going Beyond the Traditional LMS'
Learning Management Systems (LMSs) were developed to serve as a repository for eLearning courses that were earlier hosted on an organization's Intranet. Over time, the LMS evolved to become the platform for hosting courses, tracking learning activities, analyzing learner performance, and generating reports. Yet there are reports that more than 40% of large organizations are not satisfied with the present capabilities of their LMS. The fact is, traditional LMSs are not equipped to support new learning trends and practices such as blended learning (where classroom training can be managed but not tracked) and mobile learning (which cannot be tracked when in an offline mode).

To overcome such issues, modern learning platforms such as Adobe Captivate Prime and Docebo have emerged in the market today, allowing AI-enabled engines to track user generated content and blended learning formats. The development of xAPI (an eLearning technical standard) has made it possible to track mobile learning in both online and offline modes. LMSs such as iSpring Learn and CourseMill are coming up with mobile apps to facilitate mLearning. To keep up with these developments, you need to invest in a modern learning platform which can offer all the benefits of an LMS, LCMS (Learning Content Management System), and LRS (Learning Record Store).
Learning Analytics: 'Measuring Training Value'
Training evaluation is often limited to eLearning assessments in most organizations. The reason is usually a lack of resources and/or expertise, and the general apathy of stakeholders outside L&D (who are more concerned about finishing training and getting employees back on the job as soon as possible).While most people understand the value of training, there is often no concrete evidence to show for it. As a result, training managers often struggle to secure budgets for training and proving training ROI also becomes a cumbersome process. This is surprising as employee training is one of the major influencers of employee as well as an organization's growth and productivity.
Learning analytics make it possible to evaluate training every step of the way. Modern LMSs are now equipped to collect data every time the learner interacts with it. This makes employing learning analytics a simpler and more affordable process. You can start with Learning analytics by this 5-step process.
Plan for the information needed, the sources, the format of reports, and the stakeholders who will receive those reports.
Enable data analytics based on where and how it will be hosted.
Collect data and monitor it.
Analyze
Report and discuss with concerned stakeholders.
Blended Learning: 'Finding the Right Mix of Training Strategies'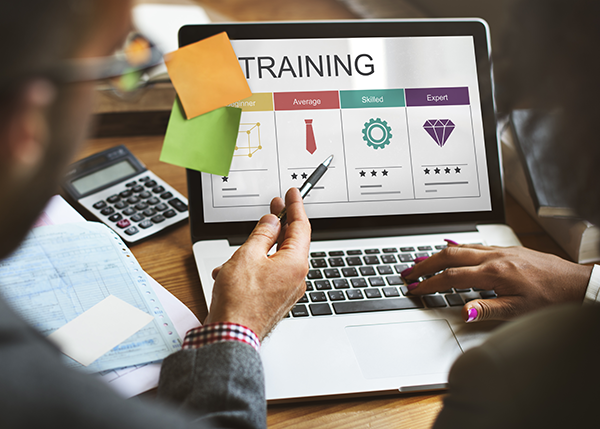 Unlike other training practices mentioned previously, blended learning is not really new age. It has been used by organizations for as long as eLearning, mostly as a stepping stone to transition from ILT to online training. However, blended learning is more than just a transition strategy and is not confined to classroom and eLearning sessions. Today, online training encompasses a variety of training formats such as mobile learning, microlearning, and social learning. Each of these formats can work on their own or as part of a hybrid training program.
Blended learning is simply a mix of online and offline training modes where you can pick and choose different formats that are best suited for your training needs. You can mix classroom sessions, peer-mentoring, eLearning courses, webinars, and collaborative team building exercises, to build your unique blended learning strategy. Here is an example of how you can blend different formats for product training.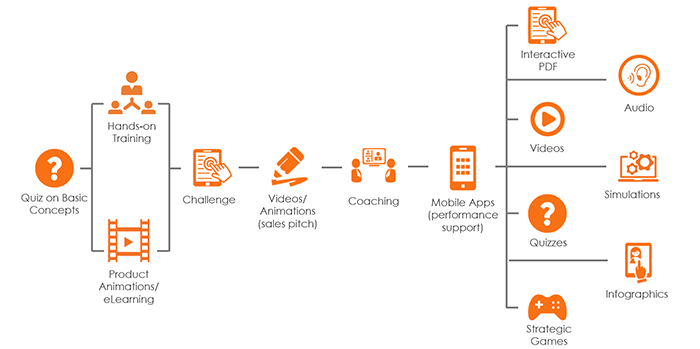 A Word on Emerging Trends You Need to Be Aware (and Beware) of
While many new-age training practices have become the norm in L&D, many are still on the not too distant horizon. Three such trends that have gained much attention, mostly because they sound 'sci-fi' and really cool are:
Artificial Intelligence
Immersive Learning (AR/VR/XR)
Adaptive Learning
The way artificial intelligence in training is talked about makes you wonder if we have suddenly made the jump into Marvel universe and Jarvis (Iron Man's AI butler) is there at our beck and call. But the reality is that AI in training hasn't evolved as much as it is hyped and is used by very high-end organizations at great expense.
Sure, automation is slowly becoming a reality, but we are still quite far from AI taking over human lives. The same is true for adaptive learning. A fully personalized training strategy, which can adapt itself to learners' needs and responses in real time, is possible only through an AI-enabled adaptive engine.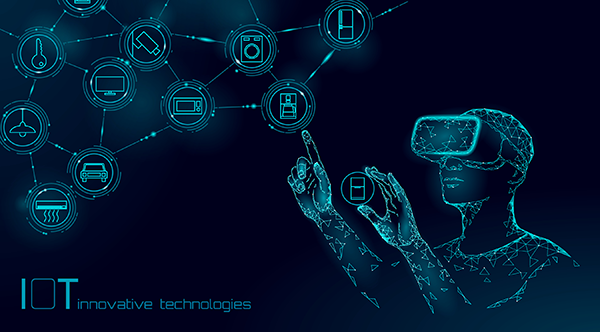 As for Virtual Reality (VR) and Augmented Reality (AR), there is still some hope. Authoring tools such as Adobe Captivate have built-in AR templates which reduce development time, effort, and expense. But these are very basic AR templates, a far cry from the immersive learning as we imagine. In reality, a gaming experience or simulation which immerses learners in its virtual world is still neither a feasible nor a necessary option for most corporate organizations.
Which of these norms and trends are you looking forward to include in your training? Share your thoughts in the Comments section below.