5 eLearning Trends You Cannot Afford to Ignore
Wondering about the eLearning trends of 2021? Look no further as this blog aims to give you a clear picture of the eLearning trends of 2021!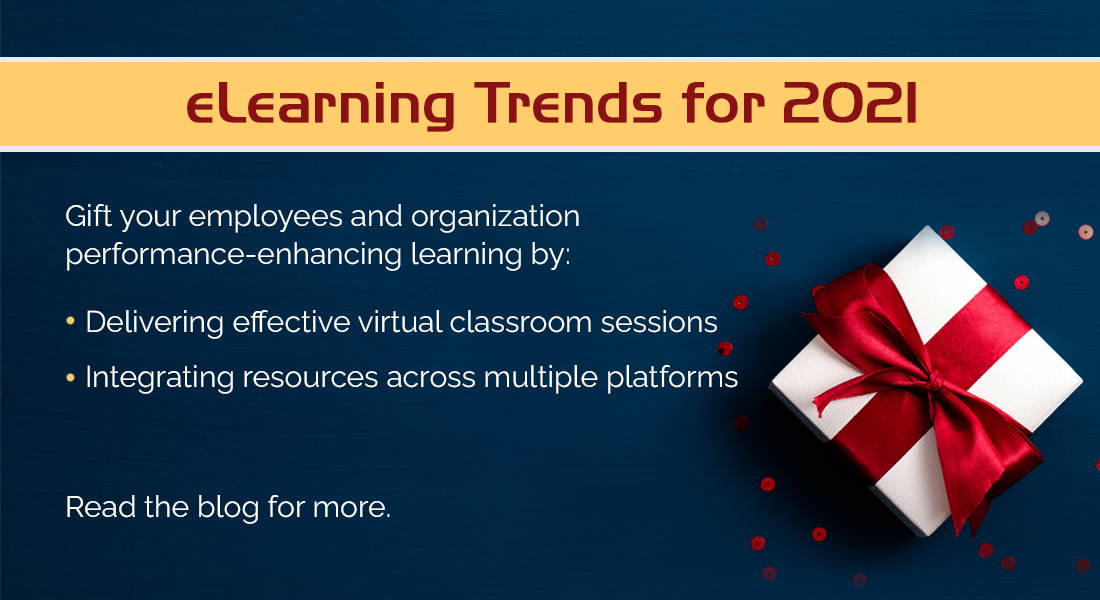 The new year has finally begun – cheers to new beginnings! Along with the new year come the new eLearning trends of 2021. But wait! What is a trend and why are they so important? Let's take a look.
eLearning Trends for 2021
Blended learning
Virtual instructor-led training (VILT)
Rapid eLearning conversion using the 4 'R's
Use of LXPs
The shift of L&D from order-taker to impact-maker
A 'trend' holds a lot of power in the world today; it refers to a movement or inclination toward certain ideas/concepts (mostly new) that have the potential to achieve success. While trends may not last forever and tend to constantly change and evolve, they can also lead to business growth. They draw attention and keeps one's interest and curiosity alive!
Trends also give us something new to look forward to in the eLearning industry – but it is important to remember that we should focus only on trends that will help our learners and organizations, rather than just trying to play along with whatever is new.
These 5 eLearning trends of 2021 will help L&D professionals innovate for improved performance, to achieve business goals and desired ROI.
Introducing the Trend Setters of 2021 – Let the Adventure Begin!
The 5 latest eLearning trends can be the superheroes that will help your organization achieve success. So, what are they? Let's see!
Trend 1: Blended Learning – To Facilitate Continual Learning
Learning is a process and is continuous in nature. Learners need to be provided with opportunities for continuous learning to help defeat the forgetting curve. Effective training:
Improves learners' performance
Helps attain the desired organizational goals/results
One of the most effective methods of training is blended learning. And it is trending this year, especially with the COVID-19 pandemic. The reason for its popularity is that it combines instructor-led training with online training, paving the way for anytime, anywhere learning.
There are several formats for learning (such as social learning or self-paced learning) and digital assets (videos, eBooks, quizzes, infographics, etc.) that can be used in various combinations to create the perfect blend. Game-based learning, simulations, guided learning, etc. can also be used where appropriate to deliver high impact learning.
Trend 2: Virtual Instructor-led Training (VILT)
Virtual Instructor-led Training (VILT) is a replica of in-person classroom training but in a virtual environment. A VILT is not the same as a webinar. This point cannot be stressed enough! While webinars are mostly based on a one-way method of sharing knowledge/information, VILT is a two-way process, with more interactivity and attention to detail.
Webinars mostly have the instructor talking and presenting information with the learner only asking questions through chats or at certain fixed points whereas VILT allows direct interaction between the instructor and the learner.
VILT is a trend that is here to stay! It provides the benefits of human interaction, much like traditional classroom setting, while ensuring social distancing is maintained.
An effective VILT session requires meaningful content and a good technological platform. The content must include guides and handouts based on the subject as well as the requirement; the technological platform, on the other hand, needs to be user-friendly, yet provide all necessary features for a collaborative experience (such as Microsoft Teams, Google Classroom, Zoom etc.).
Trend 3: Rapid eLearning Conversion using the 4R's
We live in a fast-paced world; in such a world, eLearning courses need to be designed and delivered rapidly. This is where the 4 conversion strategies comes in, helping convert classroom training material to eLearning and reducing the time and effort SMEs need to put in. Here are the 4Rs:
Record (this will save SME's time)
Republish (to make your courses mobile compatible)
Rebuild (eLearning into microlearning nuggets)
Redesign (classroom training content to online formats to support blended learning)
Trend 4: Use of LXPs
A learning experience platform is a collaborative learning platform that runs on artificial intelligence and machine learning. LXPs allow learners to create their own personalized learning journey by curating resources across multiple platforms such as an intranet, LCMS, LMS, and more.
An LXP moves away from the traditional method of delivering content for the corporate world. It is a special learning ecosystem that focuses on learning needs and can successfully bridge learning gaps. With its ability to create personalized experiences, it enhances learner engagement. LXPs have a great variety of tools and modern technology that can help create social learning environments to provide learners with highly engaging learning programs.
Trend 5: The Shift of L&D from Order-Taker to Impact-Maker
L&D teams are tasked with providing learning programs to fill learning gaps. However, very often, they are mere order-takers and are not recognized to add value to the organization's growth. But there is now a paradigm shift in how L&D is perceived. They are no longer limited to employee training but also contribute to the business as a whole.
So how can L&D add value and make an impact on the organization's growth? Simple, they need to align training initiatives with business goals and business strategy. When they do that, they don't just fill learning gaps, they also play a crucial role in contributing to the organization's business results as well as its decision-making process.
This needs L&D to understand the business and the organization in detail, including how learning programs can help achieve business goals, especially those that can be clearly measured.
To Conclude…
Although trends are constantly evolving, they have the potential to greatly impact the industry. And so, you need to be aware of the latest trends of 2021 to ensure your organization's success. Want to learn more? Take a look at our eBook that covers all the eLearning trends of 2021 in more detail.