How Will Corporate Training Change in the Post-pandemic World?
The coronavirus pandemic has changed corporate learning in many ways. What are those changes? It is better to be prepared and stay ahead in the game of corporate training!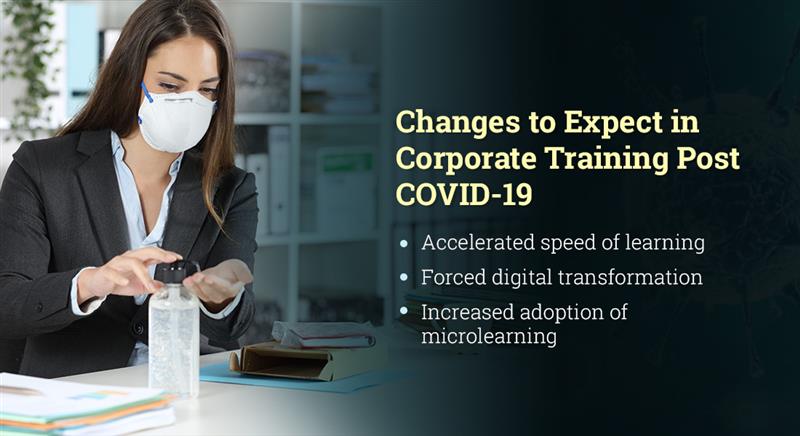 In my last blog, I had discussed tips to strengthen an accidentally remote workforce during the COVID-19 pandemic. A few months later, here we are, comfortable with working remotely, as if we had always been part of a remote workforce – by choice, not accidentally! The pandemic has certainly changed the workplace in more ways than one, and that includes corporate training.
Changes to Expect in Corporate Training Post COVID-19
Accelerated speed of learning
Forced digital transformation
Mandatory mobile-compatibility of learning resources
Rapid eLearning on priority
Increased adoption of microlearning
According to a blog by Josh Bersin, organizations have 3 phases of response to COVID-19.
The first phase was React where organizational leaders had to react swiftly – to set in place plans for coordination and survival of the business.
In the second phase, Respond, companies devised 'work from home' policies and launched L&D programs on management, resilience, coaching, and wellbeing. In this phase, some organizations went through "crash digital transformation programs" – essentially completing in days what would have taken years, all thanks to the pandemic.
The third phase, Return, is where organizations would be thinking of returning to normal – though not to the previous well-known normal, but to the 'new normal'. And this will be a phase of serious business transformation where corporate traning would be required to become more aligned to business needs, now more than ever.
The pandemic has forced organizations that had not previously planned on introducing digital learning in their training to make a 180° turn in their thinking and switch to digital learning overnight. It was as if everything had changed in an instant! So, what does the 'new normal' corporate learning look like?
How will Corporate Training Change Post COVID-19?
Most organizations today are either in the Respond or Return stage. Here are 5 changes that I expect to see in corporate training in the days to come.
Accelerated Speed of Learning
As businesses deal with change, there is a clear shift from the structured and planned-well-in-advance organizational learning to the more agile operational learning.
Operational learning is more focused on how work happens, and that is exactly what's required in these challenging times. The COVID-19 pandemic has forced a lot of operational changes; organizations are discovering new ways of doing business, just to ensure their survival in the market. These changes need to percolate to employees, which essentially means learning needs to be delivered at the speed of business need.
I expect more organizations will now be looking for strong learning partners, L&D teams with strong instructional design skills, and SMEs to get that learning out to its employees and channel partners.
Forced Digital Transformation
It seems as if the world's timeline will forever be divided into 'before' and after the pandemic'!
Before the pandemic, a lot of operational knowledge was stored in training manuals and books. All this content suddenly became inaccessible for organizations that did not go in for digital transformation. It was neither possible nor advisable to have a subject-matter expert take learners through classroom training. It was also not possible to approach a co-worker which is what most of us did when we needed quick help with our tasks at the workplace.
Suddenly, it felt as if corporate training was locked away. Since then, many organizations have taken the first step to convert their classroom training to eLearning or virtual instructor-led training and it is expected that many more organizations will follow suit.
I expect there will be a huge demand for digital transformation of learning assets. Although it might be forced on the organization, it makes perfect business sense as you would want learners to find exactly what they need and access a single source to continue their learning efforts.
Mandatory Mobile-Compatibility of Learning Resources
'Before' the pandemic, we did have organizations taking a keen interest in developing mobile-compatible corporate training. Some did invest in mobile learning to provide training at the moment-of-need, but such instances were few and far between. Mobile-compatible learning was primarily offered as an option for learners to continue their learning efforts at their own pace.
For organizations that had not worked toward offering mobile-compatible learning resources, there's a huge challenge ahead. I expect that there will be a lot more focus on a mobile-first design in online training and eLearning developers can expect to develop more of native mobile learning experiences that include features such as scrolling, pinch-to-zoom, or swiping.
Rapid eLearning on Priority
Earlier in the blog I spoke about operational learning which is focused on ways to operate the business. This type of content normally has a short to medium shelf life, making rapid eLearning the best strategy for present corporate learning.
Rapid eLearning authoring tools are getting better by the day with most of them facilitating simple, quick, and collaborative authoring. Instead of waiting months to design some dazzling eLearning courses, organizations would now prefer to keep it simple and low cost. And rapid eLearning offers that without compromising on instructional design. Afterall it owes its popularity and success to its foundation of robust instructional design.
I expect a greater number of rapid eLearning initiatives to be rolled out in the days ahead and it will become common to author and update courses 50% faster than earlier, with the new generation of authoring tools.
Increased Adoption of Microlearning
In the post-pandemic world, learners will continue to take charge of their corporate learning experiences. But the learning needs to be accessible for them to take at their convenience. Talking about operational learning initiatives, learners would prefer bite-sized learning that they can quickly internalize and apply in their next phone call or meeting with a customer.
The pandemic has left people overwhelmed and stressed out. And spending hours in front of a computer for training is not something that they would want to do. But they might be more receptive to learning that is delivered in the form of microlearning nuggets.
Also, for the reinforcement of organizational learning, the ideal format is microlearning. It will not only help learners learn quickly, but also in just under 5 minutes, jog learners' memory and improve the effectiveness of corporate training. So yes, I expect to see a big boom in microlearning too.
It's a Wrap
L&D teams need to pull up their socks and transform corporate training to keep up with the demands of the business. A scant few months ago, people were casually talking about digital transformation, but the pandemic has made it an urgent need. Going forward, corporate learning will be more about bringing learning to the learners than learners to the learning.
How prepared are you to stay in the game? How prepared are you to roll out corporate training that matters to your learners and improves their performance? If you are really serious about it, register for this webinar on virtual instructor-led training that talks about replicating the real classroom virtually.