Bringing a Paradigm Shift in Corporate Learning and Development Culture
COVID-19 has brought in a lot of sudden challenges and changes to corporate learning and development. But are these changes permanent? What's the next step forward? Read this blog to know about the paradigm shift in corporate L&D.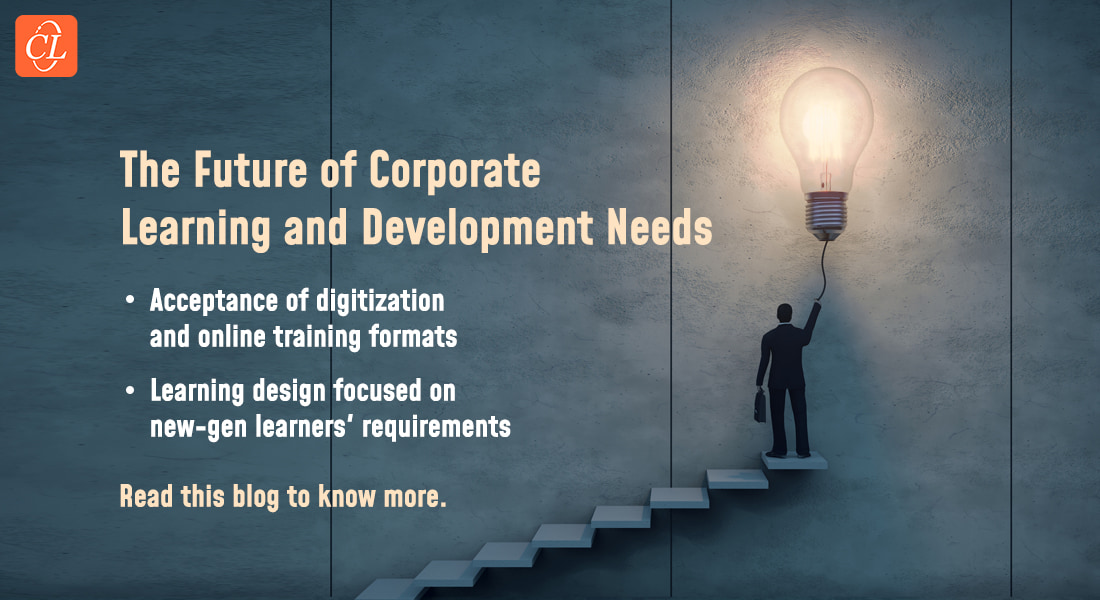 Change is the only constant in this world. And yet most of us are perturbed by it, resist it, or at least try to slow it down. But now and then we are faced with circumstances where change is sudden and inevitable. It's like a 'change or die' situation. And this year was exactly like that for corporate Learning and Development (L&D).
Transforming Corporate L&D Culture
Move forward with online training
Design your training based on changing learner profiles
Promote a data-driven corporate training approach
For a long time now, we have been talking about shifting the focus of corporate L&D, changing the training approach, changing the learning culture. But lack of time and budget, and never-ending training deliverables forced us to put the reimagining of corporate L&D on the back burner. But when COVID-19 brought the entire world to a standstill back in March, we were obliged not only to think of immediate alternative training solutions but also to re-think possible 'what's next' to avoid such disruption in the future.
We have a huge opportunity right now to transform the face of corporate L&D. With so much uncertainty and change all around, this is the time to reevaluate age-old training approaches and make them work.
3 Strategies to Transform Corporate Learning and Development
Move Forward with Online Training
Implementing online training in corporate L&D has been a long drawn process. It took 20 odd years for it to become a popular approach for workplace training and a billion-dollar industry on its own. But in spite of its rising popularity and proven benefits, there was still some reluctance among organizations to let go of traditional in-person classroom training and shift completely to online training. But then COVID-19 happened, and in-person training just wasn't an option anymore. Online training methods, whether eLearning, microlearning, or virtual classrooms, enabled organizations to carry on with their employee training even during the pandemic.
But what happens next? Do we part ways with online training once the pandemic is over and we are allowed to go back to classrooms? What about the next time?
There is only one sensible way forward for corporate L&D. And that is to move forward with online training, making it more effective, engaging, and appealing for learners. Also, we'll never get another chance like this again. This whole situation is the most compelling business case that you can use to convince your stakeholders and Subject Matter Experts and get their buy-in for online training.
2. Design your Training Plan based on Changing Learner Profiles
I think a major opposition to online training was from the workforce generations before the millennials (baby boomers and Gen X) who were not too comfortable with technology. That is quite evident looking at the rising popularity of eLearning as millennials and Gen Z started trickling into the corporate workforce. And now that they make up the majority in numbers, it is high time we give them what they want in terms of organizational training. And here are a few suggestions to get started.
Make Learning Interesting
The tech-savvy modern learners are not going to be impressed by boring click-next courses. You'll need to create a training program for them that is experiential, engaging, effective, and edutaining, all at the same time. The best way to achieve that is through new-age instructional strategies – using scenarios, storytelling, simulated-environments, gamified designs, and immersive technology (e.g. virtual reality) in your eLearning courses. It doesn't necessarily have to be a very expensive and out-of-the-world design; you have the rapid eLearning authoring tools in your arsenal now!
Give Learners Flexibility in How & When They Learn
Giving learners the freedom and flexibility to learn at their own pace is one of the basic principles of adult learning. But this was never actualized in in-person classroom training because the date, time, venue, and every aspect of the training was pre-determined. But with online training, you have so much scope to give learners the much-needed flexibility.
Mobile learning will give learners the flexibility to choose when they want to learn – allowing learners to access training anytime, anywhere, whether they are working from home, working remotely, are out in the field, or want to train in their own time.
Using different training formats such as videos, podcasts, infographics, games, interactive PDFs, mobile apps, etc. also gives them flexibility to choose how they want to learn.
Encourage Continuous Collaborative Learning 'Virtually'
For a long time, most people had a separate 'work life' and 'personal life'. It was normal to have different sets of friends and acquaintances – 'personal' friends, 'work' friends, or just acquaintances (from work or family). There were solid lines separating these groups of people. But they started to blur in modern workplaces with the kind of social life that this generation of employees enjoyed. And that is a good thing.
It allows you to cross social boundaries and encourage employees to interact and learn from one another. Collaborative learning not only makes learning informal, effective, and engaging, but also encourages a healthier work culture.
And it is so simple and easy to do – have a group discussion or brainstorming activity in virtual classrooms, use discussion boards, chatrooms, and social media pages to share ideas, ask opinions, and promote training programs.
3. Promote a Data-driven Corporate Training Approach
Now that we are trying to make a paradigm shift in corporate L&D, there is one more thing we need to take care of. And that's measuring the effectiveness of training. And no, I am not just talking about completion rates and average scores. I am talking about gathering data about every aspect of training at every step of the training journey and deciding what works and what doesn't. Yes, I'm talking about Learning Analytics.
Learning analytics is a data-driven approach to measure, collect, and analyze information, and generate report about learners, their activities and contexts, for purposes of understanding and optimizing learning and the environments in which it occurs. Learning analytics is no longer a highfalutin fancy idea. Implementing learning analytics is critical if you truly want to build a successful and effective corporate L&D culture with the ROI to prove it.
End Note
Much like any change, these suggestions may seem a bit too much at present. But believe me, each point is important for the future of corporate learning and development. Envisioning a better workplace training culture is not about adopting trends on a whim and letting them go when a newer thing comes along. A true paradigm shift will only happen when we understand the demands of the present and make a way for the future based on them.
And while you have your thinking hat on, why don't you go ahead and sign up for 3 days of virtual learning, sharing, and collaboration with L&D peers? Get inspired by their success stories, explore new strategies, revisit the basics, and more on everything related to training. Register now!