The Quest of SME Buy-in for ILT to eLearning Migration
Thinking of transitioning from ILT to eLearning? Learn how to convince SMEs to be part of the ILT to eLearning conversion process.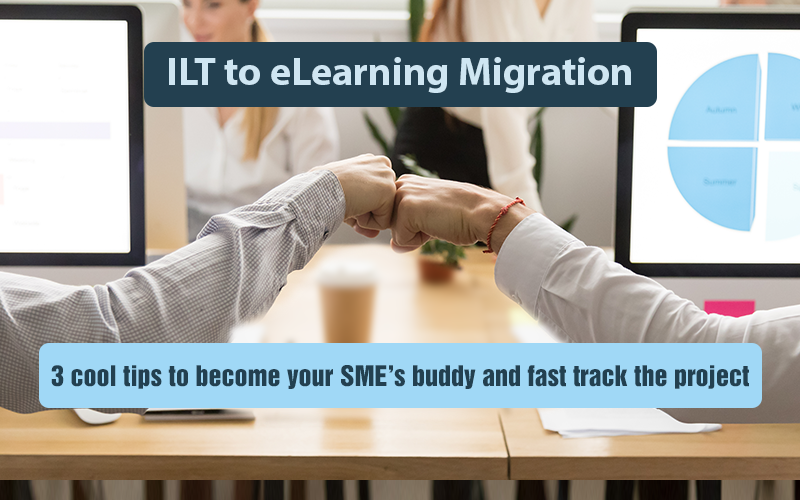 SMEs are experts in their domain with a reservoir of information and experience on a particular topic or subject. They provide the content for training in organizations, making them indispensable, especially when transitioning from ILT (Instructor-led Training) to eLearning.
SMEs and eLearning
3 ways to ensure SME buy-in for ILT to eLearning migration
Find the ideal SME with expertise, experience, influence, and interest
Understand the SME's roles and respect their contributions

Go digital with the process
You don't have to fall on your SME's feet or come to fisticuffs with him to get buy in for your ILT to eLearning migration. There are easier and more effective ways of doing that, and we'll be discussing them in this blog.

Why are SMEs Important for ILT to eLearning Conversion?
They have extensive subject knowledge which can be used not only to determine the content that needs to go into the eLearning course but also to clarify any doubts from instructional designers during eLearning course development. They are the ones who can validate the content and review courses for technical accuracy.
Despite their obvious importance, it might be very challenging to convince SMEs to move from ILT to eLearning. Here are the reasons for that:
Though experts in the subject matter, they are not experts in adult learning theories and instructional design.
They are often traditionalists, resisting change toward online training.
They are reluctant to cut the content short to make it suitable for eLearning.
They often aim for "perfect" rather than learner-friendly content.
Consequently, it's quite a task for you as training managers to convince your SMEs to become an active part of the ILT to eLearning conversion process. But here are some ways that might sweeten the deal.
ILT to eLearning Migration: Steps to Ensure SME Buy-in
1. Find Your Ideal SME
In your time as a training manager, you must have dealt with different SMEs, each with their own quirks. In her presentation at DEVLEARN 2019, Deanna Fischer categorizes them into four types, the:
Believer (the overly enthusiastic ones with information overflow)
Voluntold (the ones who think they are wasting their time as L&D isn't part of their job description)
Know-it-all (who can't part with their content and want to include all information about everything they know)
Cynic (who thinks training is a complete waste of time)
You'll need to find the ideal SME from among them all for transitioning your training program from ILT to eLearning, as barking up the wrong SME will only waste your time and energy.
There are four characteristics you should look for while selecting SMEs.
Expertise: The SME should have a firm grasp of knowledge, facts, processes, and policies in the given subject. This helps create learner-specific course content.
Experience: They should have job-task knowledge gained through hands-on experience. This helps them choose between a completely online training and a blended learning solution.
Influence: They should be able to make effective content-related decisions that influence the outcome of training.
Interest: They should have the interest to learn and be convinced about eLearning, making the ILT to eLearning transition a success.
2. Understand their Position and Respect their Contributions
Never presume that the SME's primary role is to provide support for the L&D team. Nothing can be farther from the truth. SMEs have knowledge and expertise in a particular field or domain but that doesn't mean they are a part of L&D.
While some SMEs do assume the role of instructors in classroom training, that isn't their primary job description. They might be in any position on the management ladder and often are in the top tier considering that experience and expertise factor into their roles as SMEs. Consequently, you need to understand their position and respect their inputs and contribution.
Here are few things you can do:
Schedule meetings based on their availability.
DO NOT waste their time with delays and cancellations.
Have a streamlined and agile project management process in place which will ensure SMEs get the prototypes and storyboards for review on time.
Make the most of the initial kick-off meeting. Clarify all content-related doubts and understand the purpose of training before you start remodelling ILT content to fit eLearning.
3. Digitalize the Project Planning and Review Process
Technology has placed a plethora of tools and project management systems at our disposal, making the setting of timelines, sending notifications, and tracking seamless. Since you're already initiating the conversion of ILT to eLearning, why not take this opportunity to digitalize the L&D working and management processes as well?
Here's how employing digital tools can make your SME interactions a lot easier.
Employ task tracking systems like Monday.com, Trello, and Freedcamp check the smooth functioning of all aspects of project management. This way you can pin-point the bumps and delays and solve them before they escalate. Use online file-sharing platforms with Dropbox and Google Drive to give SMEs and other stakeholders quick and easy access to all eLearning course related files and folders.
Conduct virtual meetings using platforms like Skype Business and Microsoft Team to avoid spending a lot of time and expense on traveling and face-to-face meets. Employ review platforms to get streamlined feedback and comments on the prototype, story board, and the final eLearning course before publishing. This will make both reviewing as well as implementing feedback easier. Most rapid authoring tools now come with such applications such as Articulate Review and Lectora Online. Upload your courses to SCORM Cloud and give SMEs access for a final feedback on the look and feel of the courses.
Let's Sum it Up!
Clashing with SMEs over content-related issues is like cutting off your nose to spite your face. You may not agree with them, but you can't do away with them. So, use these common sense measures to avoid a rocky relationship with the SME. It is important to remember that you have a common goal in training design – to build an exceptional learning experience for learners, and so work together in collaboration to achieve it.