Converting ILT to eLearning? Gain Buy-in Using the Kubler-Ross Curve
Converting ILT to eLearning requires the support of several people & might meet opposition. Here's a change management strategy to convert ILT to eLearning.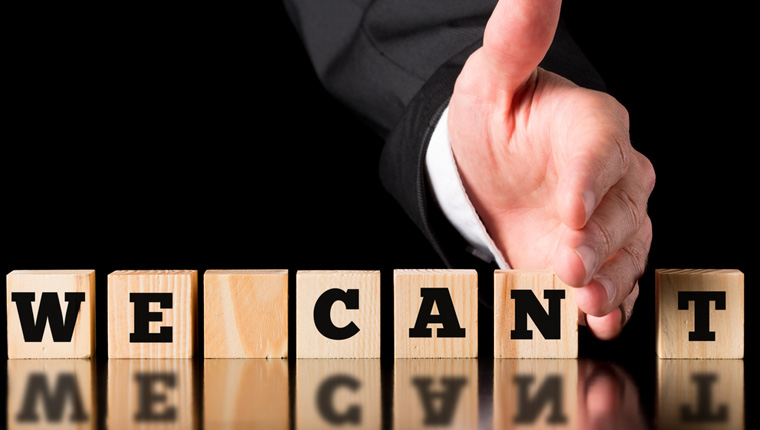 Any training initiative, be it to improve employee performance, address compliance issues, or boost company revenue, and in the process improve ROI on training requires changes. What if one such change you want to implement is converting ILT to eLearning, and your organization is new to eLearning?
A Change Management Strategy to Convert ILT to eLearning
The Kubler-Ross Curve is a useful change management strategy to navigate through organizational change when you convert from ILT to eLearning. It can help by:
Creating an alignment
Maximizing communication
Sparking motivation
Developing capabilities
Sharing knowledge
The Kubler-Ross Change Curve is a reliable change management strategy that can be applied while converting ILT to eLearning, to understand the impact on learners, trainers, and subject matter experts.
Did you know that the Kubler-Ross Curve by Elizabeth Kubler-Ross (a Swiss Psychiatrist) was originally designed to help cancer patients deal with the grieving process of facing a terminal illness? But what makes this curve interesting is that it can be used as a change management strategy to understand how people navigate through a change – in this post it's on change management while converting ILT to eLearning.
It is essential to understand that:
The stages in this model are not linear
Everyone in the workforce will not go through all the stages
Sometimes, several of these stages are experienced simultaneously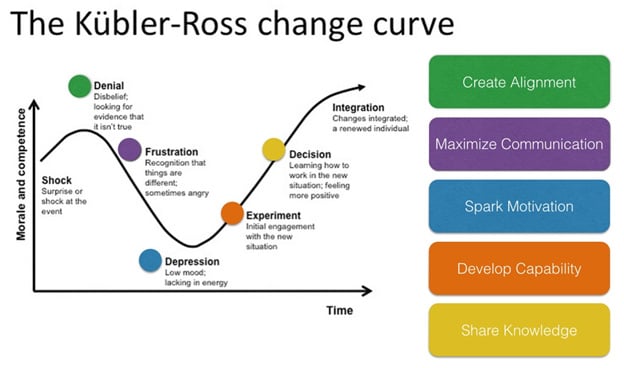 Image source: https://management30.com
5 Stages in the Kubler-Ross Change Management Strategy to Convert ILT to eLearning
1. Build Alignment to Deal with Shock and Denial
The Kubler-Ross change management strategy has the initial stage of shock and denial. If your organization is implementing eLearning for the first time, the first reaction from people who are going to be affected as a result of this change might be "Oh…there's something else to learn…or why disturb the existing learning structure that's being followed?"
Learners may not initially welcome the transition from ILT to eLearning because they:
Feel the need for face-to-face interaction
Fear technology (rare nowadays as most of them are comfortable using digital devices)
Feel they learn better on the job and online training cannot help
When you plan to convert ILT to eLearning, trainers/SMEs who are used to conducting classroom training may feel that:
Instructor-led training is not valued
eLearning can cause a threat to their jobs
eLearning isn't as effective as classroom training
Simply put, they are all resistant to change. A solution to handle this would be to create alignment. How can you do this?
Educate trainers and a pilot group of learners by:
Stressing on the roles they play in a successful conversion of ILT to eLearning
Conducting awareness sessions on eLearning
Sharing case studies and success stories of eLearning
Involving trainers and SMEs in the decision-making process
Highlighting how eLearning can bring a global dimension to learning
2. Maximize Communication to Overcome Frustration in Converting ILT to eLearning
When you plan to convert a classroom training program to eLearning, understand that a sudden shift from the normal can be frustrating. In a few cases, it can also lead to anger. One of the typical questions that learners and trainers alike might have at this stage is "Who made this decision to convert ILT to eLearning?"
A solution to handle this stage in the change management strategy to convert ILT to eLearning is to maximize communication and identify eLearning champions.
Managers, team leaders, trainers and SMEs can all become eLearning champions as they are capable of influencing learners. When eLearning champions adopt eLearning, they can influence others to do the same.
As mentioned earlier, communication is key in this stage. Involve stakeholders, eLearning champions, perhaps a pilot group of learners and communicate how converting from ILT to eLearning can:
Improve training (This helps learners as well as trainers)
Have an organizational impact (Highlight the drawback of not converting ILT to eLearning, stakeholders would definitely be interested in knowing)
Save money for the company
3. Spark Motivation to Beat Depression
This stage is characterized by a lack of energy to adopt new methods. In this case, eLearning is a new training methodology that needs to be adopted. A learner might think "I'm too busy and can't deal with the additional responsibility of completing an online training program".
An SME might think "Will my inputs be considered for an online training? E-learning just doesn't make sense as this content requires explanation by an instructor."
This stage can also include bargaining, where a trainer or learner might think "Why can't we just stick to classroom training?"
Spark motivation to handle this stage in the change management strategy. Explain to trainers as to how their role changes from a sage on the stage (in classroom training) to a guide on the side (in eLearning). It is also essential to understand that not all training programs qualify for conversion from ILT to eLearning.
While designing an eLearning course, trainers can give their inputs on the content. For instance:
Simple content that's self-explanatory can be covered in the eLearning course
Complex content that requires demonstration by instructors needs to be covered in the classroom
This can help you take a decision on whether to convert the entire curriculum to eLearning, or if you might need to opt for a blended learning program.
When you are converting ILT to eLearning, do not expect learners to complete the training outside their normal work hours. This will turn them away from eLearning. Instead, ask them to set aside time during work hours to complete training. Motivate learners by pointing out that:
With eLearning, they are in control of the learning process (Learners are free to decide the time they want to spend on completing the training)
They have the flexibility to complete training even when they are outside the workplace.
For instance, a set of videos that demonstrate to learners the steps to troubleshoot an electronic product would motivate them because they can access it on demand. This would not have been possible with mere classroom training.
4. Develop the Capability to Experiment when Converting ILT to eLearning
In this stage of the change management strategy, people are willing to experiment. They are okay with the idea of converting ILT to eLearning and willing to give it a shot. Trainers and SMEs might think "It doesn't look too bad. My knowledge can be put to use in designing the training".
Learners might start thinking "eLearning gives me an opportunity to control the training as it's very flexible".
In this stage, people are more open to acknowledging the benefits of converting ILT to eLearning. Develop capabilities to improve the conversion plan and gain maximum returns by converting ILT to eLearning. Don't just tell them, put your plan into action.
Get trainers and SMEs to collate the content that can be transitioned from the classroom to eLearning
Along with instructional designers who will design the eLearning course, get trainers and SMEs involved in brainstorming on how to present this content
Get trainers to identify potential learning gaps that can occur as a result of converting content from ILT to eLearning and find ways to address these gaps.
5. Share Knowledge and Implement the Decision
At this stage, people acknowledge the positives of converting ILT to eLearning and they are learning to work in the new situation.
Sharing knowledge is essential in this stage. The pilot group of learners can be involved in explaining to other learners about the benefits that eLearning offers.
When people are in this stage of the change management strategy, you can:
Set timelines to complete converting ILT to eLearning
Decide whether you want to complete the project in-house (applicable if you have the right resources and skillsets) or outsource it
Specify the roles and responsibilities of people involved in the conversion project
After you take the decision to convert ILT to eLearning and rollout the online training program, track learners' progress with the help of your Learning Management System (LMS) and collate feedback from learners. This can help you evaluate the training program and improve the quality of your online training.
Converting ILT to eLearning can prove to be one of the smartest decisions you've made in improving organizational training. You can use interesting instructional design strategies to make eLearning as equally engaging as an instructor-led training. Leverage our eBook on Instructional Design Strategies to Design Engaging eLearning Courses to maximize your returns while converting ILT to eLearning, or even when you are just getting started with eLearning.