Stakeholders You Need When Converting Classroom to eLearning
Do you know who should be involved when converting ILT (instructor-led training) to eLearning? To achieve successful ILT to eLearning conversion, determine who you should include and the skills each stakeholder brings to the table.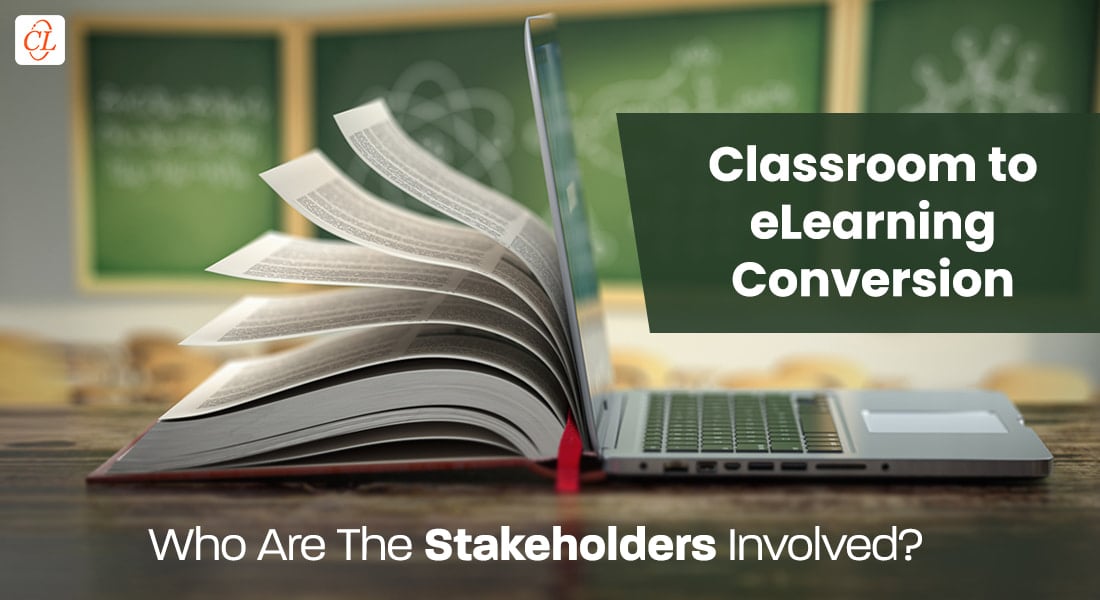 If this is your first-time converting classroom learning to eLearning, you might have a lot of questions regarding the process. The schedules, money, and course quality are the most evident aspects that need clarification. You also need to consider gathering the required training materials, such as PowerPoints, papers, PDFs, and handouts, selecting the team and who should be on it, as well as choosing the right strategy, such as microlearning modules, engaging infographics, and eBooks. Not to worry! Even if it's your first time, converting the classroom to eLearning it's a breeze if you work with an experienced and knowledgeable eLearning solutions provider.
If you're asking that you can't do it in-house, then consider this. Learner-centric eLearning entails authoring tool knowledge, robust instructional design, and agile project management, all of which you can access by consulting and hiring an eLearning provider.
However, if you're going about, it in-house or outsourcing it, there are indeed a few key stakeholders that you need to include to support the success of eLearning conversion.
Who You Need to Include for Your Classroom to eLearning Conversion Project?
Here are a few stakeholders involved when converting ILT to eLearning:
Senior Management
Instructors
Subject-Matter Experts
Line Managers
Read on to learn more.
Stakeholders Involved in Converting ILT To eLearning
Is it possible for you to throw a party on your own? It's not impossible, but it can be a bit challenging. Your stakeholders, including learners, must approve and cooperate with your process of converting classroom training materials to eLearning to help you begin your digital learning journey. Each stakeholder has various expectations from the conversion as well as certain fears and concerns that you must address.
Classroom instructors are sceptical about eLearning as they fear that it makes them obsolete.
Training complicated topics online might be impractical for subject-matter experts (SMEs).
Top management believe that converting the classroom to eLearning could cause learner disengagement.
As an eLearning champion and a training manager, you must get everyone on board to execute eLearning successfully. Do you want to discover who these key players are? Let's have a look and find out who they could be.
You need to include stakeholders to make sure the project's a success, whether you want to convert ILT to eLearning with in-house experts or outsource it to an eLearning partner.
Who are the stakeholders in the classroom to eLearning conversion process?
Why is their participation so important to the ILT to eLearning conversion process?
Let's find out!
1. Senior Managers
Establish KPIs (Key Performance Indicators)
Make clear connections between learning outcomes and business goals
Secure resources in terms of both people and money
Enlist the help of other leaders to support the cause of eLearning
Generate favourable buzz for the conversion campaign
2. Instructors
Provide qualitative recommendations to make sure courses are even more successful
Offer advice on how to design a course effectively, either as a stand-alone or as part of a blended learning curriculum
Are wary about eLearning and need role reassurance
3. Subject-Matter Experts
Provide the right content and proprietary information
Clarify doubts from the design team
Ensure accurate content and review courses
4. Line Managers
Offer insights into training needs based on current and future work-related skills
Provide insights into what's expected from employees on the job
Promote eLearning in their team
Assess whether online training has helped improve employee performance
5. Project Managers
Coordinate and act as a point of contact for the project stakeholders and the eLearning vendor
Define the scope and budget of the conversion
Ensure the project timeline and quality meet the standards expected by the customer
6. Learners
Access pilot eLearning courses and provide feedback on their learning effectiveness and technical issues
Advocate and promote eLearning among their peers
7. The IT Team
Offer valuable technological suggestions and inputs to help select the right:
Authoring tool
Learning management system (LMS)
Summing it Up
While it may be impractical to incorporate all the stakeholders described in this blog, you could concentrate your efforts on those who have the most impact on your ILT to eLearning conversion project. You can guarantee an effective conversion project that enhances ROI when you identify the key stakeholders and actively interact with them. While classroom training is beneficial for your business, eLearning is a cost-effective and flexible alternative. You can find all the answers to your questions regarding moving from classroom to eLearning by downloading this eBook.