Don't be Limited by the Limitations of Virtual Instructor-led Training
Overcoming the limitations of VILT is crucial for virtual training success. Find out the limitations of virtual instructor-led training and their solutions.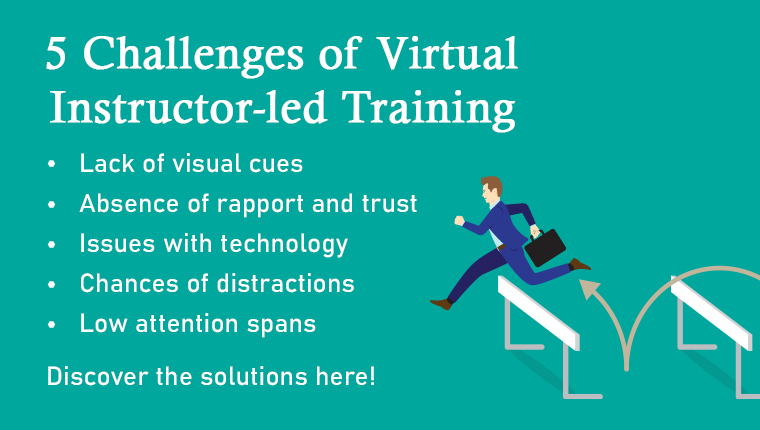 The instructor is not the only one responsible for the success of a virtual instructor-led training (VILT) session. The onus is on the learners too! They need to be fully invested in the training, participating actively in the session, keeping away from distractions, and sharing their experiences and expertise with their peers.
What are the Limitations of a Virtual Classroom?
Lack of visual cues
Absence of rapport and trust
Issues with technology
Chances of distractions
Low attention spans
But how does the instructor ensure this happens, especially with the limitations that are a part and parcel of virtual training (synchronous)? This blog tries to answer some of your questions on how to overcome these limitations of virtual instructor-led training.
Discover ways to effectively convert your classroom material to eLearning curriculums.
Limitations of Virtual Instructor-led Classrooms and their Countermeasures
Let us look at five barriers that impede the effectiveness of virtual instructor-led training.
1. Lack of Visual Cues
"The most important thing in communication is hearing what isn't said." – Peter F. Drucker
Nonverbal cues (eye contact, facial expressions, postures, gestures, etc.) that are so important for effective interaction and to build trust take a backseat in virtual instructor-led training sessions.
These visual cues are necessary for the instructor to 'relate' to the learners, to gauge their attentiveness and understanding of the topic. They also help create a positive learning environment for both the learners and the instructor. The lack of visual cues can make the session seem flat and negatively affect learner participation.
For a successful VILT session, it is important that the instructor should be a skilled and an animated communicator.
What can the Instructor do to counteract the lack of visual cues?
Use emoticons such as 🙂 for smile and 🙁 for frown in the chat to express emotions.
Ask everyone to switch their video-cameras for a quick introduction at the beginning of the session to help learners relate to each other and the instructor, making the session lively and positive.
Encourage learners to participate and open up clear lines of communication, so anyone with a question will feel free to ask it during the session. Encourage the use of chat and 'raise hand' feature of the virtual platforms to keep the interaction going.
2. Absence of Rapport and Trust
The lack of face-to-face interaction in virtual classrooms also makes it is difficult to build rapport and trust between the instructor and learners. Trust is an important factor that increases learners' comfort levels in the learning environment. When they consider the instructor 'the go-to-person' for any problems and questions, it helps ensure effective knowledge transfer and increases the chances of the training succeeding. Without this trust factor, instructors need to go 'over and above' to connect with their learners.
What can the instructor do to build rapport and trust with learners?
Set aside time at the beginning of the session for a round of introductions. You can use creative methods such as icebreakers. For instance, you can present a slide on random objects and ask learners to present their thoughts in 250 characters.
Post small bios of the instructor and learners. It can include pictures, areas of expertise, interests, and hobbies.
Send emails to learners before the class to discover what makes them tick, to create a bond. (E.g. what excites them about their job or what they enjoy doing outside of work)
Reply promptly to communications from learners. This way, they build enough trust for learners to reach out to them the next time they are looking to upskill themselves.
3. Issues with Technology
Problems with technology in a virtual instructor-led classroom include issues with software applications, network connectivity problems, or delays. No one likes interruptions while watching an interesting movie, listening to a popular song, or playing a favorite video game. These technology issues can disengage learners, and therefore, reduce retention and recall.
What can the instructor do to minimize these technological concerns?
Always, test technology before the session (Internet connection, security settings, software downloads, etc.).
Gain adequate working knowledge of the platform(s) being used. Familiarize yourself with the tools for online collaboration that will be used during the session. Let the technology team of your organization give an orientation to instructors on how to effectively use all the features.
Set up the virtual classroom before the session using the Lobby View. Having hiccups right at the beginning of the session can put off your virtual learners quickly.
Have a backup plan, especially if media is involved. For instance, keep videos or audio files handy in your system in case the embedded files in your presentation do not work.
4. Chances of Distractions
Technology today is as much a boon as it is a bane! It can facilitate so many things, but at the same time, can also be a major cause of distractions if not used properly. Emails, phone calls, texts, and social media tweets can disturb the learner in the virtual classroom. Consoles and different gadgets apart, even books can cause learners to multitask during the VILT session.
What can the instructor do to minimize distractions?
Establish ground rules right at the start and ensure learners agree with them.
Ask learners to switch off their mobile devices.
Use polling questions frequently to ensure learners are involved.
Use virtual breakrooms, have learners connect with each other in small groups.
Do not speak in a monotone. Modulate the tone of voice to ensure learners don't disengage.
Have an agenda that sounds exciting, and include a self-running presentation.
5. Low Attention Spans
Sitting passively in front of the computer monitor without doing anything can cause fatigue and diminished concentration levels. This situation, to the learner, can be like watching a boring documentary film. Even if they don't feel sleepy by the end of the session, they are surely going to miss out on a great deal of information from it.
What can the instructor do to make the session more interesting?
Break the session logically into smaller segments (20-30 min) and include a variety of physical activities.
Use a variety of learning modalities – audio, video, and practice sessions to make the learning more relevant to the learner.
Include humor – funny names for technical terms or cartoon figures to explain something. This can be quite tricky, as humor may be misunderstood sometimes.
Gain learner interest right from the start of the session with:

Icebreaker activities
Gamified group activities
Short video clips
Reflective questions
Anecdotes
Short case studies
Wrapping it up!
Virtual classrooms can be real saviors in the current situation, with COVID-19 forcing everyone to work from home. Even with these limitations, they can bring so much more to the table than just facilitating a large number of learners attending the sessions. The recordings of these VILT sessions can also be used at a later date to reinforce learning.
So, don't be limited by the limitations of VILT! Apply these countermeasures to make your training a success.
Since we are talking about virtual instructor-led training, here's a free eBook that will surely help you in delivering engaging virtual instructor-led training. It offers tips, tools, and solutions to generate motivation and excitement in virtual classrooms.