5 Ideas for Successful ILT to Virtual Training Migration
Are you looking for quick solutions for ILT to virtual training migration. Get ideas on how to successfully migrate ILT to virtual training.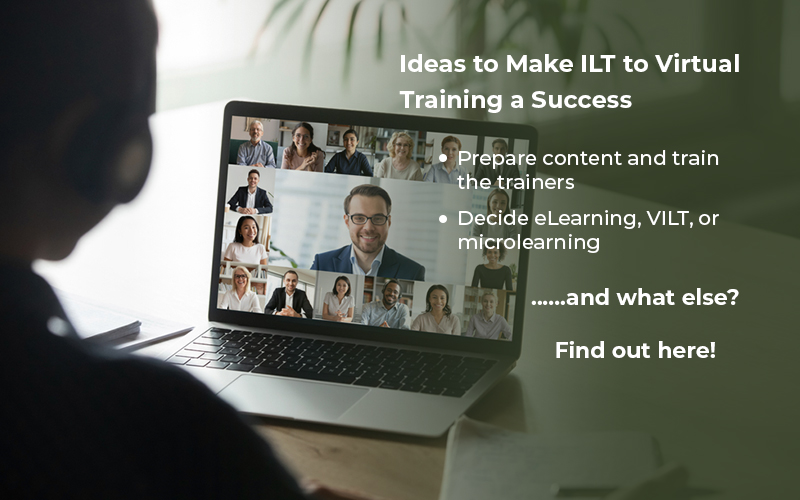 Necessity is the mother of (all) invention! This is especially true of corporate training in the current situation, don't you think? You Inbox must be getting inundated with newsletters and advertisements on virtual training and its usefulness. The COVID-19 pandemic has proven to be a catalyst for this sudden surge in the migration of ILT to virtual training, and 'going virtual' with corporate L&D is becoming the need of the hour – not only to keep your training initiatives alive during the global lockdown but also to avoid such situations in the future.
There must be many questions swarming through your head at the moment. What is virtual training? Is it another name for eLearning, online training, or virtual instructor-led training (VILT)? And how can one go through with ILT to virtual training migration without knowing much about it? Don't worry! You'll have a clear picture of the whole thing by the end of this blog.
How to Go About ILT to Virtual Training Migration
Prepare content and train the trainers
Use different modes such as eLearning and webinars
Make learning a collaborative effort
Opt for outsourcing to reduce in-house burden
Support learners' performance through job-aids
What is Virtual Training?
'Virtual Training', in simple terms, is training that is done in a virtual environment, with the instructor and learners in different locations. It can be synchronous like in the case of virtual instructor-led training, or asynchronous like in the case of eLearning and microlearning.
So, in case you want to migrate your training to the virtual platform, here are some ideas to make the whole ILT to virtual training migration a success.
5 Tips for Seamless ILT to Virtual Training Migration
1. Prepare Content and Train the Trainers Before Going Virtual
Migrating from ILT to virtual training is a big step that needs careful planning, especially when time is short. So, first things first; you need to get all your ILT content ready and convert it to digital formats. After all, you can't expect your learners to refer to manuals and handbooks while taking lessons in front of a screen, can you?
All the text-based materials and PPT decks can be converted into interactive formats like PDFs, flip eBooks, and eLearning and microlearning courses – the latter with the help of rapid authoring tools. You can use these resources to supplement VILT sessions too. However, since a lot is covered in the classroom, you need to ensure the just right, need-to-know content goes into each digital resource.
Speaking of VILT, it is not going to be easy for classroom trainers to suddenly go virtual. Talking to a screen, to an invisible audience is very different from interacting with them face-to-face.
Instructors also need to be at least familiar, even if not experts, with using technology. So, while you get the training content ready, you also need to prepare trainers for virtual training. There are many off-shelf courses available in the market to train trainers that will help them get the hang of it and also help them tweak their instructional plan for a virtual audience.
2. Use Different Modes of Virtual Training
As I mentioned before, virtual training encompasses different modes of digital training –VILT, eLearning courses, or microlearning modules. And you can pick the one that suits your needs best for ILT to virtual training migration.
If you are not sure about shifting completely to eLearning, especially if this is your first venture into online training, that's okay. You can just stick to VILT sessions for the time being using different virtual classroom software like ezTalks webinar, Blackboard Collaborate, and Adobe Connect. You can also use regular video conferencing platforms like Google Hangouts, Skype and Zoom.
In case you already had a blended learning strategy in place and now need to migrate your existing ILT to eLearning, you can do so very easily using rapid eLearning development. You can leverage the latest features of authoring tools to convert ILT materials to highly interactive eLearning courses. Rapid eLearning cuts down the development time and cost by sticking to robust instructional design and eliminating the bells and whistles, so commonly seen in traditional eLearning courses.
You can also work out a training plan by blending eLearning and VILT to give learners an effective training experience.
3. Make Learning a Collaborative Effort
How many weeks has it been since you've had a normal day? When you went for a jog, drove to work, met your colleagues, and had dinner plans? Working from home isn't all that it's cracked up to be, don't you think?
Especially when you don't have any other option. We all miss the camaraderie in the workplace (or the classroom, for that matter). After all, we are social beings. We are at our best when we work and socialize and learn with others. So, to make your learners engage better with the training, you can always make learning a collaborative effort.
Introducing social learning elements into virtual training is very easy. You can use role-playing games during VILT sessions, and set up online discussion forums to give learners a platform to post queries and share ideas.
You make use of virtual breakrooms to give learners that much needed space during training. These virtual breakrooms are virtual spaces that allow people to hangout, videoconference, take part in group activities, and play casual games. This will give learners an opportunity to socialize with their peers and get a break, both from work and training.
4. Opt for Outsourcing to Reduce In-house Burden
Migrating all your ILT to virtual training is going to be a long and arduous task. And having an in-house team to do it will no doubt make the process smoother.
But the important question here is – will your in-house team be able to manage the virtual training along with their regular tasks, especially when they too are trying to manage work from home? It is also quite impossible to try to recruit a new team right now to handle the ILT to virtual training migration.
So, in order not to overwhelm your in-house team, you can outsource the task to a reliable eLearning vendor. This will allow your in-house team to concentrate better on their regular day-to-day tasks and you still can get a quality virtual training output delivered for your learners.
5. Support Learners' Performance Through Job-Aids
Job-aids have always helped remote workers improve their performance. Now that most of your workforce is working from home, job-aids will come in real handy to make information accessible to them at the time of need. You can provide learners with such support very easily through microlearning assets.
You can also make the VILT session recordings accessible to learners after the training, give them digital handouts in the form of infographics, and use discussion boards to post answers to the most FAQs during the VILT session.
Summing it Up!
I hope this blog has given you enough information to go for the shift to virtual training. It might seem like a huge task now, but know that it is the best way to mitigate the training disruption during the lockdown. So, go ahead and start to plan for your ILT to virtual training migration.
For more information on moving from classroom-based training to a virtual classroom, check our eLearning course 'Maximizing Impact in the Virtual Classroom' and get started on delivering engaging and effective virtual training sessions.