Leverage the 5 Best Rapid eLearning Practices for Speedy Microlearning Development
Can rapid eLearning help in microlearning development? Well, the answer is yes. Wondering how? Read on to explore the 5 best rapid eLearning practices that can facilitate speedy microlearning development.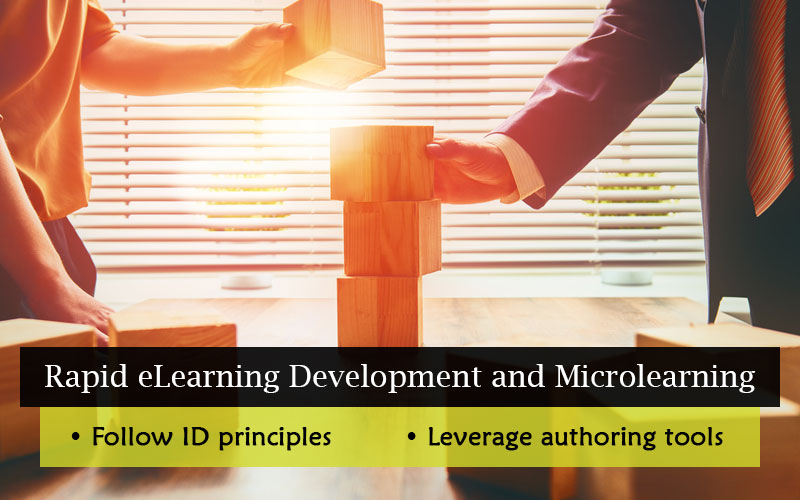 How many hours have you spent on the Internet today? How many tweets, posts, articles, GIFs, and memes have you gone through already? How many of these pieces have you actually read? It's mind-boggling, isn't it? We are surrounded by so much content that we don't have time to go through it all! We have evolved from long epics to 280-character tweets. Living and working in this fast-paced world requires us to learn more in less time, and this is especially true with corporate training. That is why microlearning and rapid eLearning are two of the most popular training practices in L&D.
Microlearning or 'bite-sized learning' aims at breaking down eLearning into short modules, each focusing on just one learning objective, providing specific information in a short time. On the other hand, rapid eLearning is the approach of developing eLearning quickly by leveraging the features of authoring tools and robust instructional design principles. It promises maximum impact in minimum time.
5 Ways for Executing Microlearning with Rapid eLearning
Follow smart instructional design practices
Use rapid video creating and editing tools
Leverage interactive features of authoring tools
Look for tools that allow anytime, anywhere course development
Plan for responsive microlearning
It's quite clear that both microlearning and rapid eLearning aim to remedy the one problem that plagues us all – lack of time. And what do you think would happen when both these training practices work together? A successful learning solution in the shortest time! Let's see how.
Rapid eLearning Practices for Quick Microlearning Development
1. Follow Smart Instructional Design Practices
Microlearning is more than just a clever way of slicing and dicing online training courses into shorter learning modules. You can't just divide existing eLearning into smaller microlearning courses without a sound instructional strategy. Rapid eLearning is based on the principles of good instructional design and does away with the bells and whistles so common in most eLearning courses. Here's how rapid instructional design practices can help build engaging microlearning.
By eliminating unnecessary content and focusing on only one learning objective per module
According to 'Microlearning as a Challenge for Instructional Design' by Michael Kerres, traditional eLearning courses follow the narrative structure of a drama and have a beginning, a description of the subject matter, a few exercises, and an ending. Microlearning does not need such an elaborate structure. On the contrary, it needs to be very concise and specific.
By making courses more visual and engaging
When designing learning of 10-15-minute duration, you need to remember the course must be able to immediately grab learner attention and retain it for the entire duration. Highly visual and interactive courses can leave a deeper impact on learners and help them beat the forgetting curve.
By updating and revamping legacy courses
The best thing about microlearning is that you don't have to build courses from scratch each time. Whether your legacy training resources are online or offline, you can repurpose them as microlearning courses. All that needs to be done is chunking them into the right size, updating content (if needed), filling in gaps, and revamping its look and feel.
By putting archived online resources to use
You might have a lot of resources tucked away in archived folders which most probably will never get used. All those webinars, seminars, and conference presentations can be re-purposed into microlearning modules.
2. Use Rapid Video Creating and Editing Tools
Videos are the most popular and widely used microlearning assets. These engaging microlearning formats can be used for diverse training requirements – to introduce facts and concepts, supplement formal learning sessions, offer performance support, spread awareness, and market online learning internally. Videos can be kinetic typographic (text-based), whiteboard animations, webcasts, screencasts, live demos, or user-generated videos.
A swift video creating and editing tool comes in handy when you have to build microlearning videos. These tools can be integrated into the authoring tool – either as part of the suite (Camtasia and Snagit) or as an external tool (Panopto).
3. Leverage Interactive Features of Authoring Tools
The success of a microlearning course depends on how interactive it is. If learners can actively interact with the course instead of passively absorbing information, their capacity for knowledge retention increases. Combining interactivities with videos can help replicate real-life scenarios where learners can learn how to think and make decisions.
Authoring tools have built-in features such as templates, images, characters, and animations that can help in rapid eLearning development. The same features can be used to develop bite-sized learning within a limited time and budget.
4. Look for Tools that Allow Anytime, Anywhere Course Development
Microlearning courses are often used when there is a need to roll out training urgently. Developing courses in such circumstances becomes easy if your developers can do it from any place, across any device. It will also save a lot of time when there is a need to update courses.
The best tools for this job are cloud-based authoring tools like Lectora Online and Articulate Rise which allow multiple author collaboration and make the development process simple and rapid.
5. Plan for Responsive Microlearning
The increasing usage of mobile devices in the last two decades has made learning more accessible and versatile than ever before. You don't have to sit in front of a PC to access eLearning anymore because mLearning has made it possible for learners to access training anytime, anywhere they want. Yet, there is a small hitch.
It is difficult to go through hour-long eLearning courses on a mobile device for many reasons – small screen size, limited battery support, fluctuating Internet access, and social media distractions. Microlearning with its 'bite-sized learning' is perfect for a mobile learning experience – which is why it's always better to plan for microlearning and mobile learning together. Mobile apps as job aids are perhaps the best way of leveraging the powerful duo – microlearning and mobile learning.
Most authoring tools today are capable of the rapid development of mobile compatible responsive courses. Tools such as Lectora Inspire and Online have the RCD (Responsive Course Design) feature that can develop fully-responsive mobile learning courses.
Summing it Up!
Planning for microlearning programs using rapid eLearning practices reduces both the time and cost of online course development and the duration of employee training. Go for them if you want to see a healthy boost in your training ROI! For more information on how Rapid eLearning helps in the swift roll-out of online training, download our eBook.