5 Creative Microlearning Tools to Revamp Employee Training in 2022
The rising popularity of microlearning has caused a glut in the global L&D market for microlearning tools. In this article, we discuss the five best microlearning tools of 2022 to help you develop your next rapid eLearning solution.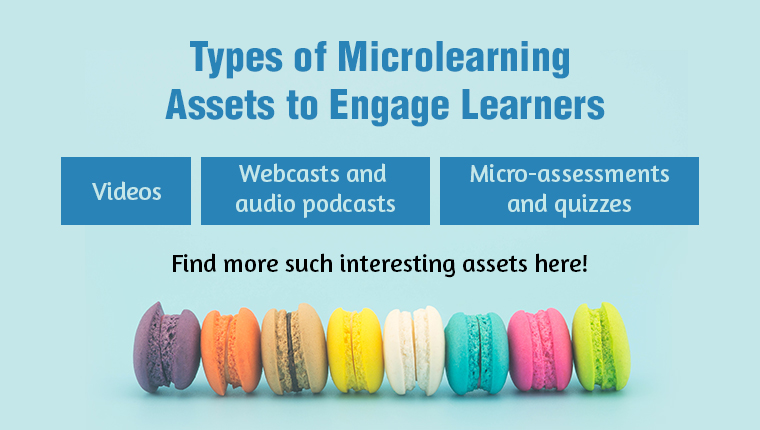 Let's be honest. Crammed schedules, shortened attention spans, increased to-do lists, and blurred boundaries between work and home have all contributed to today's fast-paced society. This has also created a slew of distractions for your learners. How do you get your employees ready for circumstances like these? The answer is found in microlearning.
Microlearning is a dynamic training methodology that you can use in several ways to improve your employees' performance on the job. It presents information in bite-sized chunks, with each one meeting a single learning purpose. You can include videos, infographics, eBooks, and such digital assets in your training framework to build a continuous learning culture.
Enterprises all over the world use microlearning as a strategic tool in their training arsenal. The growing popularity of microlearning has resulted in microlearning tools saturating the global L&D (learning and development) market. But how do you know which one is best for you? To help you out, we've done the research and compiled a list of the best microlearning tools for your next training.
What Are a Few Innovative Microlearning Tools?
Here are 5 inventive microlearning tools to level up your employee training:
EdApp
iSpring Page
Oplift
mLevel
Learner Mobile
5 Productive Microlearning Tools of 2022
1. EdApp
EdApp is an LMS (learning management system) that includes an authoring tool, distribution application, rewards, and analytics to help you design microlearning assets. It's a complex tool, yet it's easy-to-use. It helps you curate and publish microlearning courses. EdApp's templates are dynamic and intuitive. It also includes several gamified templates to make your courses fun and engaging.
You can develop engaging microlearning lessons using EdApp's cloud-based authoring tool. All you need to do is choose the responsive design that best suits your learning needs and fill your course with content including videos, text, and images. You can use EdApp's cloud delivery mechanism and export your content to SCORM. EdApp's cloud translation technology allows you to translate your course in seconds. This is useful for companies with global operations.
Price: It starts at $3.95 per month per user.
2. iSpring Page
The iSpring Page from the iSpring Solution allows you to create adaptable mini courses straight into your browser. You and your team can collaborate using these micro courses, after checking that your LMS is SCORM compliant. To develop an interactive microlearning course, all you need is iSpring Page and an internet connection. You can copy text from a file or a webpage and paste it into your course.
iSpring Page holds onto your images, paragraphs, and list styles for you. You can also use an embedded code to incorporate photographs, videos, and interactive multimedia from other sources into your course.
It also lets you evaluate the effectiveness of your training by asking three different kinds of questions, including:
Multiple-choice
Multiple response
Short answer
It also lets you shuffle the questions, set time limits, choose a color scheme that matches your brand identity, and change typefaces for more accurate results. You can create aesthetically beautiful and on-brand content in just a few clicks, by using iSpring Page's ready-to-use content blocks.
Price: It starts at $97 per year per user.
3. Oplift
You can use Oplift to provide learning materials, programs, and technology that fit into your workers' regular routines. This content creation tool includes a visual editor to help you produce amazing microlearning materials and guides. The visual editor is one of the most essential elements of this tool. You can also use it to design microlearning quizzes to assess your learners' mastery over key topics and help them imprint this knowledge in their long-term memory.
Rather than using long quizzes, Oplift organizes your assessments into a microlearning format, that can be compared with multiple-choice questions. You can break down the learning content into smaller portions and then add assignments to check your learners' comprehension.
You can provide your learners virtual rewards once they finish a course. This encourages them to keep learning and growing in your organization. Oplift keeps all your training material in its knowledge base, ensuring that your learners have constant access to information on a need-to-know basis. When needed, your team can quickly access corporate news, product information, business models and processes, how-to guides, and videos. Learners can access material on their smartphones, iPads, or laptops and desktops as part of the mobile-first learning design.
Price: Custom Quote
4. mLevel
mLevel is a gamification and microlearning software that makes it simple to create and distribute game-based online learning programs. You can use the built-in templates provided with mLevel to develop:
Games
Flashcards
Scenarios
Role-plays
This software also offers gamification, with features such as awards, certificates, and scoreboards, to encourage employees to develop a competitive spirit. You can build reports to assess how well your learners are gaining knowledge. You can also train separate groups of learners and view the learning statistics by course, subject, and question.
You can use mLevel's sophisticated analytics and achieve in-depth quantitative insights into your learners' knowledge gaps and gains. This platform is entirely code-free, allowing you to quickly and easily provide highly engaging, active learning that your learners can appreciate.
Price: Custom Quote
5. Learner Mobile
Learner Mobile is a flexible microlearning platform that aligns with how today's employees use their smartphones and mobile devices to learn and work from anywhere, and at any point in time. It is a user-friendly platform that focuses on quick production and distribution of learning material. You can create bite-sized microlearning sessions with videos, photos and intriguing quizzes using ready-made templates. You can also import SCORM compliant courses and track your learners' progress and results. You can recognize and reward your employees for their accomplishments using this platform's customizable 'up-to-you' award feature. Employees can also offer each other praise for a job done well.
Price: It starts at $1500 per month for up to 500 users.
Parting Thoughts!
Microlearning has become the choice that's trending among businesses in 2022. And this is not surprising at all. Microlearning capitalizes on today's learners' shortened attention spans and imparts training that is laser-focused on a single learning goal. Many of the platforms discussed in this article are similar, however, a few of them offer unique features. Now that you have a clear idea about the variety of microlearning tools in today's L&D market you'll find it easy to find the appropriate microlearning tool that's right for your company.
Do you want to learn more about what's hot in the eLearning industry? Here's a free eBook on eLearning Trends in 2022. If you're a training manager or a member of the L&D community, then this eBook's just what you're looking for. It offers you the highlights of what's happening and what's trending in the corporate training sector in 2022! Grab your copy today!