The What and Why of Microlearning Videos for Effective Employee Training
Are you looking to enhance your employees' learning experiences? Discover how you can leverage the power of microlearning videos for all your corporate training needs.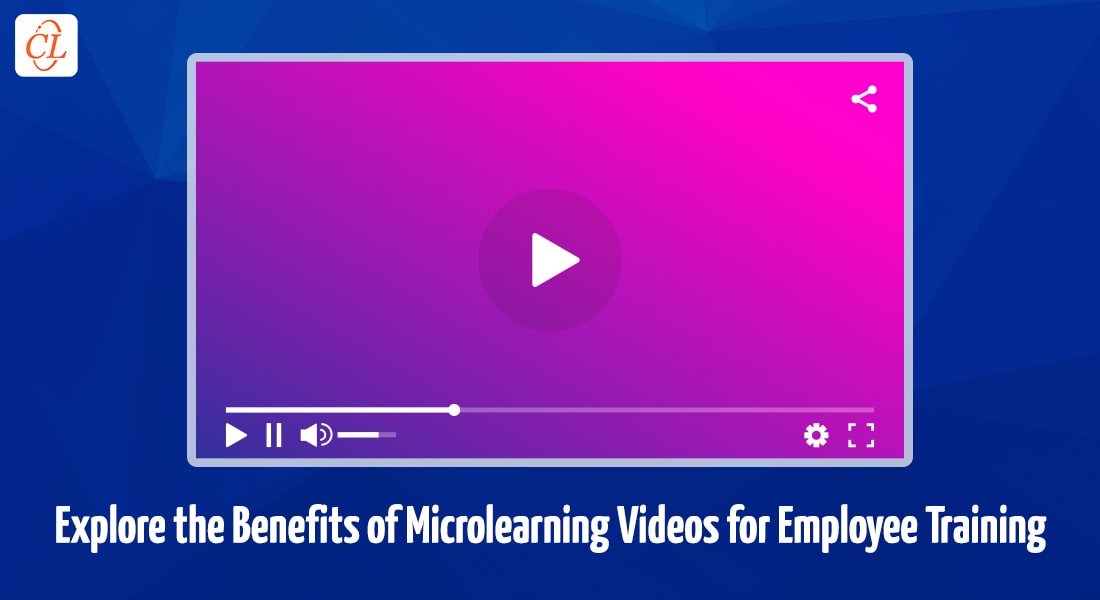 Microlearning is one of the most popular and current trends in the corporate L&D space. Many organizations are keen on adapting this strategy to their corporate training programs due to the strategic benefits it offers training managers in the fast-paced, modern business landscape. It delivers short, and easily recallable nuggets of information in a variety of formats such as text, images, videos, games, and infographics, just to name a few.
Are microlearning videos beneficial for learners?
Yes, of course as microlearning videos:
Are easy to create
Produce valuable insights
Don't require attendance in person
Offer flexibility
So how is microlearning better than other approaches to corporate training, you might ask?
The human mind is primed to process information in small bites, and microlearning courses are designed specifically to enhance and accelerate learning. Microlearning videos play a crucial role in learning, as it provokes a stronger emotional response than any other learning media. In this blog, we'll dive deeper into the "what" and "why" of microlearning videos so that you can determine whether or not to incorporate them into your training strategy.
Get Started with Microlearning to Achieve Organizational Goals
What Are Microlearning Videos?
Microlearning videos are short visual aids timed to last anywhere between 20 seconds to two minutes. They're designed to provide learners with quick bursts of information related to a specific topic so they can easily grasp, recall, use, and share that knowledge.
Microlearning videos are rapidly becoming an essential component of eLearning strategies, with nearly 72% of organizations looking to incorporate short videos into their training programs. As far as creating microlearning videos is concerned, there's no universal approach or rule book. However, based on the eLearning industry's best practices, here's what a video development process would entail:
1. Setting Goals
Firstly, trainers and course developers need to identify their main learning goals and objectives by asking the following questions:
Which concepts are you trying to introduce through this video?
Who is the right audience for this video?
Where and when will the video be used in your corporate training course?
How will you assess the impact of this video?
2. Identifying the Scope
Before diving straight into creating videos, course developers and trainers need to determine the number of videos that they plan to make. They need to assess their capacity and capabilities according to their budget, timeline, verification process, resources, course duration, as well as their employees' learning needs.
3. Choosing the Type of Video
The next step involves determining the type of microlearning video that course developers and trainers want to create according to their training program's budget, learning objectives, and scope. Microlearning videos can be grouped based on whether they include animated, narrated, or live action content. Many organizations prefer to combine different types of visual content for greater results.
4. Brainstorming and Outlining
Once L&D teams have covered all the stages as mentioned above, it's all about putting together a plan to kick off the creative video production process using microlearning software and authoring tools. At this stage, course developers ask questions such as:
Is the video scenario-based or narration-based?
How do we communicate the main learning objective through the video?
Who will do the narration and provide the character's voice?
Will the content be packed with light humor and other forms of entertainment or not?
Now that you understand the "What" of microlearning videos, the most important thing to remember is to emphasize the "micro" part. In other words, every video you make should outline no more than one main learning objective. The idea is not to overload learners' minds but to maximize learner engagement instead. So, consider an incremental approach to improving and refining your courses with a new microlearning video every time.
Microlearning Video Tools and Platforms
In today's market, there are a plethora of microlearning tools and platforms. The following is a list of excellent authoring tools to create microlearning videos with:
Key Benefits of Microlearning Videos
If you're intrigued by the prospect of using microlearning videos in your training, here are some of the exciting benefits they can offer your learners:
1. Microlearning Videos Don't Feel Like Homework
Modern employees are accustomed to multitasking and working under immense pressure. With so much on their plate, adding a long and a detailed list of corporate training courses doesn't motivate them in any way. Short videos, however, work like magic. Put in a nutshell, we're living in an age of being compendious to better our communication and learning.
2. Microlearning Videos Are Easy to Create
As mentioned above, there are a surfeit of platforms in the market to choose from when creating microlearning videos. You can also hire an eLearning vendor to either speed up the development of or create from scratch training content based on your requirements. Moreover, microlearning videos are easier to create when compared to developing conventional eLearning courses.
3. Microlearning Videos Produce Valuable Insights
Microlearning video authoring tools come with analytics that offer valuable insights into employee habits, engagement levels, and content preferences. With this information, you can explore topics that include skills and knowledge gaps, employee interests, and progress. More importantly, you can avoid wasting time and money on creating videos with little or no viewership.
4. Microlearning Videos Don't Require Attendance In Person
One of the biggest perks of microlearning videos is that learning doesn't require attendance in person. Now, corporations can save time and money that would previously have been spent on trainer accommodation and travel, as well as the venue for your training program. Microlearning courses are typically web-based or application-based, which means they can be accessed from anywhere and on any device.
5. Microlearning Videos Are Flexible
Unlike traditional instructor-led classroom sessions, each employee can participate in microlearning courses anytime they want and from anywhere. Above all, employees can pause or stop microlearning videos whenever they want as they are not long with each module focusing on a singular learning objective.
In other words, if you don't want to attempt a course or are occupied
The Bottom Line
So, there you have it – here is everything you need to know about microlearning videos and their benefits. With this information, you are well prepared to decide whether to incorporate this innovative approach when planning your corporate training strategies. Recent studies show that the average attention span of modern employees is around 7 minutes. That is if they're willing to focus. For insights on where microlearning fits in with your learning strategy, download this free eBook on – 'Microlearning 101'.