7 Best Practices for Designing Effective Microlearning Videos for Employee Training
Improve your employees' learning opportunities with microlearning videos. Here are the 7 best practices to design microlearning videos to help you out.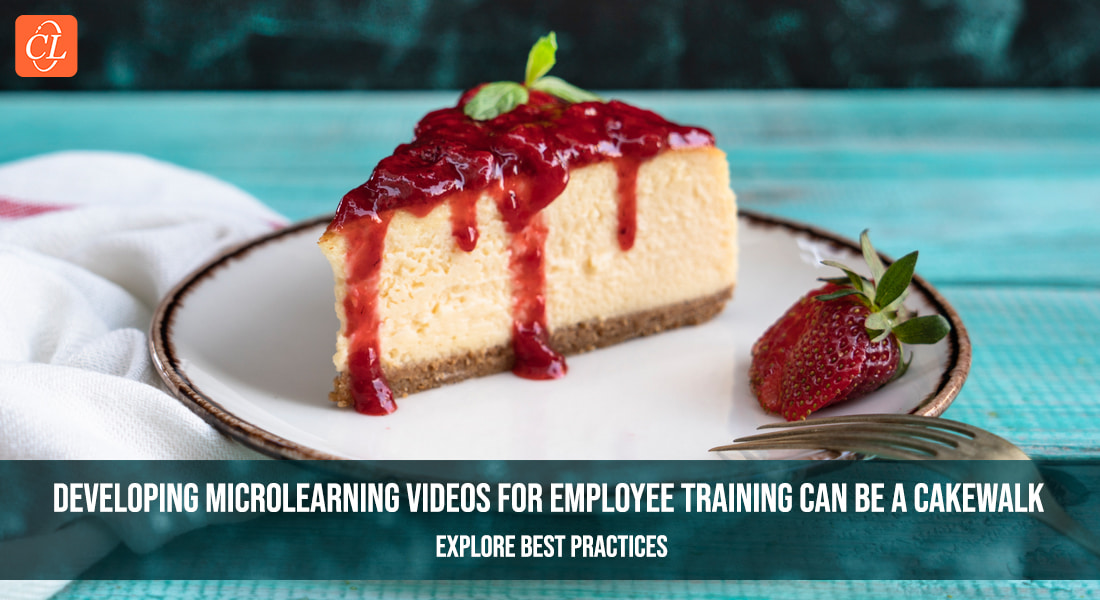 Microlearning is a popular and current trend in the field of learning and development. It uses a variety of media, including text, photos, videos, games, and infographics, to provide quick, easy-to-recall information. However, microlearning videos are valuable because they elicit a stronger emotional response compared to other types of learning material.
With the strategic advantages that this method provides, many companies are eager to incorporate it in their corporate training programs. But first, L&D teams need to comprehend what microlearning videos are before jumping right into their application in corporate training.
How do you Develop the Best Microlearning Videos?
Here are the top 7 best practices to consider when creating microlearning videos:
Clarify the Scope
Concentrate on a Single Learning Goal
Use Storytelling to Your Advantage
Include Links to Helpful Resources
Follow the Script
Select the Best Video Authoring Software
Create an Action Plan
What are Microlearning Videos?
Microlearning videos are brief, relevant, and easy to understand. Unlike webinars and seminars, they are intended to provide information to learners in a manner that is concise, required, and accurate, thereby facilitating continuous reinforcement and recall. This helps employees beat the forgetting curve and implement the right information to finish their task successfully.
But how can you make microlearning training videos without blowing the budget? Is there anything you can do to boost remote employee retention and engagement? So many questions! Right?
Well, here are the top 7 best practices for creating high-quality microlearning videos for your corporate training program.
7 Best Practices to Create Microlearning Videos
1. Clarify the Scope
Before beginning the video creation process, course developers and trainers must first determine the number of videos they plan to create. They must assess their abilities and capabilities based on several criteria. Scope creep is one of the most prevalent causes of project failure, and a microlearning program is no exception! So, before you start, you must ask yourself these questions:
Do you want to create a single microlearning video or a curriculum of microlearning videos?
Who are the project's primary stakeholders? Note that it's best to include decision-makers early in the development process.
How much does the project cost?
Are you able to generate microlearning videos using internal resources? If not, can you outsource the project to an eLearning partner?
Do you require the content for the video to be provided by a Subject Matter Expert (SME), or another resource in-house?
What is your projected timeframe for producing microlearning videos?
As you jot down answers to these questions, here's an informative, interactive infographic to help you understand microlearning better. It aims to dispel all the common myths associated with microlearning. Check it out below!

2. Concentrate on a Single Learning Goal
The goal of microlearning is to provide learners with targeted material. Consider how your microlearning video will achieve the learning goal.
Is one video sufficient, or should a succession of bite-sized videos be used to achieve the learning objective? You'll need to be certain of this before you start working on them.
A microlearning video is a brief clip that focuses on a particular topic and achieves a specific learning goal. Don't seek to squeeze anything else in there; just make sure you get your message across as clearly as possible. If you need to cover more ground, create separate videos, and link them to the original.
This will help them understand the process, and if they need help with a specific stage in the process in the future, they can search for that microlearning video and use it as refresher training. Accessing microlearning modules on a learning management system (LMS) makes it easier for learners to find material when they need it.
3. Use Storytelling to Your Advantage
As learners, we grasp the content with our heads but relate to it with our hearts. Storytelling is an excellent method used in microlearning videos because it:
Enables learners to process information
Stimulates their imagination.
Helps in developing an emotional connection with the content
Boosts participation
Long and text heavy content has no place in microlearning. So, keep it brief and compact. Microlearning videos can benefit from 'micro' stories.
This is what you must include in your story, no matter how brief it is:
The context of the video
The problem
The solution
Value offered to the learners
4. Include Links to Helpful Resources
Microlearning videos make up a comprehensive learning unit. They can be standalone without calling for a thorough explanation or you can frame inside a sequence of linked videos. You must, however, add follow-up links somewhere at the end of the video for self-paced learning. The employee, for example, may wish to learn something about the process or perhaps the skills required. They may try clicking on the demo links or simulation for a real-world example.
This also increases visibility for lesser well-known resources—support materials that employees may be unaware of as they always rely on their go-to videos. Encourage your learners by providing resource recommendations they haven't explored yet.
5. Follow the Script
While you might want to cover a lot of ground in the video, keep in mind that microlearning is directed toward a single performance-based learning goal. Long introductions and conclusions are not required. Never lose track of the precise information that learners are looking for.
Don't just press the record button to make a video if you're a subject matter expert (SME). Maintain focus by sticking to the script. If you have the time, you can develop a storyboard by mapping every scene, including graphic components for the video.
6. Select the Best Video Authoring Software
Look at online manuals or look at what other platforms have to offer to better decide what you need your tools to do. The tool you operate to develop microlearning videos will be determined by your videos' format – live videos or animations.
For example, you can utilize screen-casting applications like Camtasia, Recordit, and Snagit to capture your computer screen while adding a voiceover for microlearning videos. Take advantage of softwares like Vyond, VideoScribe, Adobe After Effects, etc., to incorporate aesthetically appealing animations.
7. Create an Action Plan
What do you want learners to do after viewing a microlearning video? Do you present the next microlearning video in the series? Do they immediately implement what they've learned on the job? Do they access extra information on related topics?
For the latter, you can include a call to action towards the end of the microlearning video encouraging learners to put what they've learned into practice. You can better motivate your learners to continue their learning journey when there's a prospect for real-world application.
Parting Thoughts!
Microlearning videos are fast becoming an essential component of corporate training arsenal as firms focus on digital transformation and continual learning. You can develop microlearning videos in-house if you have the required resources. If you don't, it's a good idea to hire an eLearning partner.
Now you know a bit more about microlearning videos and their critical advantages, you can determine whether to implement this innovative technique into your corporate training lineup. Download the free eBook given below to understand how microlearning fits in your learning strategy.
Editor's note: This post was originally published in May 2022 and has been updated for comprehensiveness.