Hooked to Microlearning Videos? 5 Types for You to Pick From
Videos are popular, and microlearning videos make learning even more engaging! Here are five popular types of microlearning video you can choose from!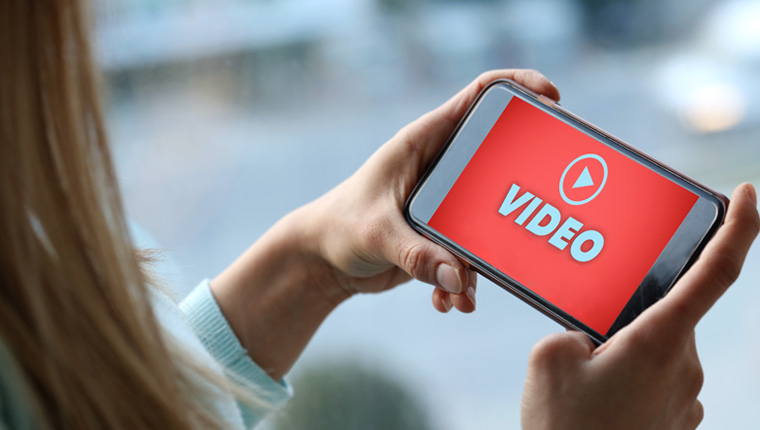 Let me start by asking a question. How often do you turn to YouTube when you have to learn something new? Once a month, week, or every day? You would rather skip reading and watch something online. It's easy, fast, engaging and trending. So much so that videos will account for 82% of global IP traffic by 2022 (Cisco). However, it's short videos that rule the roost in YouTube. Among the top 10 popular videos, the shortest was 42 seconds; the longest was 9 minutes and 15 seconds (Mini Matters). Micro videos are your hook to engage learners between their hectic schedules. Moreover, microlearning videos are easy to update, light, and offer sticky learning experiences.
5 Popular Microlearning Video Formats
Kinetic typography videos (Text-based)
Whiteboard animations
Webcasts or live demos
Interactive videos

User-generated videos
You can use microlearning videos to meet diverse requirements in your organization such as:
Introducing concepts, facts
Supplementing formal learning sessions
Offering performance support
Spreading awareness and marketing online learning internally
Let's have a quick look at the top 5 microlearning trends and delve deep to learn how to effectively leverage microlearning videos for maximum impact.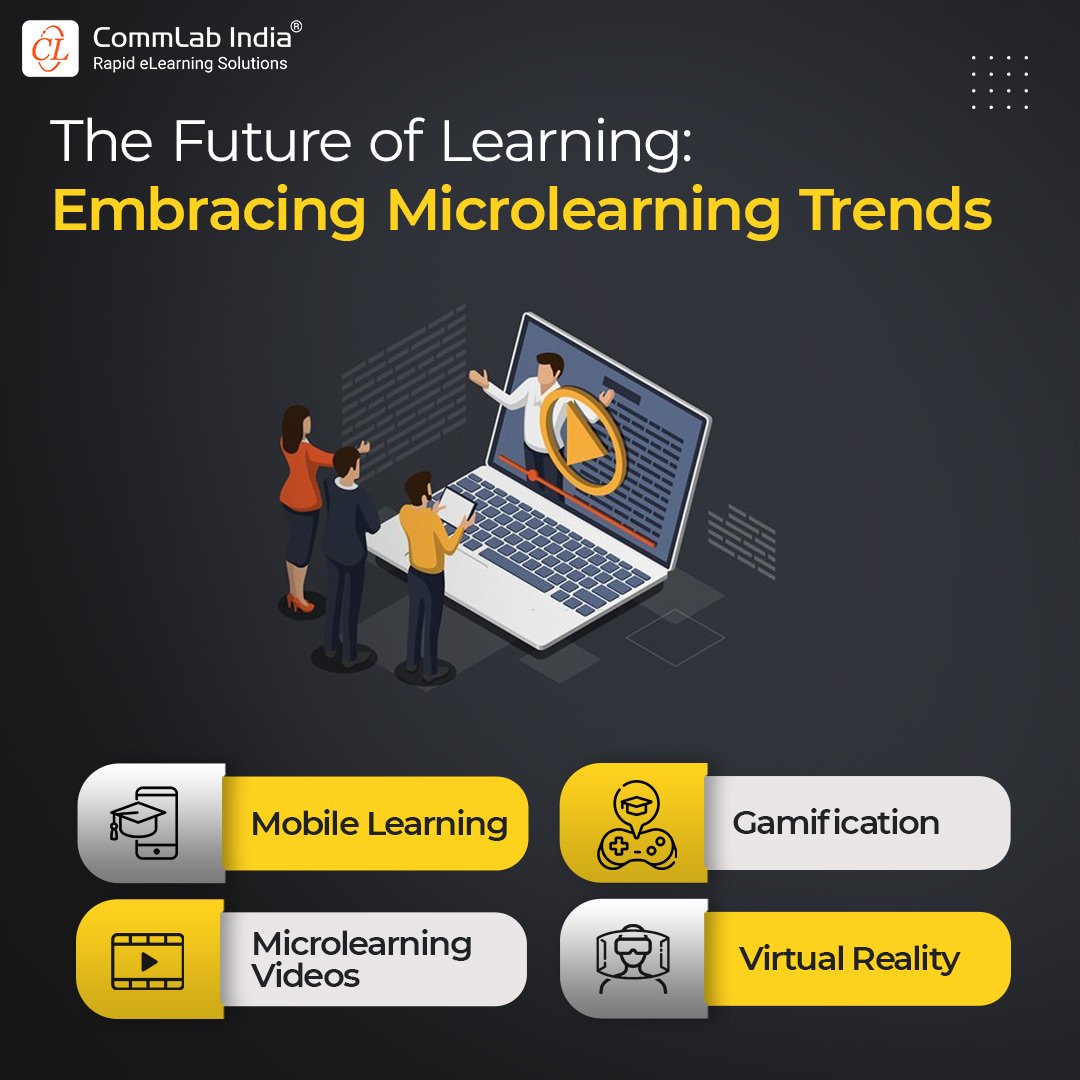 Let's now explore the different types of microlearning videos you can use for online training.
5 Popular Types of Microlearning Videos
1. Kinetic Typography Videos (Text-based)
Text-based videos are called Kinetic Typography videos. You might as well call them moving-text videos. With their growing popularity, organizations are witnessing something magical while leveraging them for various purposes. And that's why kinetic typography videos are worthwhile looking into!
These videos combine basic elements including text, font styles, colors, shapes, and background music with an overarching message – much like the music videos with lyrics you find in YouTube or play for a karaoke night. However instead of lyrics, you can use these microlearning videos to introduce topics, concepts, facts, or present statistics that are dry and dull.
Moreover, these videos make for a great marketing tool. For instance, you can use it as a teaser to promote the upcoming online course. This helps invoke interest and curiosity among learners. Check this example kinetic typography video by RSA that explains why curiosity is the mother of creativity.

Click the image to watch the video.
Some key points to ensure effective kinetic typography videos:
Keeping it concise and to-the-point is the mantra.
Ensuring background track is not distractive. If you're going for audio narration, ensure it is synced with the onscreen text.
Ensuring shapes and graphics are indicative of what the onscreen text is saying. Remember beautifying is not their purpose; rather, it is to support the text.
Ensuring clear readable fonts. It is also important to choose contrasting colors for the text and the background so that it's not difficult to read.
There's more to kinetic typography videos apart from being compelling and engaging. Since they are text-based, it takes lesser time to develop; needless to mention, they are cost-effective as well.
2. Whiteboard Animations
Simply put, whiteboard animation videos show learners text or static images being drawn on the screen or the whiteboard. These illustrations guide learners through the story being told in the video, with or without audio narration. These microlearning videos are amazing tools to explain complex topics and ideas in a powerful way. The minimalist design of these videos allows learners to concentrate on the content being presented. They are amazingly simple, yet unarguably engaging.
They are easy to create and edit which adds another feather to their cap. In turn, development is cost-effective as well. You can use whiteboard animations for training topics such as sales, marketing, safety, and compliance. Here's a whiteboard animation video that explains the five steps to become an effective trainer.
It is a given that a well-developed whiteboard animation video can be an effective microlearning tool. However, there are a lot of things that can go wrong. Here's what you need to ensure.
A solid storyline or a script is where it all begins. It indispensable to identify that one core learning point you want deliver through the video. And not to forget, putting the content in concise and succulent terms.
Have a smooth, logical flow – a clear beginning, middle, and an end, much like a story. This helps learners understand the concept well and see its relevance.
Don't compromise on the imagery since they can make a huge difference to the video. It is also crucial to consider the socio-cultural background of learners to keep microlearning videos as relevant as possible.
Ensure the audio narration and the background music or sound effects are up to the mark and used only where necessary.
3. Webcasts & Live Demos
A webcast is a conference/presentation that happens over the web using conferencing tools. Participants can watch the presentation, ask queries, and even engage with other participants. Recording these presentations can make excellent learning tools for future use. However, considering the recordings can be quite long, they can be broken into logical nuggets so that each microlearning video addresses one learning point.
You can either offer them to learners as standalone assets or use them in your blended framework. What's more, to make learning engaging and active, eLearning interactivities, knowledge checks, and external resources can be incorporated whenever required. Quite evidently, they are easy and fast to transform, saving you from the misery of working from scratch.
Live demo videos on the other hand are recordings that explain how something works. It's a powerful way to demonstrate to learners how to do something in contrast to telling or showing them static images. Each video focuses on demonstrating one actionable objective, so that learners are not overwhelmed with information overload.
This microlearning video comes in handy for multi-step processes and tasks that require physical action. For instance, to demonstrate how to use a microscope or a clinical apparatus. Live demonstration videos in eLearning can be more convenient and helpful than learning by watching somebody in person. Learners have the control to pause, rewind, and slow the speed of the video if they fail to catch something in the first go. Moreover, the option to playback and different camera angles provide more detailed views of the task in action.
4. Interactive Microlearning Videos
When you view a conventional video, you start by clicking 'play', with rewind, pause, fast forward, and replay being the other options. Besides these options, learners are not actually interacting with the video.
However, interactive video offers learners the option to interact with the video by using click-and-reveal interactions, scroll, hover, gestures and other digital actions that allow interaction with the video. There are several ways you can make an interactive video. Some of the popular ones are:
360 views: Offers learners the ability to view in all directions, by dragging the screen within a video frame.
Hotspots: Click markers over a specific area in a video frame for information to be revealed.
Branching: Engage learners by getting them to choose from various options.
Quizzes: Incorporate questions in the form of multi/single select, buttons, ticks, etc., and reveal results at the end of the video.
Feeding Inputs: Use data fields for learners to fill their name, age. Doing so helps create a personalized learning experience for learners.
Evidently enough, these interactive micro tools make learning fun and engaging, without making learning feel heavy. More importantly, it makes a static video into something more interactive and memorable. Having said so, it's important to ensure that interactivities are not incorporated just for the sake of it. It should serve the purpose of enhancing learning experience and not just add glam and glitz!
5. User-Generated Videos
In simple terms, user-generated videos are shot by learners or anybody who wants to share their knowledge. User-generated videos are becoming extremely popular, considering the ubiquity of mobile devices, where people are ready to shoot and upload on social media platforms. I am sure you must have seen this splurge on Facebook, LinkedIn, Twitter, and the rest. There point here is, these user-generated videos are short, crisp, and offer to-the point information. And what better than using these microlearning videos to foster a continual learning culture in your organization!
User-generated videos can be used effectively in social learning. For instance, learners who are looking for solutions can post their queries in online discussions forums or social media handles. Those who know can share useful tips in short videos. They are small, easy, and convenient to share and re-share. You can even make them available in your LMS for learners to access anytime they want to.
Needless to say, they make excellent learning tools to expand a learner's knowledge spectrum and aid performance. For an organization, user-generated videos are a cost-effective way to disseminate knowledge, without having to get into the nitty-gritty of developing them.
So, have you decided which one you of these microlearning videos to go with? It's going to be a tough call ? While you choose the best pick from these microlearning video types, consider the content and context to decide.
Well, did I forget to mention that I have something that can help you understand microlearning even better? Here's an eBook on "Where Does Microlearning Fit in Your Learning Strategy?" that you can download for free. This eBook will give you insights on what microlearning is, what it is not, types of microlearning formats, tips and tools for rapid microlearning development, and so much more!
Editor's note: This post was originally published in July 2019 and has been updated for comprehensiveness.