7 Best Practices to Create Microlearning Videos for Employee Training
Microlearning videos are popular in employee training, and for good reason. Getting started with creating one? Make sure you follow these best practices when creating microlearning videos.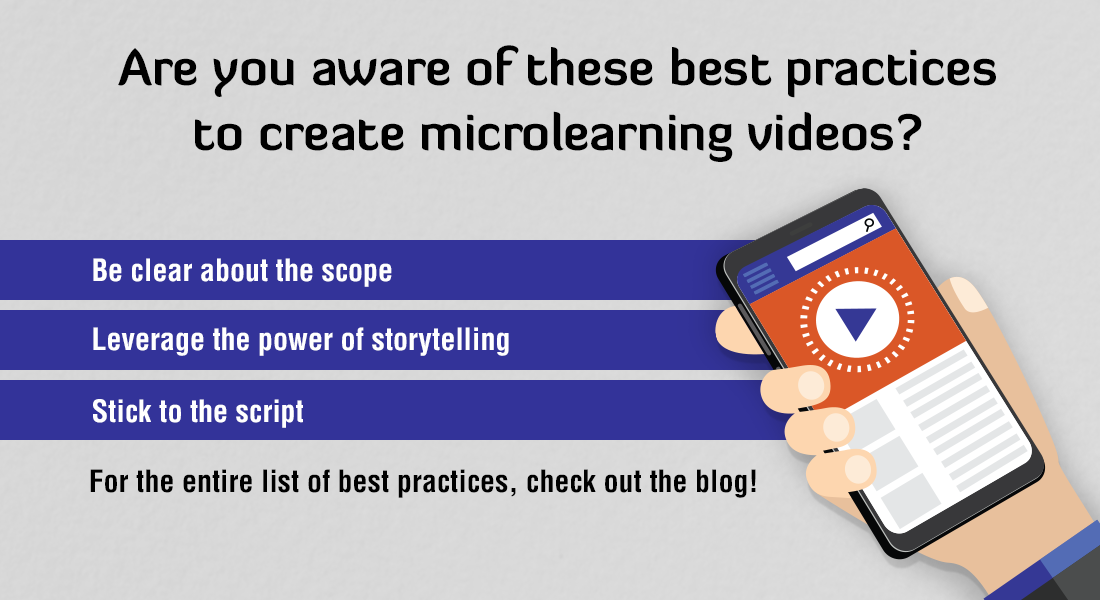 Did you know that you use microlearning more often than you realize? Surprising but true! Every time you watch a quick news update, look up YouTube videos of your favorite recipes, or listen to an app teaching a new language with bite-sized nuggets, you are using microlearning, informally. Not just for informal learning, microlearning is equally popular in formal employee training, as it can be delivered in various formats. One such popular format is the microlearning video.
Creating Microlearning Videos for Employee Training? Follow these Best Practices!
Be Clear about the Scope
Focus on a Single Learning Objective
Use the Power of Storytelling
Stick to the Script
Choose the Right Video Authoring Tool
Make it Visually Compelling, Not Distracting
Define a Call to Action
One major reason why organizations should invest in microlearning videos is that learners prefer to watch visual formats than read plain text. Also, there are studies that prove that video-based learning increases retention. According to an article on Pop Video, viewers retain 95% of a message when it is in the form of a video, as opposed to 10% if the same is in text format.
Would you like to know some best practices to create bite-sized videos for employee training? Here goes.
Best Practices to Create Microlearning Videos
1. Be Clear about the Scope
Scope creep is one of the top causes for project failures and a microlearning project is no exception! So, before you even get started with creating a microlearning video, answer these questions:
Are you planning for a single microlearning video or a curriculum of multiple microlearning videos?
Who are the main stakeholders in the project? (It is always better to involve decision-makers early on in the project.)
What is your overall budget for the project?
Do you have internal resources that can create the video? If no, do you have a learning partner/vendor to whom the project can be outsourced?
Do you need an SME (or any other resource in the organization) to provide content for the video?
What is the timeline that you're looking at to get the video/s created?
2. Focus on a Single Learning Objective
Microlearning is all about delivering focused content. After identifying the learning objective of your microlearning video, think of how it will meet that objective.
Is one video enough or should there be a series of bite-sized videos to meet the learning objective? You'll need to be clear on this before you get started with creating the video.
Whether you're teaching learners how to troubleshoot a product or how to apply the learning to their tasks at the workplace, 'how-to' videos are very effective.
If the objective is to teach a process with multiple steps, it would be best to create one microlearning video for each step and give learners access to the entire curriculum of videos.
This can help them understand the process, and if in future, they need help with one particular step in the process, they can search for that particular microlearning video on that step and use it as refresher training. Making microlearning modules searchable on the LMS makes it easier for learners to access content at their moment-of-need.
3. Use the Power of Storytelling
As learners, we understand the content with our brains but connect with it with our hearts. Storytelling is a great strategy to use in microlearning videos because they can:
Make learners think
Fuel their imagination
Help build an emotional connect with the content
Increase engagement
There is no time for long stories in microlearning. So, keep it simple and short. Leverage 'micro' stories for microlearning videos.
This is what you need to include in the story, however short it may be.

Here's an infographic snippet that shares a few examples of training types where storytelling can be used.
4. Stick to the Script
While it may be tempting to talk about a lot of things in the video, remember microlearning is focused on a single performance-based learning objective. There is no time for lengthy introductions or conclusions. Don't lose sight of the fact that learners are looking for specific information they need.
If you are a subject matter expert (SME), don't just hit the record button to create a video. Stick to the script so that you stay focused on the topic. If you have the time, you could even map every scene, including visual elements to be used in the video and create a storyboard.
5. Choose the Right Video Authoring Tool
Your choice of tool to create microlearning videos would depend on the format (e.g. live video, animation) that you've decided upon.
For example, for microlearning videos on software training where you need to record your computer screen while adding a voiceover, you can use screen casting tools such as Camtasia, Recordit, and Snagit.
One of our clients looking for a blended learning solution wanted videos of people demonstrating different tasks as well as videos with a speaker explaining the tasks using a PPT. Panopto was the video platform that we used for this as it supports live recording as well as recordings of a computer screen and webcam.
On the other hand, if you'd like to use visually engaging animations in your video, make use of tools such as Vyond, Powtoon, and VideoScribe.
6. Make it Visually Compelling, Not Distracting
While creativity is good, there can be too much of a good thing! When you create a microlearning video, the focus should be on the main idea/concept that you want to teach. Of course, the content needs to be presented in a visually engaging format, but take care not to distract the learner with too many visual elements.
To create compelling microlearning videos:
Add Interactivities –Use quizzes, hotspots or click to learn tabs that can engage learners.
Include UGC – User-generated content (UGC) is a great choice to create microlearning videos that guide learners on the right way to tackle tasks at the workplace.
7. Define a Call to Action
After learners watch a microlearning video, what do you want them to do next? Should they be guided to the next video in a series of microlearning videos? Should they apply the learning on the job instantly? Should they be provided with links to more resources on similar topics?
In the latter case, defining a call to action at the end of the microlearning video gets learners into the habit of applying what they have learned. When there's a chance for real-world application, learners are motivated to continue learning.
A Parting Note
With organizations focusing on digital transformation and continuous learning, microlearning videos are becoming an important component of the corporate training arsenal.
If you have the right resources, you can get microlearning videos created inhouse. If you don't, it makes sense to outsource it to an eLearning vendor.
For more information on fitting microlearning in your learning strategy, download this eBook.