A 10-Step Plan to Engage Stakeholders in Performance-Based Learning Design
Improve the effectiveness of performance-based learning with a plan for stakeholder engagement. Find out how to do this in performance-based learning.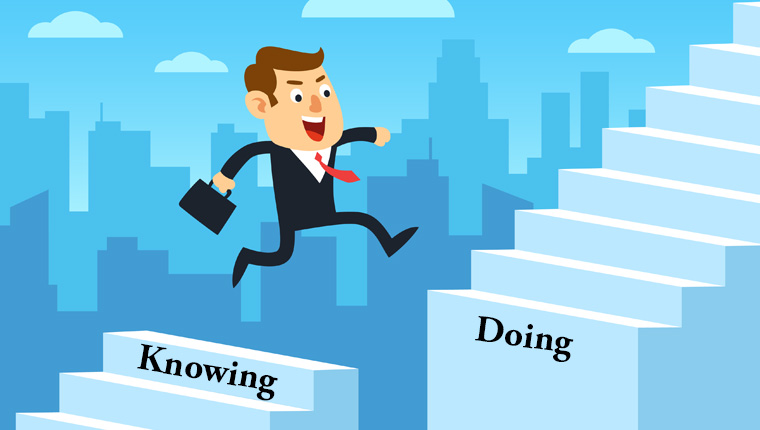 "An organization's ability to LEARN and translate that learning into ACTION rapidly is the ultimate competitive advantage."
– Jack Welch, former General Electric CEO
What strikes me about this quote is that it sums up the benefits of performance-based learning in a single line!
Training programs designed in alignment with desired business results can surely give you an edge over your competitors. But, do you know if your training programs are actually preparing employees to achieve those business results? A performance-based learning approach is all about translating the desired business results to required performance.
The best way to get started with a performance-based learning program is by engaging stakeholders throughout the design process. This is one way to ensure your training program fetches the right results. How can you do that?
Designing Performance-based Learning? A 10-Step Plan for Stakeholder Engagement
Here's a 10-step plan that can help you engage stakeholders before diving into the design and development of performance-based learning.
Stakeholder Engagement in Performance-based Learning: 10 Steps
Confirm stakeholder requirements
Identify criteria for proficiency
List the tasks to be performed by employees
Identify the gaps between knowing and doing
Check for task-specific compliance requirements
Derive learning objectives aligned with employees' tasks
Validate training requirements by involving target audience
Gather existing training content
Align assessment criteria
Decide on a high-level instructional strategy
Let's take a closer look at each step.
1. Confirm Stakeholder Requirements
Your stakeholders could be internal or external clients, managers, supervisors, classroom training instructors, subject matter experts (SMEs), or executives. You could either have a single or multiple stakeholders involved in an eLearning or blended learning project. After you've identified your stakeholders, perform a detailed analysis of stakeholder requirements.
Here are a few questions to ask stakeholders:
What do you want employees to be able to do by the end of this training program?
How does this performance-based learning program tie in with your key organizational goals?
Is the course intended for a specific group of employees in the organization? If yes, who or which department do they belong to?
Engaging stakeholders in performance-based learning design can streamline your development process and increase the effectiveness of your training program.
2. Identify Criteria for Proficiency
Instructional design for performance-based learning is about enabling individuals and teams to quickly become proficient at their workplace-related tasks. This in turn, brings the desired business results. But how do you identify criteria for proficiency?
Get your stakeholders to answer these questions:
What are the role-specific tasks employees have to perform?
How do they become proficient in those tasks? For instance, do they have access to a coach or mentor in real-time, or do they buddy with peers for a specific time before working independently?
Is there a benchmark or criteria for proficiency in tasks?
To identify criteria for proficiency, you could ask stakeholders to share information on what the top performers are doing or provide access to those top performers.
Consider an example where you're designing performance-based learning for employees in the claims department. If the top performer is processing more claims than average per day, ask questions about what they're doing to improve their productivity. If the top performer is able to process 18 claims a day with an average of 95% accuracy, capture that information and then formulate a performance-based learning objective.
3. List the Tasks to be Performed by Employees
Now that you've formulated the performance-based terminal objective(s), it's time to identify the enabling objectives.
Consider the same example mentioned earlier on training employees in the claims department. In order to process a claim, what other information are employees required to know?
Ask stakeholders:
Do employees know how to access the electronic claims that require processing?
Do they know where to look up claim adjustment reason codes?
Listing all the tasks that employees need to perform to achieve proficiency in a work-related task can help you formulate the enabling objectives.
4. Identify the Gaps Between Knowing and Doing
Effective learning happens only when we identify the gaps between what we know and what we need to do. Simply instructing employees on how to do a task doesn't mean they would actually be able to do it and doesn't qualify for performance-based learning.
A couple of questions to ask stakeholders:
What is the current knowledge level of employees?
Are there new hires who are just learning how to perform a task or are they seasoned professionals?
Finding answers to such questions can help you decide the instructional level of the course. So, if they are new hires you might need to offer a combination of knowledge-based information as well as opportunities to apply the knowledge. On the other hand, if they are well aware of the information but are making mistakes in practical application, give them opportunities to practice. This can be done through scenarios or simulations, depending on the nature of the training program.
5. Check for Task-Specific Compliance Requirements
There are times when employees are not only required to perform tasks efficiently but also expected to conform to compliance requirements.
Some of the questions to ask stakeholders could be:
Is there a quality check process that needs to be followed?
Is 100% task accuracy critical for the task?
In the earlier example on claims processing, a 95% accuracy might be okay and a quality assurance (QA) or audit process is in place to ensure employees process the claim correctly. But what if your performance-based learning was to train employees to use a critical business software? In this case, a 100% accuracy on tasks is mandatory as a single error can disrupt the entire software system.
6. Derive Learning Objectives Aligned with Employees' Tasks
Learning objectives in performance-based learning is about enabling individuals and teams to quickly become proficient and perform in ways that positively impact desired business results.
Performance, condition, and criteria are core elements of a performance-based learning objective.
Here are questions that you can ask stakeholders based on each core element:
Performance — What should the learner be able to do after course completion?
Condition — Under what conditions do you want the learner to be able to perform?
Criteria — How well must learners perform?

To give you an example, when we write a learning objective for a sales training program as:
Given no reference materials, deliver a 5-minute presentation on the product, highlighting at least 5 core benefits.
"Deliver a 5 minute presentation on the core benefits of the product" is the performance, "given no reference materials" is the condition, "highlighting at least 5 core benefits" is the criteria.
7. Validate Training Requirements by Involving Target Audience
For performance-based learning to work well, you must take care to replicate the real-life work conditions as closely as possible. While you're talking to stakeholders, you could involve representatives from the target audience and ask them the following questions.
A couple of questions to ask:
What are the workplace conditions like?
Is there time pressure to complete tasks?
Do learners have access to resources and/or tools when completing the task(s)?
So, if the actual workplace conditions are noisy, e.g., a factory, the course must make use of graphical elements and audio that simulates that setting.
If employees are under time pressure, ensure that you include time-based tasks that train them to complete tasks well within a stipulated time.
If employees make use of a job aid at the workplace, that should be made available during the training too.
8. Gather Existing Training Content
Make use of existing training resources to come up with content for the performance-based learning program. When you leverage existing content, you save time and money!
Asking stakeholders the following questions can help you finalize the training content:
Have employees gone through any other training program to help them achieve proficiency at work?
Is there a repository of existing training resources and assets such as ILT material?
Are SMEs available to guide instructional designers in plugging content gaps?
For example, if employees have already gone through a classroom training, reuse the useful content that's available in PowerPoint decks. If an instructor made use of a video during classroom training to show learners how to perform a task, include that in the online performance-based learning program as well.
9. Align Assessment Criteria
After your employees complete a performance-based learning course, you would want to test them on their proficiency. Just as in any other assessment, performance-based assessments need to be aligned with the learning objectives.
To design performance-based assessments ask stakeholders:
Is everyone in the target audience required to take the assessment?
What are the passing criteria for the assessment?
What happens when a participant does not meet the passing criteria?
Are the results recorded or tracked? If yes, are the results shared?
Asking such questions can help you design assessments aimed toward improving proficiency at work. For instance, when a participant does not meet the passing criteria, he/she can be given an option to review the course material again, and reattempt the assessment.
10. Decide on a High-Level Instructional Strategy
Discuss a high-level strategy for the performance-based learning with your stakeholder.
A couple of questions to ask your stakeholders to formulate a high-level instructional strategy:
Do you need the course to be self-directed or do you plan to include it as part of a blended learning program?
Would you want to include collaborative learning experiences?
Do you think learners would need reinforcement training?
Asking such questions makes it easier to frame your instructional design strategy. If you want learners to complete an activity by working in groups, you would need a collaborative learning experience.
For example, if you're designing a performance-based learning targeted at workers in a manufacturing unit, you might want to include a collaborative learning activity where participants discuss and come up with ideas to speed up their tasks (share best practices) and maintain proficiency.
If stakeholders confirm that reinforcement would be required often, you could consider including microlearning modules for reinforcement.
Wrap Up
Effective stakeholder engagement throughout the design and development process of your performance-based learning program can ensure the success of your project. Stakeholders can act as the guiding stars. It's up to you to actively communicate with stakeholders and leverage their knowledge by making use of the 10-step stakeholder engagement plan.
Using this plan, you can design a performance-based learning program that's focused, efficient and, provides real value-add to your stakeholders. In addition, this process will either lay the foundation for a strong stakeholder relationship or strengthen an existing one.
How often do you communicate with stakeholders? Do you have a communication plan in place? Would you like to share your best practices to engage with stakeholders? Do use the Comments section to share your thoughts.
Editor's note: This post was originally published in August 2019 and has been updated for comprehensiveness.