How to Create Quick Microlearning Courses using Rapid eLearning [Infographic]
Microlearning with its 'bite-sized' modules is widely preferred by the modern workforce. But to match dynamic business needs, you need the powers of rapid eLearning. Let's see what the combo of microlearning and rapid eLearning fetches us.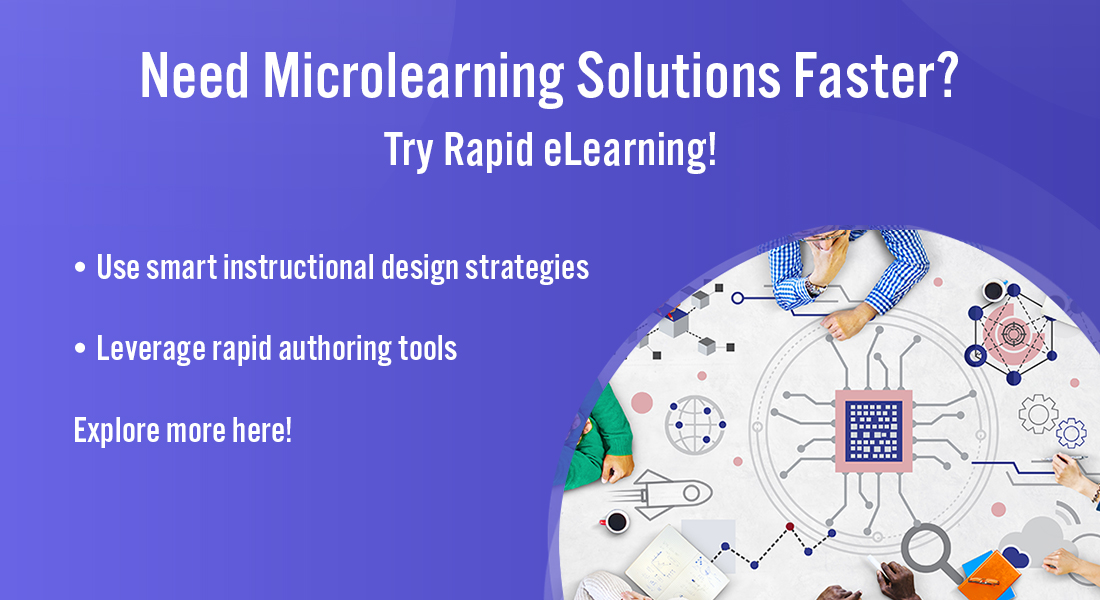 If we were to ask you what are the most common training requirements of modern learners, what will your answers be? Remote accessibility? Flexibility in learning formats? Self-paced learning? Learning at the moment of need? Collaborative learning? Probably all the above, right? Well, here's microlearning to fulfill all such demands of your modern-day learners.
In addition, microlearning with its 'bite-sized' learning nuggets can complement many different training approaches, such as mobile learning, blended learning, and social learning. It offers training solutions that can give modern learners what they really want i.e., short, light, targeted information in different learning formats (videos, audio podcasts, infographics, etc., to name a few) that can be accessed anytime, anywhere learners need it.
There is a common reason that makes microlearning appealing to both learners as well as eLearning designers – time. It is short and not more than 10-15 minutes long that allows learners to get specific information without wasting any time. As for eLearning designers and developers, microlearning content is easier to develop and update, and most importantly less time consuming to develop when they leverage the magic of rapid eLearning. Using rapid eLearning as a design and development strategy, you can create an online library of microlearning assets that can be accessed by learners at the moment of need.
Here's an infographic highlighting how rapid eLearning can ramp up microlearning development.