7 Reasons You Shouldn't Ignore Rapid eLearning for Corporate Training
Rapid eLearning has wide and far-reaching applications in corporate training. Read on to understand what Rapid eLearning is and how to channel its potential for your organization's needs.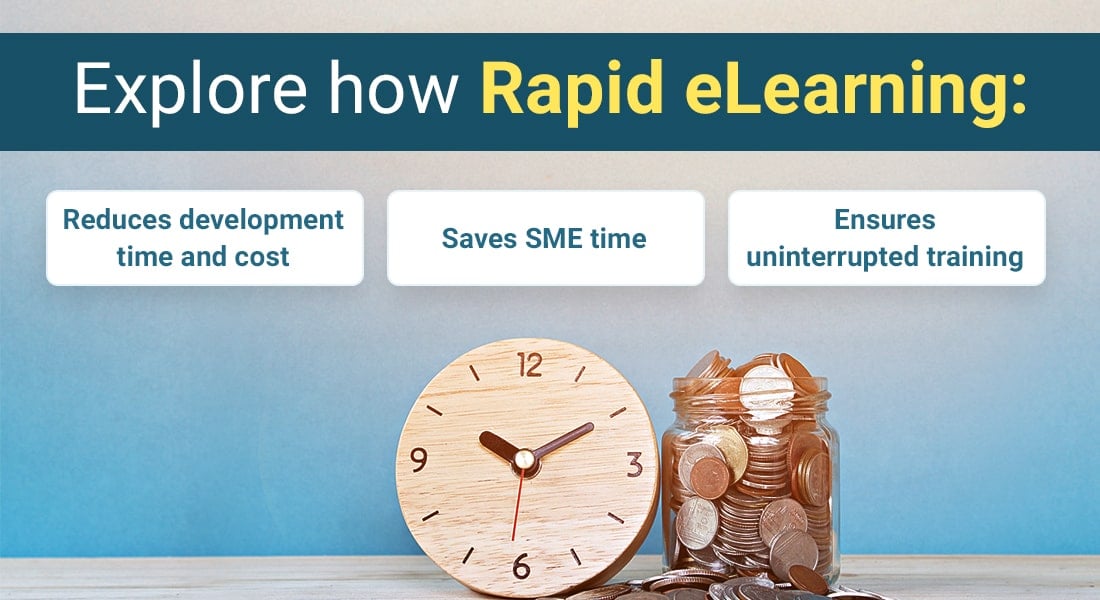 W

hat Is Rapid eLearning?

Everyone knows the importance of eLearning in the present context. Adding the prefix 'rapid' to eLearning emphasizes its faster development time. Bersin and Associates coined the term 'rapid eLearning'[1] in 2004 as eLearning that takes less than three weeks to develop. Rapid eLearning uses authoring tools to roll out courses in a few weeks, when they would likely take a few months to come together using traditional methods.
Benefits of Rapid eLearning
Minimizes Development Time
Reduces Training Cost
Simplifies course updates
Offers Mobile Compatibility
Saves SMEs Time
Enables Uninterrupted Training During Crises
Offers Good ROI
Rapid eLearning is extremely beneficial for organizations where training needs to be constantly updated based on new policies and changes in the global market. It also helps when schedules are tight with short deadlines and fixed budgets as it is cost-efficient too. If you want to know who are the top content providers for rapid eLearning in 2021, here's a list that might help.
Most training managers have a niggling doubt that 'rapid' eLearning compromises on the quality and instructional design of courses. That is not true. Like any good eLearning course, rapid eLearning courses are also designed around learning objectives – the required performance learners need to achieve by the end of the course.
The content of the course is based on those learning objectives, with the focus on maximizing understanding and retention. In the process, the more ornamental but not so relevant aspects of eLearning design are left by the wayside.
Rapid eLearning is a wonderful solution for specific training tasks and needs. Let's now talk about the benefits of rapid eLearning for corporate training.
Benefits of Rapid eLearning For Corporate Training
1. Minimizes Development Time
Rapid eLearning reduces development time by 40-60% by leveraging authoring tools and agile project management. It is extremely relevant for corporate training where content needs to be rolled out quickly. Especially when the content tends to have a short shelf life, it does not make sense to invest so much time and effort for what could be achieved in a few weeks.
Rapid eLearning avoids complex multimedia elements and uses robust instructional design to produce quick, clear, and focused courses that are easier to understand and retain.
2. Reduces Training Cost
Organizations can save on training costs by using:
Authoring tools: Rapid eLearning leverages authoring tools such as Articulate Storyline 360, Articulate Rise 360, Adobe Captivate, iSpring 9.7, and Easygenerator. Each tool offers unique advantages. Storyline 360 helps build highly interactive courses with animations and gamification. Rise 360 is easy to install and has a very short learning curve.
Abode Captivate provides an immersive learning experience by using 360° images and virtual reality. Choosing the right rapid authoring tool is very important to save on costs and time.
Ready-to-use templates: Authoring tools provide ready-to-use templates that can help save time, effort, and cost – including templates for all popular assessment types. They also support multiple languages and ensure that the course is translation friendly. This feature helps roll out courses easily and quickly for a global workforce.
3. Simplifies Course Updates
With Rapid eLearning, one can make changes in the existing course content without having to redesign the entire course. This comes in handy in the corporate world as products and policies change frequently and information needs to be updated.
Having to rebuild the course every time there's an update in product features or guidelines would be a hassle. But these changes in content can be seamlessly made, making it easier for even subject matter experts or instructors.
4. Offers Mobile Compatibility
An average user reaches out to their mobile phone a lot more often than to any other electronic device. Rapid eLearning uses authoring tools that provide HTML5 output, which can easily be used for both web and mobile applications. This makes the courses created using rapid authoring tools compatible with mobile devices.
Learners can access courses on their portable devices at their convenience, even during commutes and downtime, to brush up on their skills. It also increases the chances of them revisiting the material that results in better learning and longer retention.
5. Saves SMEs Time
Subject Matter Experts (SMEs), as the name suggests, are experts in a particular subject and the technical content providers for courses. When we use rapid eLearning to save SME time, the number of touchpoints reduces by almost 30% compared to traditional eLearning development.
Rapid eLearning authoring tools also provide the flexibility of online reviews. Using these tools, updates and changes can be made seamlessly throughout the process of development. This reduces the chances of miscommunication and misinformation.

6. Enables Uninterrupted Training During Crises
The COVID-19 pandemic led to an exponential increase in the need for eLearning. Considering the change in the global market, budget cuts and new challenges, organizations had to adapt to the situation at hand. Rapid eLearning helped provide uninterrupted training for employees.
7. Offers Good Return On Investment (ROI)
A study conducted by IBM revealed that for every $1 spent on online training, a company gains $30 worth of productivity. We have already seen all the ways in which rapid eLearning helps cut down costs by saving development time, making updating content easy, and saving SME time.
Rapid eLearning also builds on existing training material so organizations would not have to source content from scratch. This saves time, effort, and money too. All this helps rapid eLearning enhance ROI for corporate training.
Wrap Up
The advantages of Rapid eLearning are abundant and statistically proven as we've seen till now. Using rapid authoring tools for corporate training increases the reproducibility of content. Organizations should consider tapping into the potential and financial gain offered by Rapid eLearning. To learn more about how to implement the strategies discussed, check out this comprehensive eBook.
[1] https://www.trivantis.com/what-is-rapid-e-learning
Editor's note: This post was originally published in March 2021 and has been updated for comprehensiveness.