10 Quick Tips to Save the SME's Time with Rapid eLearning
The role of an SME is crucial to eLearning, but despite being valued professionals, they have a meager bandwidth. Are you having a tough time collaborating with your Subject Matter Experts (SMEs) for eLearning development? Read on to discover amazing tips to save the SME's time and facilitate the rapid roll-out of your eLearning courses.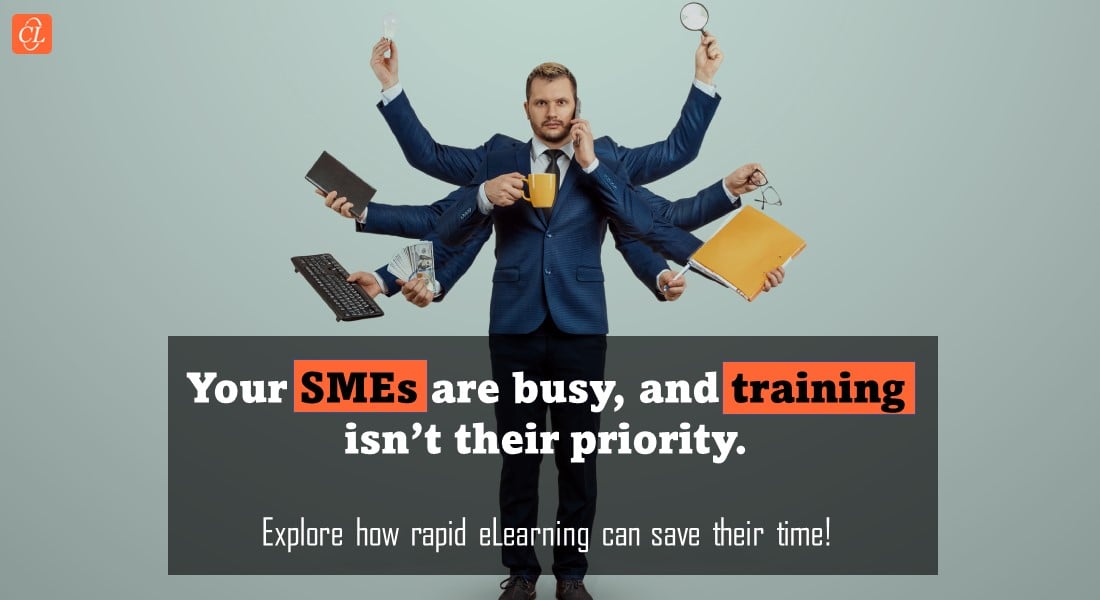 I

know you'll agree with this. Successful roll-out of eLearning courses requires the involvement of SMEs (Subject Matter Experts) in every phase of the eLearning design and development process. Considering their vast knowledge and expertise, their input is both significant and necessary if you want to design an eLearning course that maximizes learning. As a result, they are in high demand. You might have experienced a tough time collaborating with your SMEs throughout the eLearning development cycle. Are you looking for to answers to all your SME woes? Read on to discover amazing tips to save the SME's time and facilitate the rapid roll-out of your eLearning courses.
Wondering How to Save the SME's Time?
Here are a few quick tips:
Plan for Curriculums Instead of Standalone Courses
Acquaint the SMEs With the Rapid eLearning Design and Development Process
Get All the Possible Existing Written Inputs
Record Audios/Videos from the SMEs
Go for Online Course Reviews
Who are the SMEs? And What are Their Challenges?
SMEs are busy people! And their primary job is NOT training. They are valued professionals who travel frequently around the globe to client locations solving their issues. They work under a tight schedule and are highly stressed individuals. They have limited time for you as they keep traveling and they have time for leisure only in hotel rooms or airport lounges. Reviewing eLearning course content, providing their input, and contributing to training needs is an added burden on their shoulders. They struggle to manage their time, and this sometimes leads to delays in course reviews and signoffs. The main culprit is lack of time. The question is can we do something about it. And to everyone's relief, the answer is a resounding 'YES'! Here are some tips which will help save your SME's time and ensure a timely roll out of your eLearning courses.
How to Save the SME's Time with Rapid eLearning
As you know, SMEs are involved throughout the eLearning process. It is crucial to ensure that collaborating with them is seamless and the eLearning project is completed in a timely manner. Let's find out how we can save their time throughout each distinct phase of the eLearning process.
1. Planning and Preparation
Initial planning and preparation form the foundation for the future speed and progress of your eLearning project. Hence, you need to be careful when placing the cornerstone.
Plan for Curriculums Instead of Standalone Courses
I'm sure you'll agree that breaking down a complex topic into smaller modules can only enhance learning. This works to save your SME's time as well. Let me explain how. Each time you develop a standalone course, the SME must go through the review process. It involves reviewing the content to check for gaps, approve templates, storyboards, prototypes, and ultimately review the final course content. This becomes monotonous and consumes a lot of time. On the other hand, when you plan for a curriculum, all these steps need to be carried out only once and this save the SME a lot of time.
Involve SMEs Right from Scratch
The SMEs expertise, knowledge, and inputs are needed right from the planning and preparation phase of eLearning development. So, it is better to involve them right from scratch. Include them in your introductory call to enable them to make meaningful contributions. This also helps to:
Rule out all confusion and ensure absolute clarity on the scope of the project, its learning goals and training expectations
Clarify all doubts with your SMEs before starting with the design and development process
Gather the necessary inputs from the SMEs
Acquaint SMEs with the Rapid eLearning Design and Development Process
If you are implementing eLearning for the first time in your organization, you need to acquaint your SMEs with the rapid eLearning design and development process. This will give them a detailed look into the process and their areas of involvement. It will also make it easy for them to schedule time for calls with the eLearning experts as well as for reviewing the courses. Also, instead of making detailed explanations of the design concepts, you can share sample courses to give your SMEs a fair idea of the product. This helps them understand the presentation format and share their inputs accordingly. Seasoned SMEs have a deep understanding on the subject matter, and they may feel that everything is important for the learners. You need to educate them on the difference between the 'nice-to-know' and the 'need-to-know' content.
Do Your Homework Well
As you know SMEs are busy folks who value their time. You must ensure that you do extensive research to gain an understanding of the topic, especially for domain-specific knowledge, to save your SMEs time. You then need to make a list of your initial queries and seek clarification in one go. Also, remember that your SME has his job to do. You need to avoid scheduling calls if emails can do, especially for status updates when the project is progressing as per the set schedule.
2. Content Gathering
Gathering relevant content is crucial for you to gain a deeper understanding of the subject matter. SMEs play a key role at this point. The catch here is to strike the right balance between asking too much or too little. You need to ensure that you both minimize the SMEs effort as well as obtain sufficient content from them. These quick tips will help you do just that.
Gather All Possible Existing Written Inputs
Ask your SMEs to share all the relevant written content that is available with them such as classroom training materials, sales presentations, marketing collaterals, cheat sheets, and reference guides. This will help you get a good grasp of the topic and prevent you from asking them too many questions.
Record Audios/Videos
Record the SMEs inputs, especially during the preliminary walk-through. This helps your team to re-visit the content whenever required, and it gives you a better understanding of the subject matter. Recording audios and videos are extremely helpful when the content is technical and difficult to understand. This also saves time as the SME needs to answer only critical questions. You can also ask your SME to share any recorded classroom presentations and use these snippets to make your courses more engaging.
Capture SME's Insights, Stories, and Anecdotes
At the end of the day, you need to create courses that are learner-centric and engaging for your learners. You need to go beyond theory and help your learners gain perspective with some real-life work scenarios. What better way to do this than to ask your SMEs to share their experiences, war stories, anecdotes, and troubleshooting tips? The SMEs don't have to make any additional written effort to deliver these, and it saves their time. These resources can enliven your eLearning courses and help you facilitate courses with added personality.
3. eLearning Design and Development
This phase requires the availability of the SMEs for their timely reviews and signoffs and a smooth roll-out of the project. Here are a few tips that can help streamline this phase.
Walk the SME Through Your Course Development Process
For the SMEs to have a clear overview of the development process, you need to involve them right from the start. This prevents everyone going back and forth multiple times down the line and it also helps you arrive at a mutually agreed-upon timeline with action items. Try to make your conversations simple avoiding jargon and its inherent confusion. You can also share a prototype with your SME to give them a feel for the course thereby making it easier to implement changes during the development process.
Set Performance-based Learning Objectives
Seasoned SMEs are an efficient reservoir of knowledge, and they feel compelled to share everything. They can leave you with a lot of content that might be difficult to navigate through. The best way to tackle this situation is to develop performance-based learning objectives and share these with the SMEs to define the scope of the content. Ask your SME to provide content that is relevant and will help the learners do their job better. You can also ask the SMEs to avoid content that the learners have prior knowledge of.
Conduct Online Course Reviews
This is the quickest way to shorten the course review time. It also ensures that all the feedback is in one place, especially when multiple SMEs are involved in one project. Also, this makes it easier to implement the feedback and resolve any inconsistencies. Rapid authoring tools like Articulate Review 360, Adobe Captivate Reviewer, and Lectora Review Link can help you significantly reduce your review and feedback time.
To Wrap Up!
SMEs have a vast understanding in their domain, and you cannot do without them. As we have seen, getting them to give their valuable time is a huge challenge. The above tips can enable quicker and smarter involvement of your SMEs in your upcoming projects. Are you looking for more insights on eLearning design and development? Refer to this eBook to unlock the secrets of Rapid eLearning development.