Authoring Tools: The Key to 'Truly Rapid' Rapid eLearning Development
Is your corporate training bringing you desired outcomes? Dive into our blog to discover how modern authoring tools can design robust eLearning courses.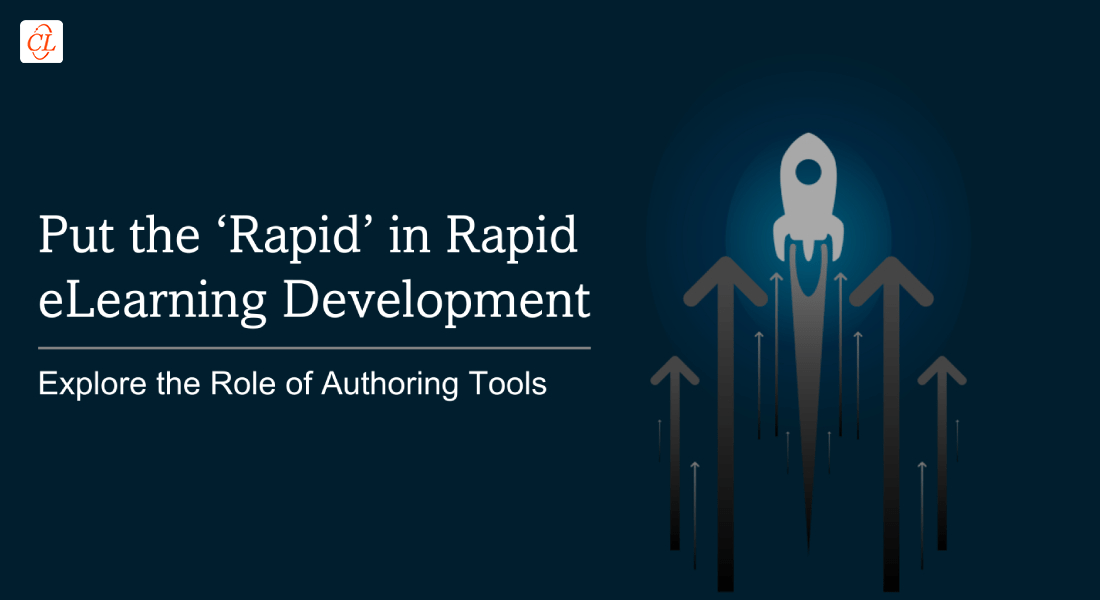 Are you concerned about the effectiveness of your eLearning courses? If they are providing an immersive learning experience to your employees while helping improve your training ROI? If so, rapid eLearning is the answer to all your training woes, be it shifting from the classroom to eLearning, converting your legacy courses to HTML5, or eLearning translations. And guess what's behind the success of rapid eLearning? Yes, you're right! It's authoring tools indeed!
What are Authoring Tools?
Authoring tools are eLearning content development tools. They are available as pre-programmed software with components to enhance your eLearning courses. They can help you design templates, add interactivities, and create assessments for your eLearning courses to make them more engaging and interesting.
Key Benefits of Authoring Tools
Explore How They Put the 'Rapid' in Rapid eLearning Development
Quick course development
Support for eLearning translations
Easy legacy conversions to HTML5
Support for mobile learning
Easy course updates
Online course reviews
Types of Rapid Authoring Tools
Not all authoring tools are created equal, and each tool offers distinct features. And based on how they are hosted, they can be categorized into desktop-based and cloud-based.
Desktop-based Authoring Tools
Desktop-based rapid authoring tools are installed on the computer system or desktop, allowing a single developer to work on the tool. They are locally installed on the system with all features available offline. So, they don't require Internet to develop eLearning courses. And they come with a huge pool of assets which can be used to develop engaging courses.
Popular Desktop Authoring Tools
Adobe Captivate
Lectora Inspire
iSpring Suite
Articulate Storyline 360
Cloud-based Authoring Tools
Cloud-based rapid authoring tools are hosted on an external server and accessed via the Internet through a web browser. They free you from concerns about content loss due to hardware or system failures and offer flexibility to work remotely. Unlike desktop authoring tools, cloud-based tools allow online collaboration. They also facilitate seamless reviews and feedback, saving a lot of time.
Popular Cloud-based Authoring Tools
Lectora Online
Articulate Rise 360
Elucidat
dominKnow's Flow
How Can Authoring Tools Help Enliven Your eLearning Courses?
In today's dynamic business scenario, organizations are looking for an agile training solution that can be adapted to their ever-changing training needs, and also cut down on the time and cost of eLearning development.
And rapid authoring tools with their brilliant features are what you've been searching for! Let's go through what they offer.
Rapid eLearning Course Development
Online training is the need of the hour. And the first step toward that is converting your classroom training material to eLearning, without throwing learner engagement out of the window. Authoring tools can help develop courses that would certainly keep the learner engaged.
However, before you start the actual design and development of courses using authoring tools, you need to get your content ready. This involves proper analysis of all available content, filling in any content gaps, setting performance-based learning objectives, and devising an appropriate instructional strategy.
Once all that is done, you can leverage the power of authoring tools to design and develop eLearning courses. Rapidly. Let's see how.
You can use the multimedia assets library (with images, audio, video clips, and inbuilt templates) to create common screens (Graphic User Interface, Learning objectives, assessments, summary, etc.).
You can use inbuilt interactivities (animations, pop-ups, gamifications, and simulations) to make your courses engaging.
Multilingual eLearning Translations
And why is that important? Because English might not be the preferred language of those employees. To make training effective and engaging for all your employees, and offer consistent training across the organization, you need to translate your eLearning courses into different languages. And authoring tools offer hassle-free translations.
Authoring tools are designed to develop courses in various languages. They come with translation tools that allow exporting the content of an eLearning course in RTF (Rich Text Format). This text can be translated, and the translated file can be imported into the course. Authoring tools like Lectora provide a switchable interface in the course that allows learners to switch between languages at any point during the course.
Quick and Easy Conversion of Legacy Courses to HTML5
If you've been using eLearning for employee training for some time, you may be having a lot of old FLASH courses lying around in your library. And with FLASH becoming obsolete, your courses (so painstakingly created!) are of no use to you now. The same may be the case with other legacy courses that were developed in older versions of authoring tools. Or courses with outdated content or those not compatible with mobile devices.
So, what are you going to do about your legacy courses?
Well, you can continue to use your Flash or other legacy courses by converting them to HML5 output. With the help of authoring tools such as Articulate Storyline 360 and Adobe Captivate 2019, you can republish the courses in new versions of authoring tools. You can revamp your outdated legacy course content and redesign them. And you can make your mobile-incompatible legacy courses mobile responsive by republishing them.
You can replicate the interactivities in your legacy courses through the in-built interactivities of rapid authoring tools and republish the courses in HTML5 format. Rapid authoring tools can also help you develop courses with gamification and branching scenarios without going through the hassle of complex programming.
Mobile Learning
The Covid-19 pandemic has made us appreciate the importance of mobile learning, especially for training of a remote workforce. Rapid authoring tools play a crucial role in developing responsive courses that can work across multiple mobile devices, be it laptops, tablets, or smartphones.
For example, the Fluid boxes of Adobe Captivate can transform your legacy (desktop-only) courses into fully responsive eLearning content. Learners can experience responsive eLearning irrespective of their device or browser as the objects placed in fluid boxes are aligned automatically.
Easy Course Updates
There are many instances where you need to make quick updates in your eLearning courses. Reaching out to the eLearning development vendor for such a small requirement takes unnecessary time and involves cost. With authoring tools, it is now easy to make small and quick updates in the content and design of your eLearning courses.
Speedy and Seamless Online Course Reviews
eLearning courses need to be reviewed at different times during their development. However, the review process can become cumbersome when multiple reviewers are involved. Navigating through conflicting opinions and implementing feedback becomes a hassle.
Rapid authoring tools can solve your problem and make the process smooth as many of them offer online review apps. Adobe Captivate, Articulate Storyline 360, Articulate Rise 360, and Elucidat are a few such tools that make your life easy in many ways.
Instead of sending storyboards (as PPT decks and course files), you can simply share a review link with all the reviewers where they can access the files simultaneously.
It saves a lot of time for the reviewers as feedback can be inserted in the form of comments. There is no need to create a separate document for the feedback. It also reduces the possibility of conflicting or duplicate feedback as reviewers can view all the feedback from all reviewers.
It also makes it so much easy for developers to implement the feedback as it is streamlined and allows them to keep track of resolved/unresolved comments.
To Wrap Up!
Before starting on the journey of eLearning design and development, it is essential to know about authoring tools. Hope this blog has answered your questions about authoring tools and offered some insights on how they can help you design great courses.
Ready to unleash the power of rapid authoring tools and make your eLearning courses stand out? Do check our eBook that can help you develop learner-centric eLearning courses.
Download now!